1, Specification:
Wirenet fiber-optic video transceivers can simultaneously transmit 16 channels of 8-bit digitally encoded video / return or bidirectional data / unidirectional or bidirectional audio / Ethernet / Telephone / Dry contact over one multimode or single-mode optical fiber. These multiplexers are typically used in applications where the cameras have P/T/Z capabilities. Plug and Play design ensures the ease of installation and operation. Electronic and optical adjustments are never required. LED indicators are provided for instantly monitoring system status. Devices are available for either standalone or rack-mount installation ,which is suitable for different working environment .

2, Product charactistics:
8-bit digitally encoded and non-compression video transmission

Directly compatible with NTSC, PAL, and SECAM CCTV camera systems and support RS-232, RS- 422, and RS-485 data protocols

Support any high-resolution video signal

Automatic compatible PAL, NTSC and SECAM video system

Power supply and other parameter state indication, which can monitor the operation condition of system

Support no-damage regenerative trunk of video

Constant input optical power, and large dynamic range ,no Electrical or Optical Adjustments Required .

Special ASIC design .

Industry-grade of operating temperature from -10 degree?to 75 degree?, which is applied to the different working environment

Hot-swap function

Stand-alone type or card-type installed in 19'' 2U or 4U rack-mount chassis.
3, Pictures: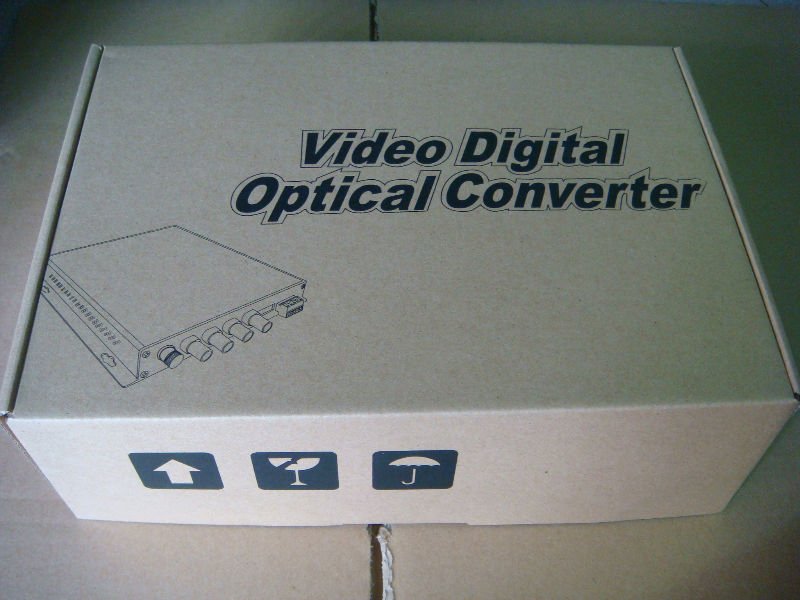 About Us
Wirenet Technology Co., Ltd was established in 2009 in Hong Kong, and in 2011 registered in Shenzhen, China. Through nearly 8 years developing,currently have fiber optical cable factory& patch cord factory.
Wirenet's main products are fiber optic telecommunication cable system, including indoor&outdoor fiber cable& patch cord and fiber distribution system. The fiber cable factory owns 7200square meters of production base, with annually 300,000KM cable production capacity,The fiber patch cord factory owns 1000 square meters of workshop, with 6000 terminations per day.
We have our own sales team, R&D team and quality control team.At the same time, we honored to offer products and solutions to some famous clients like Corning group, Motorola Inc., AMP and FURUKAWA etc., Feeling proud enough, Wirenet was ranked as first class suppliers by FURUKAWA purchasing team because of fast delivery and low complain rate.
For Guarantee, the Cable has 30 years of life time, and the fiber is ensured 70 years life time. For quality inquiry, our after-sales team will respond in the first time, and QA team will solve the problem at fast speed. So,OEM and ODM are always welcome.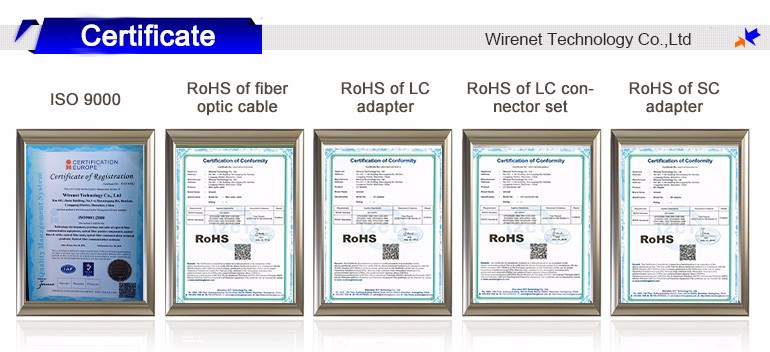 How to quickly know what your company's main products?
Category

Type Subdivision

Fiber Optic Cable System

Fiber Optic Ftth Drop Cable, Fiber Optic Outdoor Cable And Termination,

Fiber Optic Indoor Cable, Fiber Optic Patch Cord

Fiber Optic Passive Components

Fiber Optic Connector, Fiber Optic Adapter, Fiber Optic Attenuator, Fiber

Optic Splitter, Fiber Optic Fan Out Kit

Fiber Optic Patch Cord Polishing Related

Fiber Optic Patch Cord Polishing Machine, Fiber Optic Testing Machine,

Fiber Optic Cutting Machine, Fiber Optic Crimping Machine, Fiber Optic

Polihsing Jig, Fiber Optic Polishing Film, Tools And Accessories
In addition to the above products,we also produce the following products:
Ftth Tools And Equipment

Fiber Optic Terminal Box,Fusion Splicer, Project Tools, Fast Connector & Mich-

anical

Splicer, Communication Tools

Fiber Optic Odf And Splicer Closure

Splice Closure, Patch Panel, Distribution Cabinet

Fiber Optic Testing

Otdr, Laser Source, Visual Fault Locator, Power Meter

Fiber Optic Cleaner

Fiber Optic Active Devices

Media Converetr, Sfp, Video Converter
Save your time quickly get more product details and quoted price, contact us for product manuals or Please click or enter this below link to view all the question which you wonder, thanks.
http://wirenet-tech.com