MINGGU deep fryer equipment , electric pressure fryer /gas pressure frery kitchen equipment

Main Technical Data:
Product Name

Gas Pressure Fryer(with oil pump)

Electric Pressure fryer(with oil pump)

Model

PFE-800A

PFE-800

Specified Voltage

220V/50Hz

380/50Hz

Specified Input power

100w/h

12KW/h

Specified Working Pressure

8psi

8psi

Range of Temperature Control

50-300°C(adjustable)the highest temperature you set can be 200°C

50-300°C(adjustable)the highest temperature you set can be 200°C

Oil Capacity of the Fry

25L

25L

Overall Dimensions

1040*540*1340mm

980*485*1200mm

Stainless Steel

304

304

N.W

140KG

140KG

G.W

155kg

155kg

Certification

CE&ISO9001

CE&ISO9001

Container Qty

42PCS/20'

42PCS/20'

88PCS/40'HQ

88PCS/40'HQ
Product Introduction :
State of the art fryer can cook 5 chickens at a time. That's 32 pieces fully cooked every 12.5 minutes.
Chicken comes out tender, Juicy, golden brown. Never dry.
This is the ultimate Fryer for the best performance anywhere.
Feature:
1.Easy to operate-Preprogrammable of 10 different cook cycles for quick and easy preparation of various menu items as well as automation, energy-saving, filtration and cook management features.
2.Build-in filter system--Build-in filtration system filters and returns hot oil in less than four minutes with no extra pumps or pans and no handling of hot oil, provides quick, easy and safe cooking oil filtration.
3.Proven round cooking well design--Engineered for more uniform heat distribution, durability and efficiency, no cold spots or corners.
4.High-efficiency heat exchange system--High-efficiency heat exchange system produces among the lowest average exhaust gas temperatures in the industry,so it get fast recovery and energy savings.
5.Fast and productive--Cooks up to 6 pieces of fresh chicken per load in under 10 minutes.
Additional Features:
·Stainless steel cabinet for easy-cleaning and long life.
·Heavy-duty stainless steel rectangular fry pot
·Larger 6-head capacity fry pot
·Cast aluminum alloy lid is strong but light for easy handling.
·Color-keyed locking spindle engages pressure seal.
·Patented lid-lock system keeps lid locked until pressure reaches 1 psi.
·Raised edge on deck reduces spills
·Channel under lid helps direct condensation away from pot when lid is open
·4 heavy duty casters, 2 locking.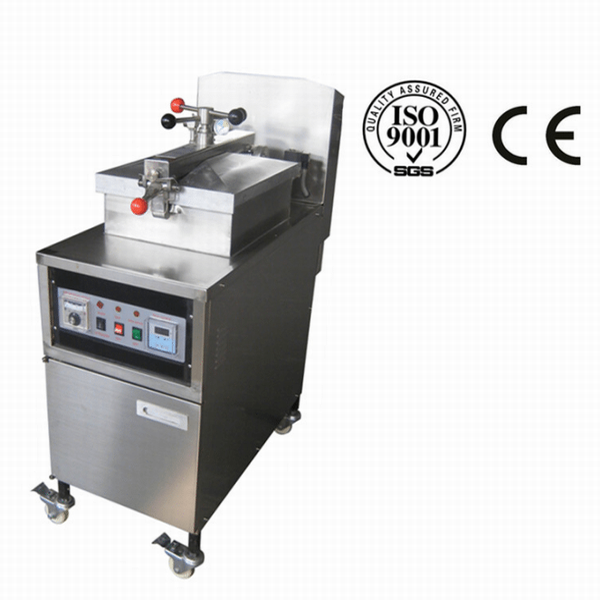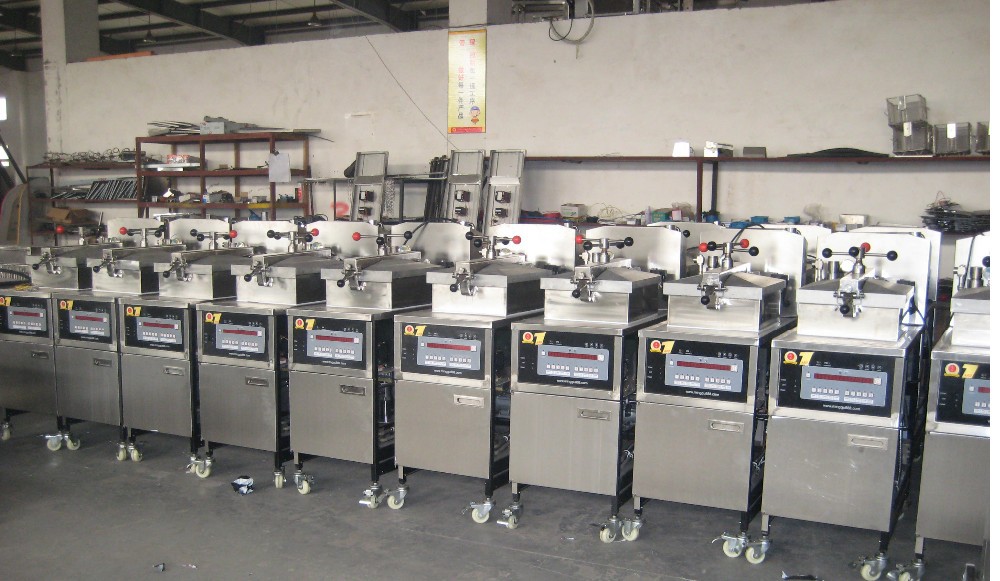 About Minggu
Our company integares development, research, production and marketing. We mainly specialize
in foods and baking machineries with many years' production history and production experience.
Our leading products are 32-plate Rotary Oven, Chicken Pressure Fryer, ChickenPlucker,
Ice Cream Machine, Ice Shaver and etc.
we could have a further discussing if our product draw your attention, and any questions and suggestions are warmly welcomed !
If you have any question, please no hesitation to contact me :