Clear, Transparency rate can go to over 95%.

Various color available, long-time lasting.

Highly glossy, easy clean.

Easy to mould. No-toxic acrylic sheet

Bright, insulated, chemical endurability, easily processed, avirulence

Good at auti-UV. Color fades less than 30% in 3years outdoor may show color difference for different batch.

Density of acrylic sheet: 1,200kg/ cbm

Can be used for vacuuming, engraving, silk-screen printing, polishing, processing, etc.

Specification:

Transparent and Colored as opal, white, red, green, blue, yellow, brown, smoke.
More customized color is welcome.

Dimensions: 1220 x 1830mm, 1220 x 2440mm, 2050 x 3050mm
1270 x 2510mm, 1270 x 1880mm, 1250 x 2470mm,
1240 x 1850mm, 1290 x 1900mm, 1240 x 2460mm.
Thickness: From 1.8mm to 50mm

Raw material: 100% virgin pmma material come form LUCITE and MRC.

Application:
1...Advertising engraving display, vacuum forming, stationery rack, present, kitchen & bathroom furniture, construction decoration, photics and other industry.
2...Acrylic sheet are widely used for engraving, advertisement sheets, lamp-chimney, decorations, medical appliances, work of arts.
3...Widely used for indoor and outdoor decorating and advertising light box.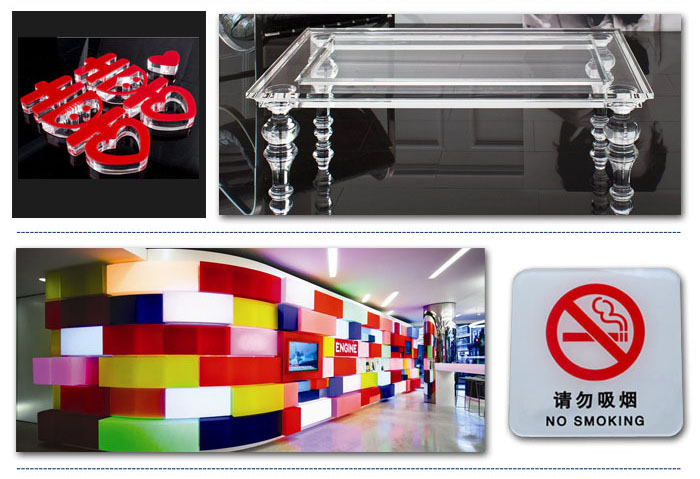 Injection of raw materials — High-temperature chemical reaction — Thermal treatment in drying room — Stripping — QC — Overlay film — Packing.
Both sides covered with kraft paper or PE film to protective surface, about 2000kg sheets per pallet.
Packing: 2 tons per tray, use wooden pallets on bottom, with packaging film packages all around ensure transportation security. 1 x 20' container loading 18-20 tons.