Battery Spot Welding Machine For Electrode Sheets 10-60 Layers
TOB-USW4500W ultrasonic metal welding machine is Designed for Lithium battery tab welding with touch-screen controller. It is designed for welding stacked electrode sheets (Copper & Aluminum) and tab onto current collectors to prepare Li-ion pouch cells in R&D laboratories and production line.
The 2600w battery welder can weld stacked electrode with 10-30layers aluminum foil or copper foil with Al tab and Nickel tab, If with bigger battery with layer up to 30layers, can choose the TOB-USW-3000W model, and If need to weld up to 60 layers, please choose TOB-USW-4500W model.
Model

Battery Welding Machine TOB-USW-4500W

Type

Ultrasonic spot welding machine

Welding ability:

1 10-60 sheets 0.09-0.012mm copper foil + 0.1-0.3mm Ni or Nickel-clad copper tab welding.

Welding point : 4*6, 4*8, 4*10, 4*12 mm customized

2 10-60 sheets 0.09-0.012mm aluminum foil + 0.1-0.3mm Al tab welding.

Welding point : 4*6, 4*8, 4*10, 4*12 mm customized

3 0.2mm Al belt +0.2mm Ni belt or Nickel-clad copper wrapping welding.

Welding point : 4*6, 4*8, 4*10, 4*12mm customized

4 2-4 sheets 0.2mm Al tab or 2-4 sheets 0.2mm Ni tab weld.

Welding point : 4*6, 4*12mm customized

Frequency

24KHZ

Max output power

4500W

Control mode

CPU control

Air supply

≥0.5MPa

Voltage source

110/ 220V 50HZ/60HZ

Humidity

≤48%

Temperature

≤45℃

Warranty

One year limited warranty with lifetime support
Weld head area can be customized according to customer's requirements
Ni Tab welding with Multi-layers copper foil and Al Tab welding with multi-layers aluminum foil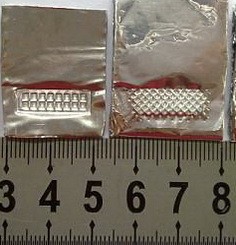 Touch-screen controller with setting parameters