8 Cuft Classic Portable Sand Blasting Machines
CleanerTM Classic machines are available in capacities 1/2 to 20 Cuft.
6 Cuft (150L), 8 Cuft (200L)and 10 Cuft (300L) capacities are most popular types.
Machine pressure vessel built to ASME specifications for 150-psi working pressure.
Vessel is hydrostatically tested and National Board-certified.
OSHA 1910.244 (b) required Pneu or Electric Remote Control System EliteTM as an option.
1-1/4-inch piping allows up to 50 percent more air flow when compared with 1-inch piping.
CleanerTM Model Q010 Portable sand blasting machine holds 8 cubic feet of abrasive providing 30 minutes of blasting at 100 psi with a No.6 (3/8-inch) nozzle.
Industrial-quality valves, piping and fittings designed to maximize air flow and minimize energy required to operate the system.
CleanerTM has a LPV abrasive metering valve.
The Machines are designed for ease in abrasive loading.
Minimum of 50 psi needed to close the pop-up valve and pressurize the blast machine.
NIOSH-approved, type CE, supplied-air respirator.
Grade D breathing-air supply as defined by CGAC Specification G-7.1.
Appropriate blast suit, work boots, hearing and eye protection.
Screens & Covers.
Seaworthy plastic bag+plywood box.
20' GP load 40 pcs 10 cuft machines.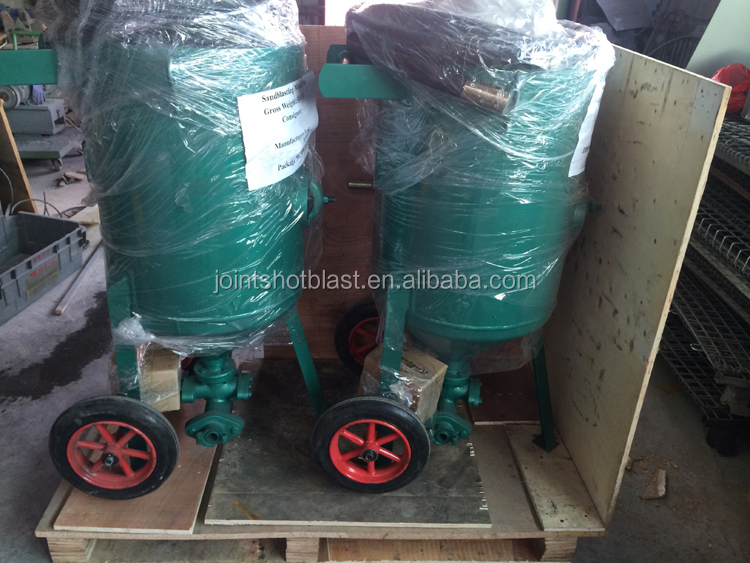 As a leader in surface preparation technology, Joint Group designs, manufactures and sells worldwide a complete range of high quality shot/sand blasting machines for the foundry and forging industries.Located in China, Joint Group shot/sand blasting machines and parts are working in over 60 countries' workshop.
Leading companies in the foundry, automotive, aerospace, energy, marine, rail, construction and many other industries have used Joint Group's products and services to improve productivity and profitability for over 50 years.
Joint Group continues to use the experience of having the large installed base in the industry to deliver the best solution for the customer. Joint Group's approach to solving customers' operating challenges is unique in the industry. Using insight gained from thousands of different applications across a variety of different industries.