Reformed Rubber Elevator Belting (for bucket elevator)
FEATURES:
• PVC elevator belt has a durable tight woven polyester carcass that is co-extruded with a blue PVC covering both top and bottom. No delamination occurs under normal operating conditions. PVC has better characteristics of resistance to oils and some solvents, wear resistance and mildew resistance.
• Manufactured with a tight woven carcass and resilient PVC cover, our PVC belts will resist bolt pulling through which means a reliable and secure ixing of the bucket to the belt.
• Flexibility allows for a smoother running along the elevator pulley. Not easy to off track.
• Fire resistance and anti-static properties of the PVC make this belt ideal for using in grain handling applications.
RUBBER BELTING TECHNICAL SPECIFICATIONS
Item

Unit

Elevator Belt Type

600YP

800YP

1000YP

Total Tensile strength

N/mm

600

800

1000

Elongation at break≥

%

<1.6

Abrasion≤

mm3

90

Plies

3

4

5

Total thickness

mm

5

6.0-6.5

8

Top/bottom thickness

mm

1.0/1.0

1.2/1.2

1.5/1.5

Bottom also select no cover, add one ply Fabric

Min. head pulley dia.

mm

300

450

750

Adhesion( ply to ply)

N/mm

≥4.5

Adhesion( cover to ply)

N/mm

≥3.2
Company Information
Zhenjiang New Hengtong Conveying Equipment Co., Ltd. specializes in researching, exploiting and manufacturing granular material handling components, grain processing machinery components and engineering plastics. We have passed ISO9001:2000 international quality system certification.
Established in 1998, Hengtong has a 60,000 square metres manufacturing facility situated on a 80,000 square metres land. Hengtong has 35 production lines for plastic bucket production, 10 lines for steel buckets, 2 lines for production of steel bolts and nuts, 2 lines for production of PVC solid woven belt, 6 lines for rubber elevator and conveyor belt, 15 lines for screw flight, 4 lines for chains and 2 lines for UHMWPE sheet production, as well as equipped with complete physical & chemical testing equipment.
Bucket Elevator Components
___________________________________________________________________________________________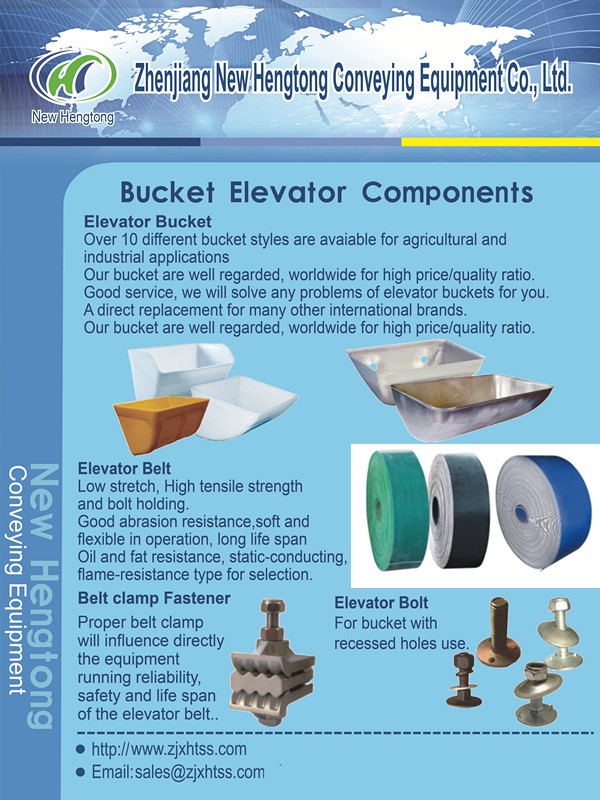 Zhenjiang New Hengtong Conveying Equipment Co., Ltd.
Email: tommy
zjxhtss.com
Mobile (Whatsapp): 0086-13276156775
Tel: 0086-511-84515578
Web:

www.zjxhtss.com