Specifications
flexible hose machine Vacuum cleaning machine plastic hose pipe making machine production line
PVC EVA PP PE
Vacuum cleaning machine flexible pvc pipe production line making machine
PVC Spiral Reinforced Helix Suction Hose Extrusion Machine/Line
Reinforced Soft Pipe Extrusion Line/PVC Hose Making Machine
Vacuum cleaning machine flexible pipe machine production line making machine
PVC plastic steel spiral reinforced hose production line
Pvc fiber reinforced soft hose extrusion line,plastic hose extrusion line
We ,Qingdao Delta Plastic Machinery Co.,ltd , specialized in researching , studying, designing , and making all kinds of soft , flexible and spiral and different of plastic hose making machinery .
Include :
cable protection corrugation hose machine
cable protection spiral hose machine

vacuum cleaner spiral hose(eva material ) machine

swimming pool cleaning hose machine

water exhaust hose machine

air exhaust hose machine

industrial use spiral hose machine

medical use hose machine

siphon hose machine

water drainage hose machine

air conditioning drainage hose machine

washing machine hose making machine

metal spiral hose machine

plastic spiral hose machine

smoking hookah hose making machine
We are continues do researching and updates works. We are following the plastic hose/pipe industrial requirements with new and latest technologies. we want to do our best to meet your requirements and satisfaction . just tell us what you want to make, what you need, we will give you our project. We will offer to you our best price with reasonable cost and profit . we will share all the experience and technology what we have with you.
this page we mainly introduce you the softly and flexible and spiral hose machine, they are mainly use for vacuum cleaner hos and swimming pool hose. Also can use in any purpose in industrial , family , medical , agriculture and other area.
What is our different for this hose line:
1.High speed
Max speed will be 6 meters per minute, this is same as Italy same machine. But our price only 1/20 of Italy machine.
2. No waste
When you start to run the machine , our machine can produce hose within 5 minutes . this points no other factory's machine can compare with us. That is mean, you need not try and try to adjust the mould and spiral unit , the machine can make out good hose with ''0'' wasting .
3.easy operation
machine control by PLC , all the procedure can achieve by input program. Even for common worker, they can operate on the machine easily.
4.double roller forming unit.
On the basic of single winding roller , we take the advantages of the world latest technology and combine our long time experience, we developed the forming unit to be double rollers. This construction can assure the machine working very stable , and easy to start.
5.servo motor cutting.
cylinder control cutting the knife working stroke need 0.2 second. But servo motor only need 0.02 second. Servo motor drive can cut the hose section very smoothly and tidy . we covered the cutting units to confirm the CE standard. When the line's speed exceed 4 meters per minute, common drive cutter can not match the hose spiral speed, so must use servo motor cutting.
6.stable working.
The machine can working itself automatically full line, need worker stand by . the machine will not broken the hose during working. no waste products.we adopt new and latest forming system----double wheel forming . this forming system has a advantages of stable working without stop the machine. from the machine start , till make good hose, only need 5 minutes. Need not long time adjust. No waste hose produce. When the machine start to produce good hose, it will not appear any problems during working. No need worker stand beside the machine. the machine can work full automatically .
7. we are always want to update our technology in machine design , and enhance machine's function . we want buyer to make more hose within short time and with less material and spend less energy.
Extruder parameter :
| | | | |
| --- | --- | --- | --- |
| Items | Description of main extruder | Remark | Color extruder |
| Extruder | 65mm | Special design screw | 30mm |
| Motor | 22kw | Big motor for high speed | 2.2kw |
| Speed | 4-6meters/min | High speed same as Italy machine | Capacity 5-10kg /h |
| Can make length of pipe | 30meters | Can make long meters hose | Make second color |
| cutting | Servo motor | Patent design | |
| control | PLC | Easy operation | |
| Forming system | Double wheel with press wheel | Patent design | |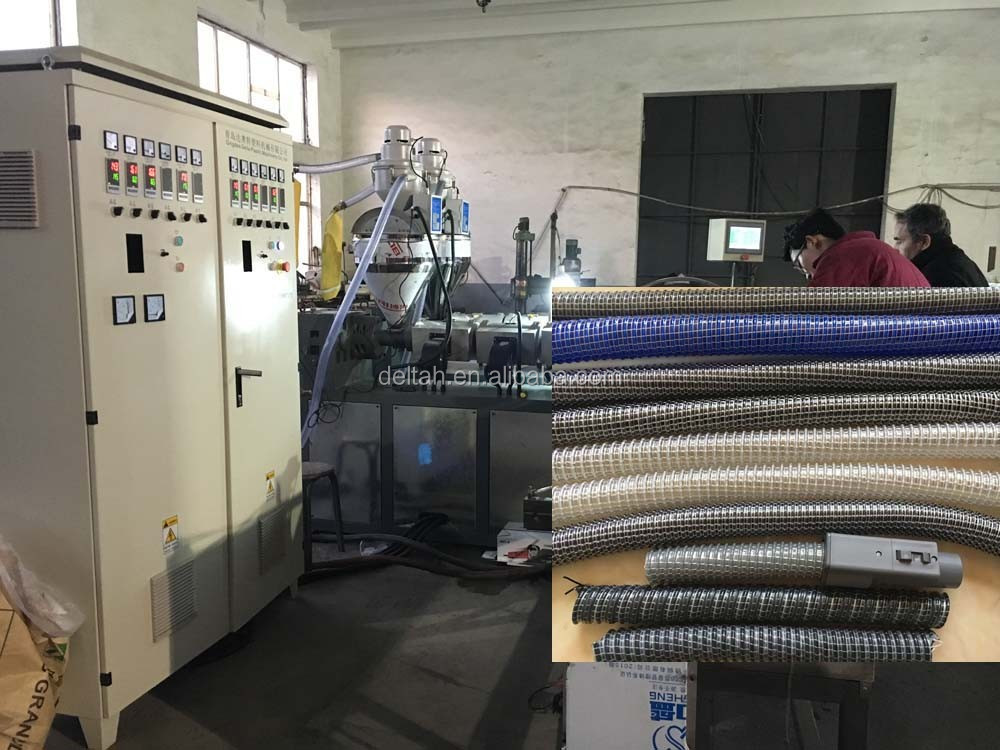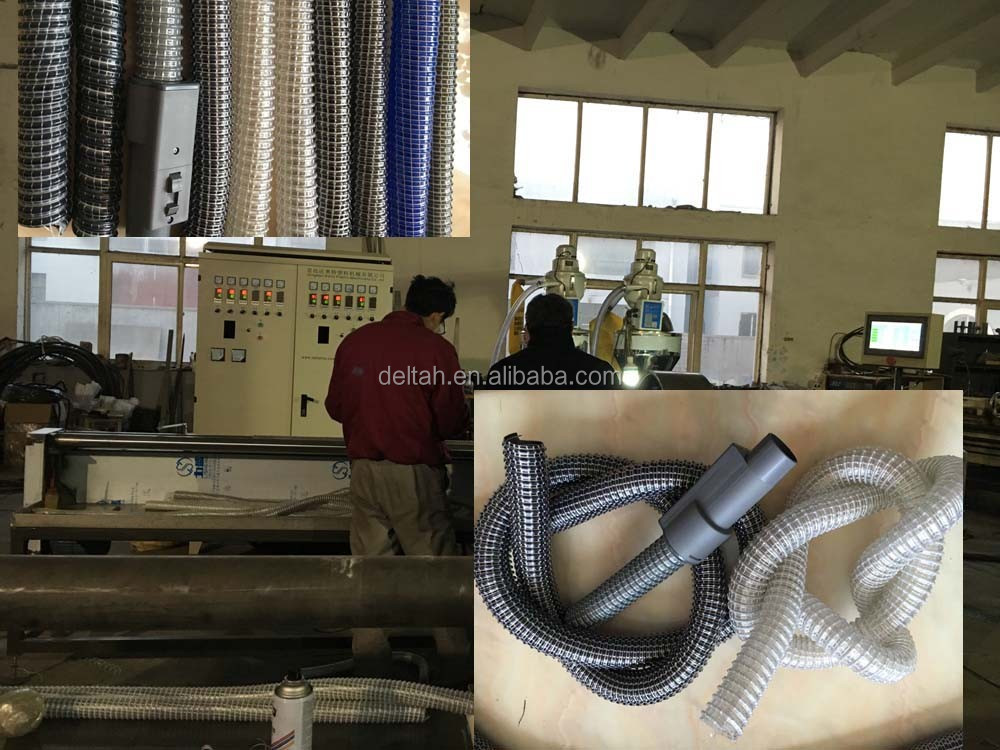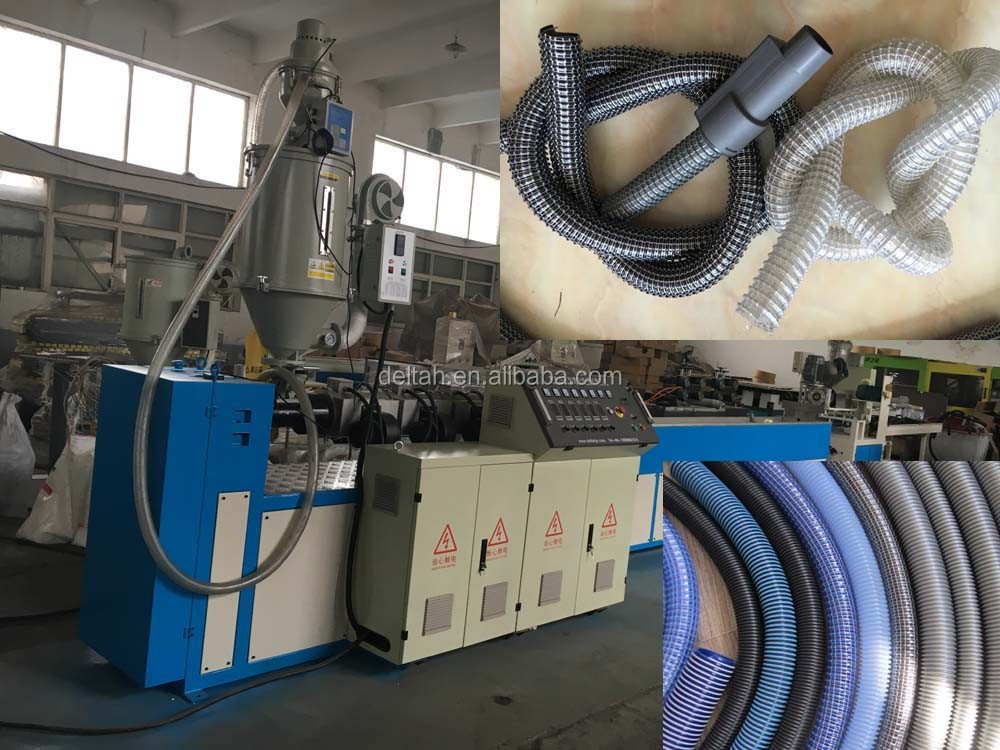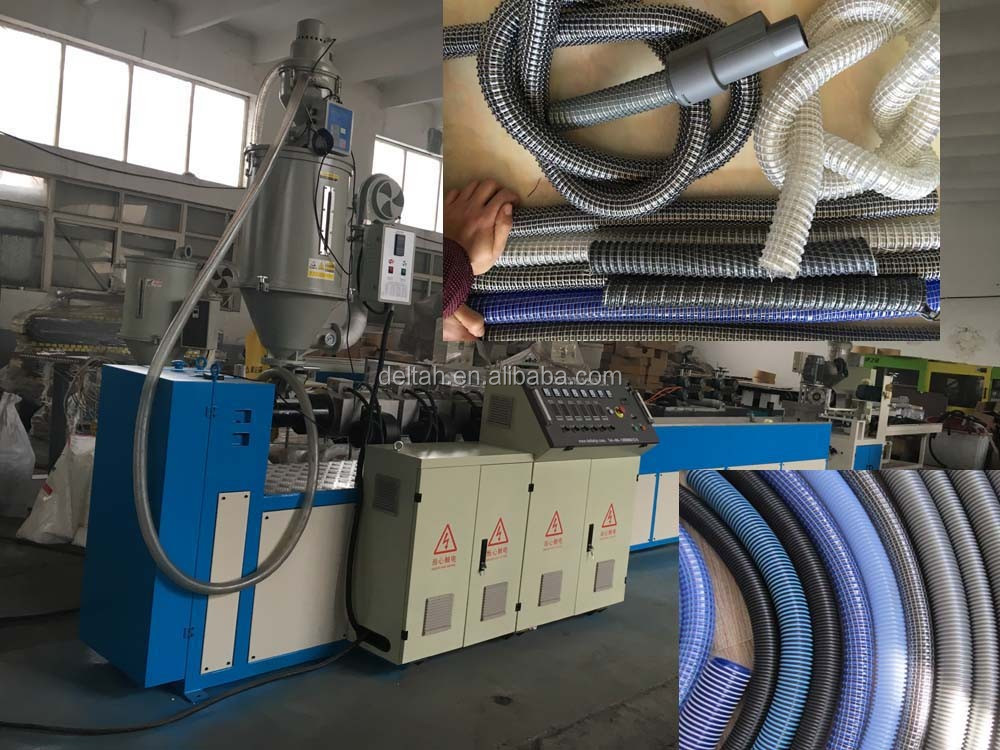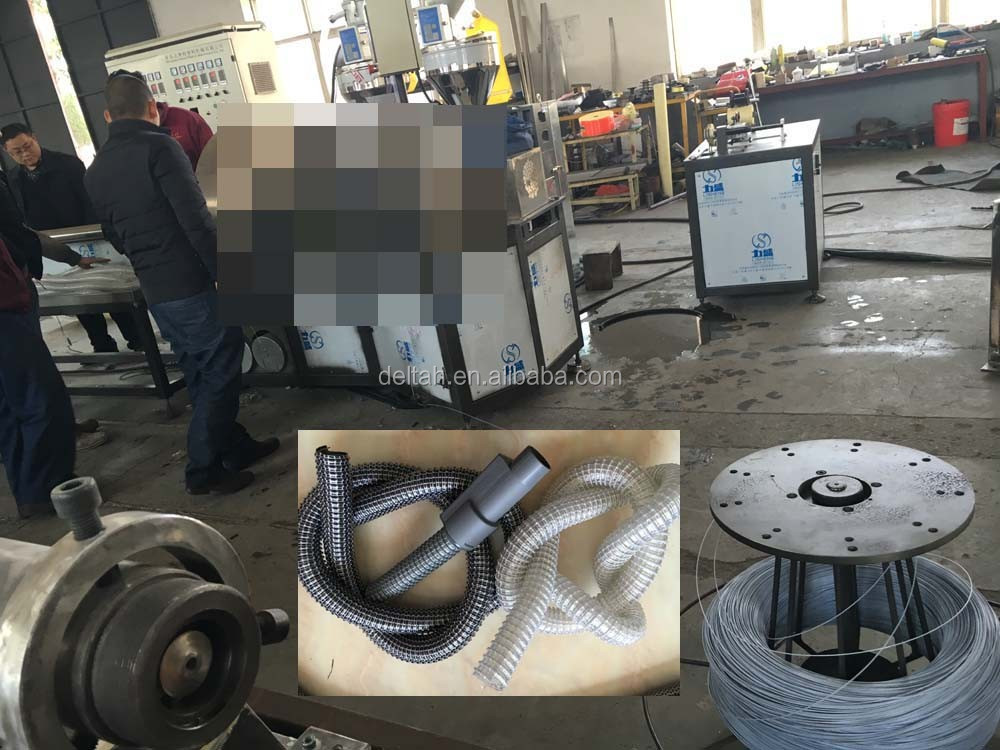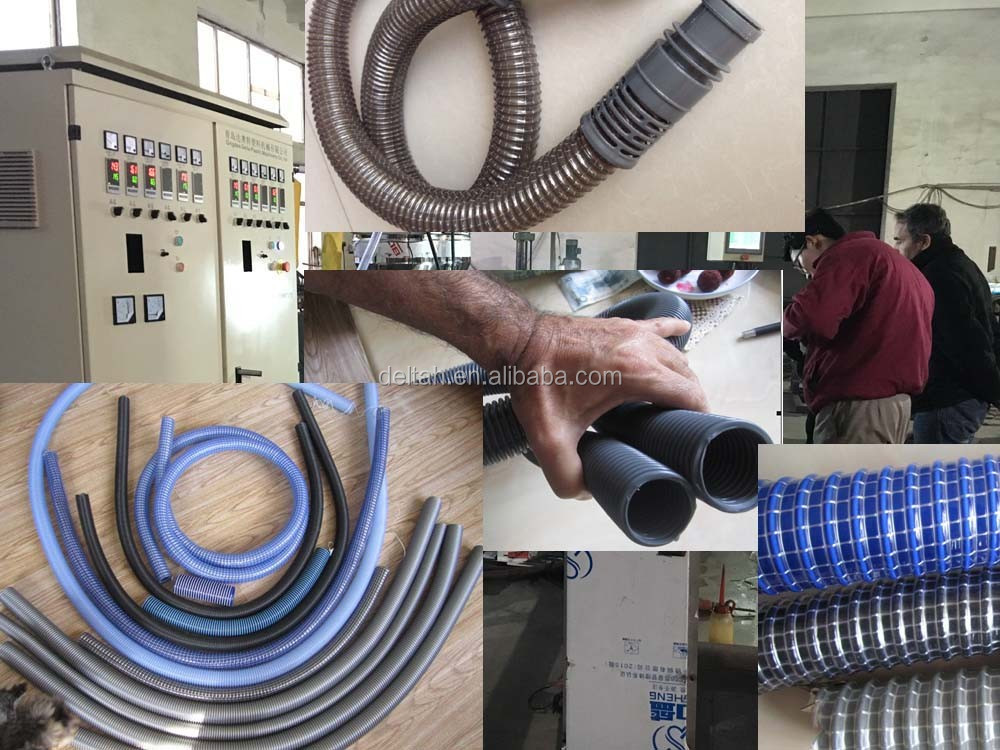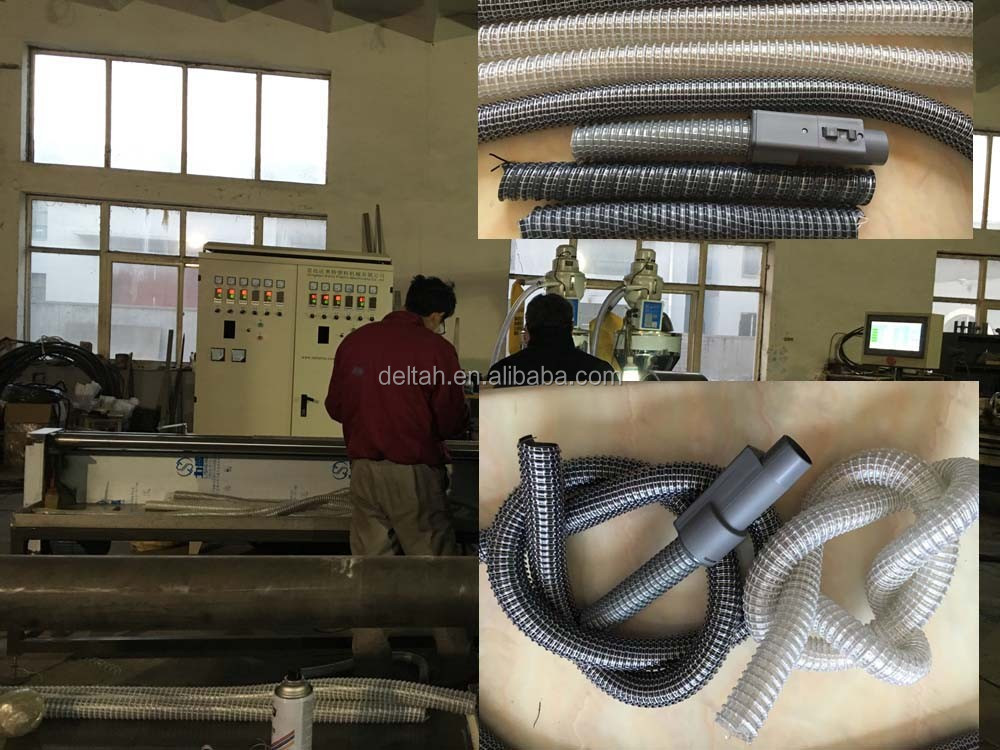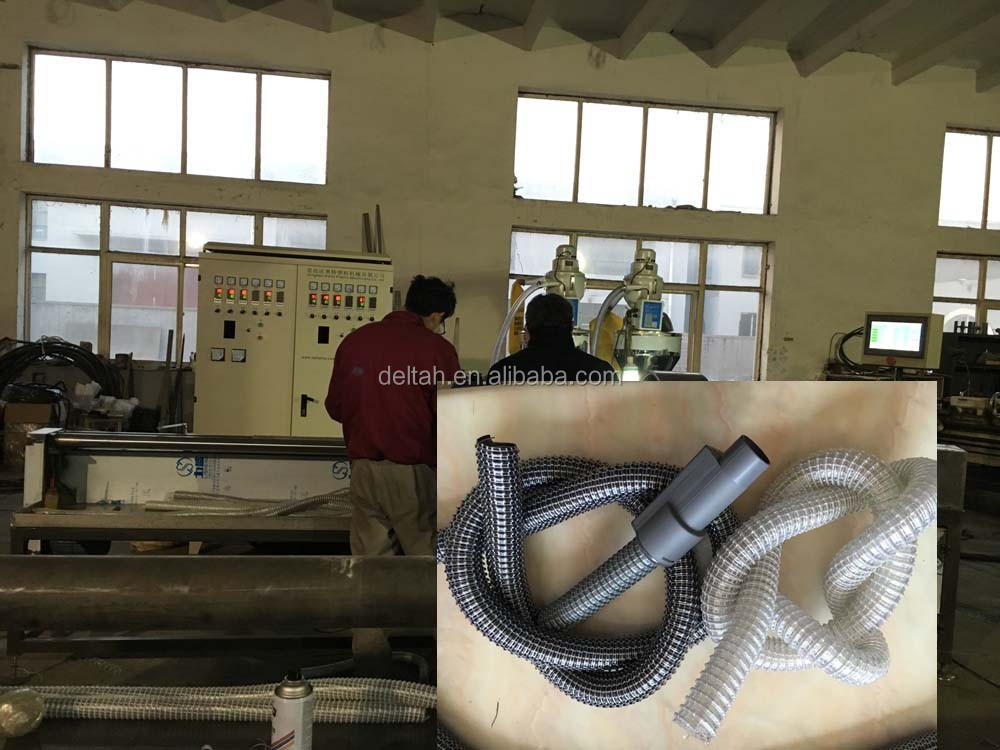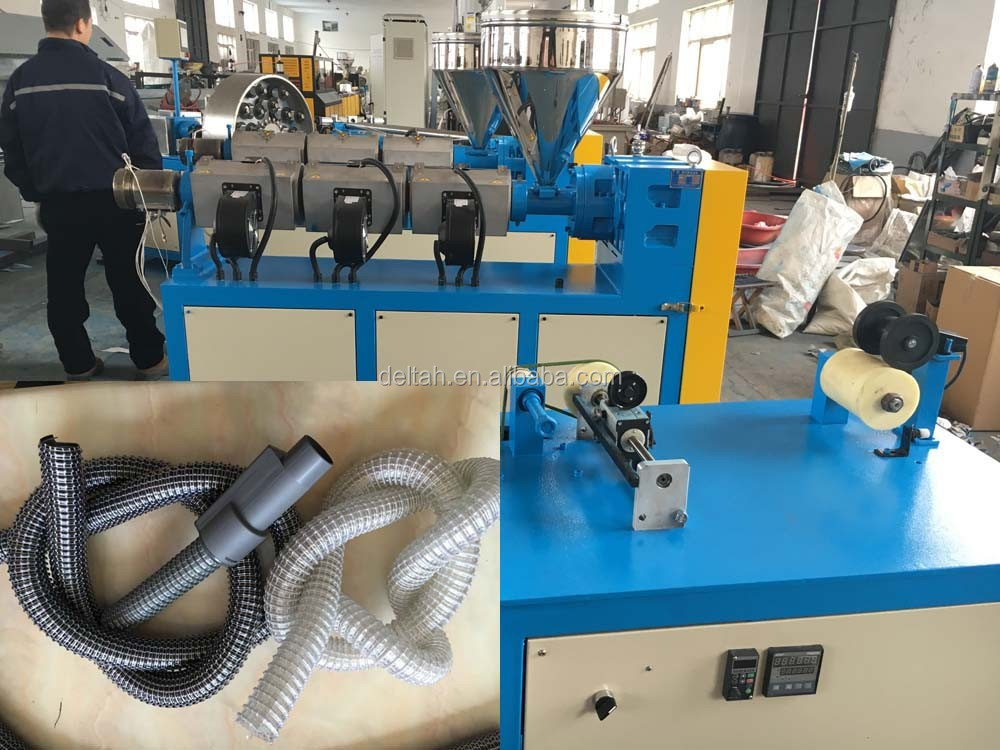 Fiber Reinforced Tube Extrusion Line/PVC Garden Hose Extruder Machine/plastic hose extrusion line
Good quality pvc suction hose extrusion line/plastic hose extrusion line
PVC pipe production lin
PVC spiral reinforce pipe machine/pvc suction hose production line/PVC hose pipe production line
New Condition and PVC Plastic Processed fiber reinforced plastic pipes extrusion machine/PVC spiral reinforce pipe machine