Vocational new energy teaching training equipment DLXNY-ST04 Solar Photovoltaic Power Generation Comprehensive simulator traine
Overview Overview
Solar photovoltaic comprehensive training system consists of solar panels, off-grid inverter, solar controller, battery, AC
and DC load, AC and DC voltage digital ammeter, artificial light, etc.,this system is designed to meet the demand of related
training teaching of solar photovoltaic power generation applications of new energy professional in the higher education and
vocational education.
Solar panels, intelligent controller and battery that the bench uses are the same as the field application.
Experiment table equipped with xenon lamp which glowing effect (spectrum) is the closest to sunlight to simulate the sun
lightsource, so that the training programs can be carried out at any time, eliminate the restrictions of weather changes.
Equipped with two kinds of control modes: PV type and household type
Equipped with battery power storage system, it can be mains charging, form hybrid power supply system. Leave PV module
upgrade port, and it can extraposition high power photovoltaic modules. PV modules can choose indoor place and outdoor
modes.
Technical Parameter
Total dimension : 1500×800×1750mm
Input voltage : AC220V±10% 50Hz/60Hz
Work environment : 0℃ ~40℃
Relative humidity : ≤85% RH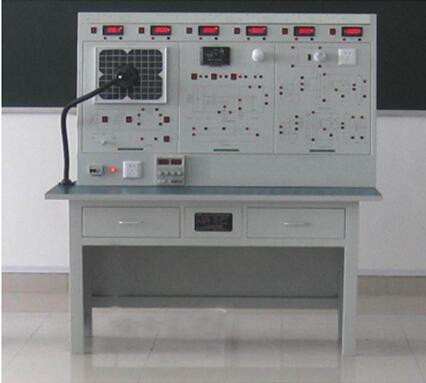 other vocational training equipments
Other FA protucts show:
4.We are in a good position to offer series of training set as follows:
1) Electrical technology Know-how Training Set
2) Innovative E-skills&Technology Training Series
3) MCU Technology Training Series
4) Machine Tools Electrical Control Training Series
5) Machine Tools Electrical Control Training Series(Model-type)
6) CNC Machine Tools Maintainance Training Series(Model-type)
7) Building Automatic Training Series
8) PC Training Series
9) Innovative industrial Automatic Control Technology Training Series
10) Pnematic Training Series
11) Hydraulic Training Series
12) Sensor Training Series
13) Motor Training Series
14) Mechatronic Training Series
15) MPS Training Series
16) FMS Training Series
17) Mechanical Training Series
18) Engrave machine series
5. Packaging And Delivery Details:
Packaging Detail:
1). Packaging for training kit: plastic package + carton + plywood pallets
2). Packaging for training equipment: plastic package + plywood pallet
Delivery Detail: 40 to 50 days after Received advanced payment.
Q1:What factors affect the price?
The quality of components: All the components we use are real industrial components which under EURO standard.

Technic: we pay much attention on the technics and details. Our products meet the requirement of Germany standard

Quantity: The price is up to the quantity of each item.
Q2: All equipments are designed by Dolang?
Yes. All our equipments are designed by ourselves.

The design department including: Electric research design department, Electrical research design department, Mechanical research and design department, Software research design department, Pilot test department and technical documents department.
Q3:Does Dolang have after sales service and training service?
1. After sale service: All our products have one year maintance from the date of pick up except artificial damage.
2. Training: Customer may ask our engineer to training them in their company or come to Dolang for training