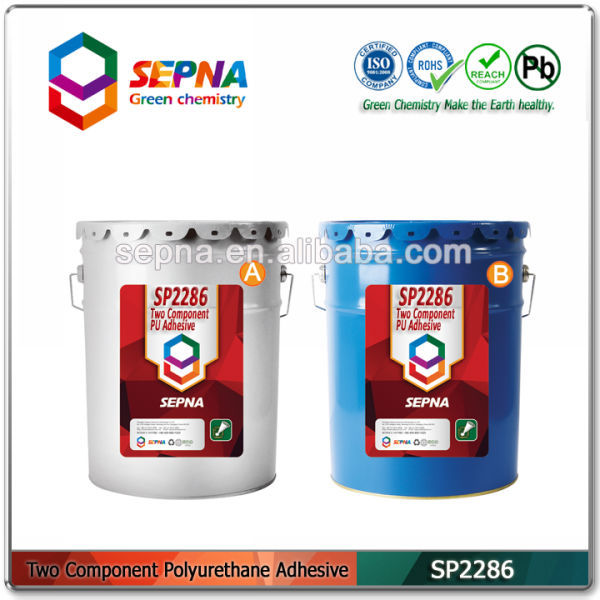 SP2286A/B is two-component low viscosity solvent-free potting adhesive at room temperature or heating
Features
1. Low viscosity, strong operability
2. Excellent low temperature properties, weatherability .
3. Excellent flame retardancy.
4. Excellent electrical insulating properties, stability
5. Good waterproof, moisture resistance, very low water absorption
6. Good adhesion to most metals and plastics
Usage
Use for communications equipment, transformers, ignition controller, electronic sensors
1. Preparation:Dry all containers and mould in 70-80 ℃ oven for 1-2 hours to remove moisture.
Also can decrease the temperature, the longer heating time, the device to remove moisture
2. Mixing : put A and B into a container. stirringclockwise (or counterclockwise) 2-3mins with same direction.to minimize stir into the air, pay attention to the bottom of container, the edge still need to stir well, otherwise there will benot curing phenomenonat local .
3.Defoaming :The potting surface should be smooth without air bubbles ,the mixture should be vacuum cast off the air bubbles (≤-0.1mpa) .Mixing and dynamic deaeration of pumping air into vacuum state is helpful to remove air bubblers.It needs to omit steps 2 ,3 if use the mechanical measuring mix potting.
4. Casting: the mixture is poured into the device, the device structure is complex, large volume, should be pouring.Pouring bubble available purging heat gun, etc.Can eliminate foam surface.
5. Curing: 25 ℃ / h (8-10), or 80 ℃ / 1 h can be cured. The environmental humidity should be controlled in < 70%, low temperature should be take into consideration the longer curing time .
Package & Storage
Package
Part A: 20kg Part B: 25kg
Storage
Seal and Avoid light and light
Temperature in 10~30℃, humidity≤50%RH
Shelf life: Part A 12months, Part B 6 months
.
1.Q:Delivery time ?

A: Normally,delivery time of sample order is 7 to 10 days,
standard order is 15-20 days.
2.Q:How to get samples ?

A: Normally,Sepna offer our customer 1-2pcs or 50-100g free samples for quality testing.
3.Q:How to be Sepna's distributor ?

A: As the growing of Sepna's global business,we need to find more and more distributors and agents
worldwide.Sepna will provide the best solution and service for our partners.
For more information,pls contact our salesperson or call us:+86-400-882-1323
4.Q:Any OEM service ?
A: Yes. Sepna can offer the customer OEM label service,and will give the protection of the your right in your market.
5.Q:Do you have MOQ ?
A:Yes.Normally,MOQ is 2000pcs or 1000kgs