32 port goip gsm gateway voip 32 mobile phone sim cards international call termination device
ACOM532 GSM series VoIP Gateway is a multi-functional and high performance
product,which is designed with advanced embedded technology .
ACOM532 series is able to process traditional voice call service and internet data
service and adopt new hardware and software structure, which supports up to 32
concurrent calls.
Special Features:
lSupport G729a/b/e,G723.1,G.711 A/U law, iLBC auto-selecting
lEBO(EjoinBandwith Optimization)
lProxy Encryption Solution for IP Block
lSupport SIM Bank
lVPN(pptp)
lSIM Card Rotating(ACOM532-128)
uSolution to solve the SIM card blocked by:
²Accumulated Call Duration
²Accumulated Connected Calls
²Accumulated Calls
²Consecutive Failed Calls
²Consecutive No-Alert Calls
²Consecutive No-Answer Calls
²Consecutive No Carrier Calls
²Consecutive Short-Duration Calls
lStation intelligent switching
lERMS(Ejoin Remote Management System)
lPort Inter-Calling
lFake Ringback
lCall Duration Limitation for SIM Card/Single
lDial Plan/Prefix Inward Translation/Intelligent Routing
lWeb Browser: Firefox/Chrome /IE/Opera
Specification:
Model

ACOM 532-32/128

Number of Channels

32 channels

Frequency

GSM: 850/900/1800/1900MHz

SIP Specification

SIP/2.0 RFC3261

Session Timer RFC4028

STUN

Network Protocols

DHCP/PPPoE/VPN(pptp)

NTP

Telnet/HTTP/FTP/TFTP

Encryption:Ejoin,VOS2000,RC4,XOP.Base64

Telephony Features

Hot-line call ,Dial plan, Speed dial, Phone book, CDR, LCR, White/Black list

Telephony Signaling

DTMF tone dectection/generation

DTMF relay: in-band, RFC 2833 and SIP info

Call forward: unconditional, no answer and busy

N-way conferencing

Caller ID display/generation, Mobile Number Portability

Voice Capability

Voice codecs:G729a/b/e,G723.1,G.711 A/U law, iLBC

Echo cancellation

Silence suppression & detection(VAD, CNG)

Adaptive jitter buffer

Volume adjustable

IVR customized

Number of Ports

1 WAN 10/100Base-T Ethernet(RJ-45 connector)

1 LAN 10/100Base-T Ethernet(RJ-45 connector)

1 Console(USB)

LEDs

1 Power and 32 groups of card online and running status indicator

Power Supply

100-240VAC, 50 - 60 Hz IN, 12V/9A OUT

Operating Environment

Operating temperature: 0 - 50ºC

Operating humidity: 10 – 90%RH

Warranty

12 Months
Mobile Features:
lSMS Send,Receive and Forward(GSM/SIP/HTTP)
lSMS Inbox
lAT Command , USSD
lSMS Format: PDU/TXT
lPIN Code Management
lCDMA Delay Answer
lGSM Polarity Reversal
lCarrier Selection
lCaller ID Hidden(need SIM Card support)
Maintenance and Management:
lMulti-language Interface
lUSB Serial COM
lConfiguration Backup and Restore
lSupport HTTP/TFTP Upgrade
lCall statistics: ASR,ACD,PDD
lEjoin Remote Management System
Application: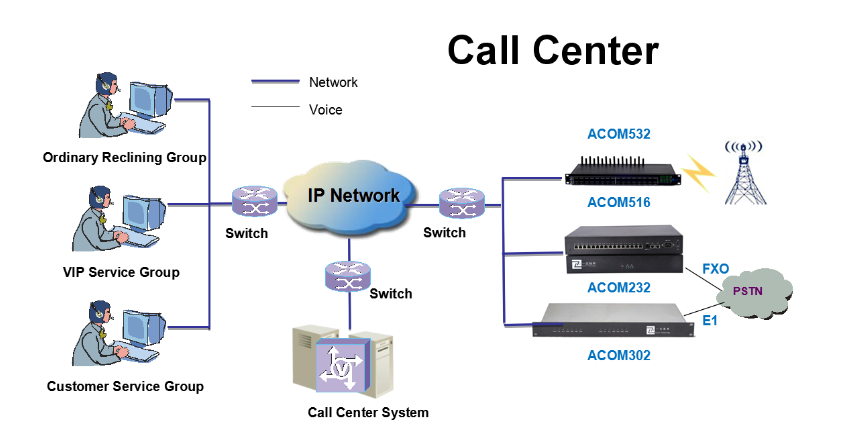 Accesories:

EjoinTech is a professional developer and manufacturer of VoIP products.
EjoinTech provide ACOM brand VoIP communication devices and solutions.
And we also offer customized products and OEM service.
They are cost-effective gateways for SOHO, SMEs and system integrators.
It also opens up new revenue generating opportunities for service providers.
Contact: