Items

Parameter

Battery model

GEB6030130




Nominal voltage

3.7V




Minimum capacity

2800mAh(0.2C discharge)




Charging voltage

4.2V




Discharging cut-off voltage

3.0V




Standard charging

0.2C /4.2V




Max charging

1.0C /4.2V




Standard discharging

0.2C/3.0V




Max discharging

continuous discharge

1.0C/3.0V

non-continuous discharge

2.0C/3.0V

Shipment voltage

≥3.85V

Battery pack impedance

Operating temperature

Charging: 0°C ~ 45°C

Discharging: -20°C ~60°C

Storage (At 50% SOC and specified temp,

recoverable capacity in % vs time )

-10℃~25℃

(12 months ≥85% )

-10℃ ~45℃

(6 months ≥85% )

-10℃~55℃

(1 month ≥90% )

20±5℃ is the recommended storage temperature

Visual Inspection

There should not be any remarkable scratches, cracks,

bolts, cauterization, deformations, swelling, leakage

and so on the surface of the cell.

Reference standard

GB/T 18287-2013,IEC/EN61960, UL1642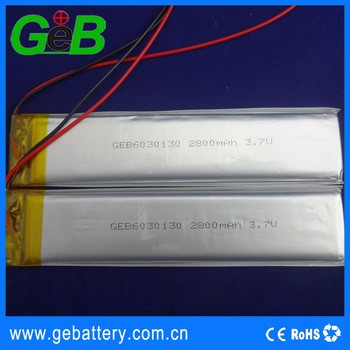 1. Lithium Polymer Battery Precautions and Safety Instructions
(1)Guarantee to keep the battery in good repair in 12 months from the shipment.
(2)Please use 0.5C current to charge up 60% capacity after the battery placed 3 months.
(3)Before Use the battery, carefully read the instruction manual and battery labels on the surface.
(4)Need to use the original battery charger, and should be placed in a dry ventilated place.
(5)Such as long-term when not in use, the battery charger to charge state half full, remove the battery from the device and separated, to avoid metal contact with the battery, causing
short-circuit or damage to the phenomenon.
(6)In use or during storage, battery found there has been high fever, leakage, odor, distortion and other anomalies, please stop using it immediately and stay away from the battery.
(7)Do not short-circuit the battery positive and negative, and careful not to allow the battery to moisture, to avoid danger.
(8)Using, keep away from heat, High pressure place, and do not beat, hit the battery.
(9)Battery end of life should be immediately removed from the equipment, Please properly handle security of spent batteries, do not put into fire or water.
(10) Shocks, high temperature, or contacts of sharp edge components should not be allowed in battery pack assembling process.
2.Storage of Lithium Polymer Battery
(1)Batteries should be charged to about 30% to 50% of capacity.
(2)Indoor storage in cool conditions without direct sun light on the packs or cartons.
(3)Store batteries in a dry location with low humidity, and a temperature range of –20°C to +30°C.
(4) Long-term storage can accelerate batteries self-discharge and lead to the deactivation of the batteries.To minimize the deactivation effect,store batteries in atemperature range of +10°C to +30°C.
(5) When charging for the first time after long-term storage,deactivation of batteries may have led to decreased capacity.Recover such batteries to original performance through repeating several cycles of fully charging and discharging.
(6) When storing batteries for more than 6 months,charge at least once every 6 months to prevent leakage and deterioration in performance due to self-discharging
General Electronics Battery Co., Ltd.
is a Sino-American jointventure company integrates R&D, manufacture and sales
Fortune Global 500 lithium battery customers special supplier
Over 1000 different sizes and capacities of batteries
We participate in a variety of trade fairs twice every year .On Electronics Show we discuss with customers
about our products and help them solve questions face to face.We have established contacts with many potential buyers from other places as America,Australia, Belgium, Israel,Germany,the Netherlands, Canada etc.
Should any question about our products or service, please do not hesitate to tell me.
Customized is warmly welcome!
Hope to cooperate with you!!!