Epoxy Resin 305AB-21X
Feature
Epoxy resin 305AB-21X can be cured under normal temperature and low temperature, bright in surface, low viscosity, natural defoaming, easy to operate. Suitable for cambered surface, craft, ornament decoration and so on.
Application
305AB-21X can be widely used for cambered surface, craft, ornament decoration and so on.
Properties before Hardening
Part

305A-21X

305B-21X

Color

Transparent

Transparent

Specific gravity

1.15

0.97

Viscosity (25℃)

1500-4000CPS

50 MAXCPS

Mixing ratio

A: B = 100:50(weight ratio)

Hardening conditions

25 ℃×8H to 10H or 55℃×1.5H (2 g)

Usable time

25℃×30min (100g)
Operation
1.Weigh A and B glue according to the given weight ratio into the prepared cleaned container, fully mixed the mixture again the container wall by clockwise, place it along for 3 to 5 minutes, and then it can be used.
2.Take the glue according to the usable time and dosage of mixture to avoid wasting. When the temperature is below 15 ℃, please heat A glue to 30 ℃ first and then mix it to the B glue (A glue will be thicken in low temperature ); The glue must be sealed lid after use to avoid rejection caused by moisture absorption.
3.When the relative humidity is higher than 85%, the surface of the cured mixture will absorb moisture in the air, and form a layer of white mist in the surface, so when the relative humidity is higher than 85%, is not suitable for room temperature curing, suggest to use the heat curing.
Properties after Hardening
| | |
| --- | --- |
| Hardness, shore D | <70 |
| Withstand voltage, KV/mm | 22 |
| Flexural strength, Kg/mm2 | 28 |
| Volume resistivity, Ohm3 | 1x1015 |
| Surface resistance, Ohmm2 | 5X1015 |
| Thermal conductivity, W/M.K | 1.36 |
| Induced electric loss, 1KHZ | 0.42 |
| Withstand high temperature, ℃ | 80 |
| Moisture absorption, % | <0.15 |
| Compressive strength, Kg/ mm2 | 8.4 |
Caution
1,The operating environment should be ventilate and should keep away from fire. Closely sealed after use.
2, Avoid eye contact, in case of contact, wash with plenty of water and get medical attention immediately.
3, If contact skin, wrap with clean cloth or paper, and wash it with water and soap.
4, Keep away from children.
5, Please take a trial before application to avoid usage mistake.

Storage And Shelf Life
1, Store at the tempestuous of 25°C or cool and dry place. Avoid from sunlight, high temperature or high humidity environment.
2, Use up as soon as possible when opened. It is strictly forbidden to expose to the air for a long time after it is opened to avoid affecting the quality of the products. The shelf life is six months in the room temperature of 25°C. .
5kgs per bottle, 20kgs per carton
20kgs per barrel
200kgs per barrel
FREE SAMPLE IS AVAILABLE!!!

Jinhua professional produce and market all kinds of epoxy resin AB glue which covers a very large range of applications: Soft AB glue for stickers, LED strip potting, badge, nameplate, nail cutters, keychain!!!

Hard clear resin for LED channel letters, photo frame coating, hand made diamond, jewelry, crafts, nacklace, bangles, bracklets, earrings, rings, miniatures such as simulated water, soup,lquid drinks and fishbows to be used in a child's dollhouse, anything you can image clear and shinning, but cheap and easy to operate!!!

Coating resin for surfboard, paddle, christmas ball, globe, foam products coating, bicycles, boats, golf clubs,skies, snowboards, swimming pool, garage, wood table coating, Epoxy flooring, to make it hard and durable!!!

Special ahhesion for wood, metal, glass, stone and some plastic.With very strong and high durable bond after cured!!!

Flexible potting resin for electronic products such as motors, generators, transformers, swithgeear, insulators, mold filling,LEDs, perfectly to protect the potting items from short circuit, dust, water, and moisture, and giving the potting items a more stable and longer life than unpotted products!!!

Pls contact us to discuss your application for a best EPOXY SOLUTION!!!
All of our products has ROHS, REACH, PAHS, ASTM, EN-71 CERTIFICATE!!!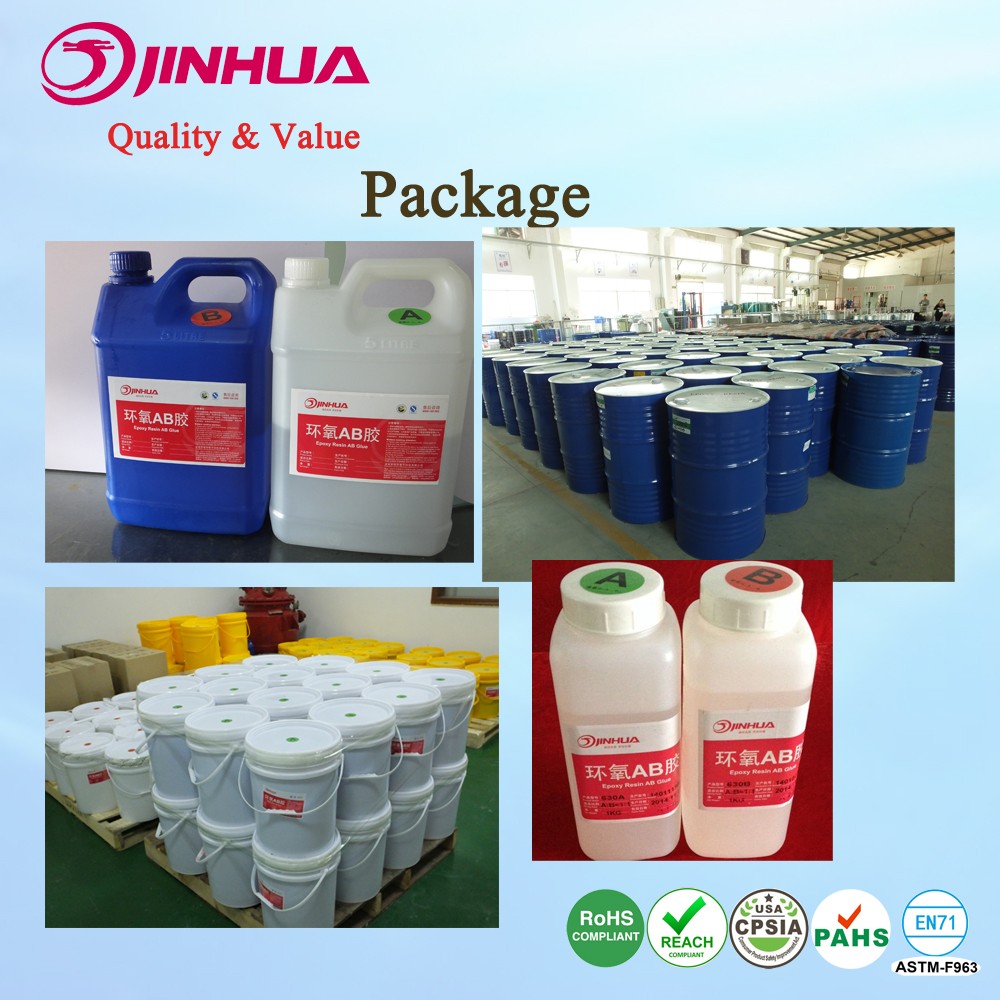 1, Why Choose Jinhuaglue?
1) Jinhuaglue owns ISO9001-2008 audited factroy of 3500sqm, all the materials are offered by factory directly.
2) Jinhua has R&D team, we accept OEM, and small order is acceptable
3) Jinhua has already ship to over 30 countrys, aboudant experiecnce on the exporting.
4) Jinhua with output of tons per day, ensure the fast on time delivery
5) Jinhua keeps all the samples for each shipment, so that to make the quality trackable.
2, What Kind of Quality Certificate Jinhua has?
1) REACH,
2) Rohs
3) CPSIA
4) ASTM
5) EN71
3 Do Jinhua has MSDS for shipment?
Yes, we do have MSDS for shipment all all our epoxy and PU resin