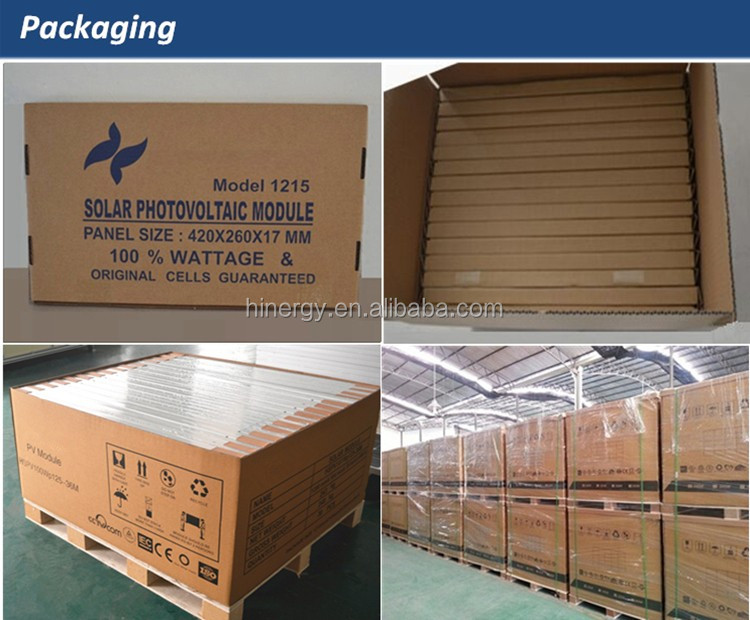 Customers packing requirement is acceptable.
1.Does HINERGY Solar offer PV solutions for commercial and industrial utilities?
Yes, HINERGY Solar offers the most cost effective PV solutions for commercial and industrial utilities seeking to meet renewable portfolio standards requirements. Please contact our sales and product management team for more information.

2.Does HINERGY Solar sell to distributors or wholesalers?
Yes, HINERGY Solar currently is selling its products through distributors, resellers, or wholesalers. And agent are wanted now. For more information, please contact our sales and management team.

3.Does HINERGY Solar offer a warranty for its solar modules?
HINERGY Solar provides a power output warranty for 25 years subject to terms and conditions and a materials and workmanship warranty for five to ten years covering defects in materials and workmanship under normal use and service conditions.

4.What are the possible problems with solar panels and how can I prevent them?
Solar panel failure is most often caused by water damage to the panel, sealant, or connections. To prevent damage or failure, mount the panel carefully. Be sure not to fix it horizontally, which encourages water collection in the frame. Also, allow for a sufficient air gap beneath the panel. Keeping your panel dry and clean will ensure efficient, maximum output.

5.Are solar electric systems safe?
Yes. Solar cells are mostly silicon, the primary component of sand. There is no exhaust and no toxic materials to leak out of the system. The electricity coming through the inverter is just like the electricity coming from household wall sockets; you should use the same care you would with utility power. All components are approved for utility interconnection and are installed according to standard construction practices.