Third largest manufacture in China for Far infrared carbon cystal heaiting panel with CE TUV ROHS
1,Comfortable heating
2,Speedy heating
3,Double energy saving up to 50%
4,Safe heating and long service life(50 years)
5,Green and low carbon products
6,Easy for installation
7,Saving space
8, Far infrared is good to your health
Structure of IR Heating Panels

Heating element

far infrared carbon crystal Technology

Front

different paintings or white pattern with epoxy resin technology

Back

aluminum sheet with profiles for mounting

Cable

1m to 3m power cable [EU plug]

Frame

anodized aluminum frame

Voltage

110v 220v,50hz

Protection

IP54
Materials:
Far infrared carbon crystal heating materials+ high temperature epoxy resin imported from repression,with polyurethane insulation materials and reflective layer.The product is nontoxic, no smell, no side effects of green materials. The indoor environment without any pollution or volatile substances. Safe and reliable electrical insulation products, laying very convenient.
Compared with traditional method of heating with inevitable presence of high energy consumption, high pollution, high waste phenomenon,far infrared carbon crystal wall heater is a new type of lowtemperature radiant heating system. This new type of IR panels are now widely used in rooms, hotels,office, buildings and industrial heating pipes , roads, agriculture frost heat storage & preservation, and military areas, etc.
Technical Data of IR Heating Panels

Heating element

Carbon crystal

Heat transfer

98%

Size

514*614mm,595*595mm,514*914mm,614*1014mm

Voltage

110v 220V-230V 50Hz

Power

300W,350W,450W,600W

Panel temperature

85 °C - 105°C

Thermostat control

5 °C - 50 °C

Far infrared radiation

>95%

Service life

>100,000 hours or 50 years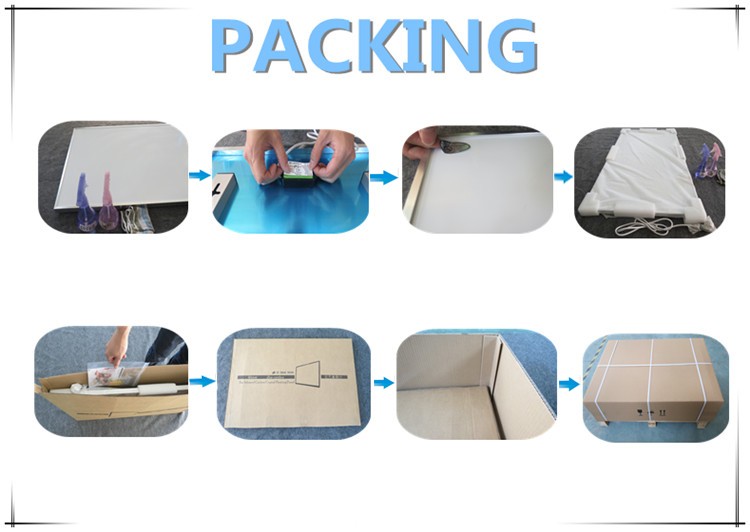 IR panels are very thin ,look like paintings and pictures but with wonderful heating effect, temperature can be set and automatically adjusted to the customer's heating demand, the surface painting can be customized, in any color or pattern so to be suitable for all ages and match different decor style.
Optional Images, please check here for more than 200 different images, http://www.cozycross.com/products.asp?categoryid=77
Artistic wall heaters can be directly installed on walls in any place that are already decorated ,you only need to chose different style to match it,so it will not affect or destroy the inherent room decor but get beautiful appearance when heating. Simple installation, maintenance and replacement, long life for more than 50 years, green and low-carbon, energy saving,fast heating....You should never miss it!
Equipped with automatic vacuum molding machines&testing devices, COZYCROSS Technology Co.,Ltd is carrying ISO 9001, and all our products are CE and ROHS certified to make sure that you are enjoying a safe and ECO friendly product.
We not only focused on domestic market ,but also take great interest in overseas countries. As a leading company of far Infrared carbon crystal heating industry in China, we have now successfully captured 35% share of its market. In the meantime,our market share in EU is also keeping an increasing track.
Quality control and Guarantee period
All our products pass all tests from our Authority and are guaranteed by insurance companies.
We provide 3 years' guarantee for our products and main parts.
We do 100% inspection before products leaving our factory.
Every panel tested by Fluke
COZYCROSS Technology Co.,Ltd
---------ALWAYS aiming to bring you COMFORT and WARMTH.