Box type high efficiency deep pleat air filter for HAVC system
1. air filter high efficiency for H10-H14, is the finally filtration in clean room that use for filter the particles more than 0.3um.
2. large dust capacity,because the filter media , the hot melt glue spacing each pleats in regular so that achieve high dust volume.
3. aluminum frame can anticorrosion for long time.
4. sealant around the media prevent the air filter is without any air leaking.
5. hepa filter with metal screens,prevent the media is without any damage.
6. light weight for easy to install.
Hepa Filter Box Application
1. Clean rooms ( suitable for use in multilayer filter filtration system or micro component electronic manufacture & assembly)
2. Food processing industry.
3. Pharmaceutical Processing
4. Aerospace Engineering
5. Genetic & Biological research
6. Biohazard Atmosphere
7. Laminar Flow Workstations
8. Bio Safe Hoods(Biological Safety Cabinets)
9. Hospital Operating Theaters & Intensive care units
10. Atomic Research
11. hepa air filter used for electronic, medicament,food.
Material and Performance
| | |
| --- | --- |
| Frame Material | Aluminum /Galvanized/Wooden /Stainless Steel |
| Filter medium | Glass fiber |
| Sealant | Polyurethane adhesive |
| Partition | Aluminum Foil |
| Max. humidity | 80%RH |
| Max. temperature | 80°C |
Hepa Filter Box Specification and technical parameters
Model NO.

Size
L*W*H (mm)

Rated air flow (m³/h)

Inital resistance (pa)

Efficiency 0.3μm
(flame method)

GB

320*320*220

400

≤120

95%

GB

484*484*220

1000

GB

610*610*150

1000

GB

630*630*220

1500

GB

915*610*150

1500

GB

1220*610*150

2000

GB

945*630*220

2200

GB

1260*630*220

3000

special size can be according to customer special requirement
Product Details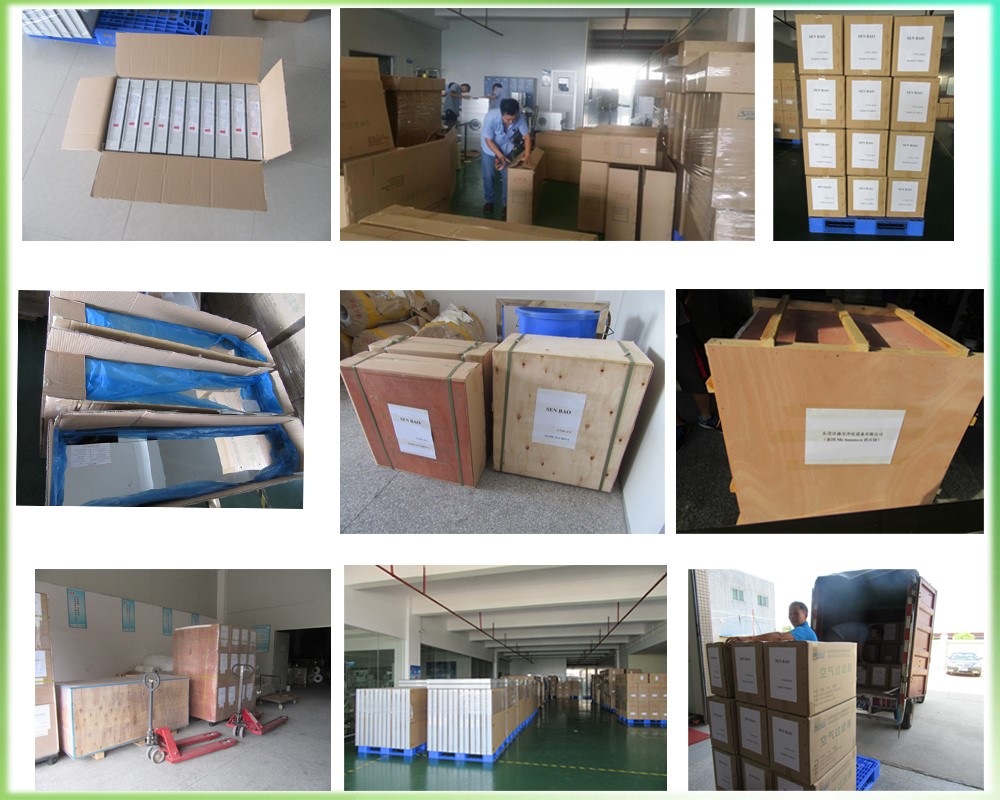 Ø

24 hours a day, 7 days a week.

Ø

Cheap, fast and efficient.

Ø

adequate stocks.

Ø

16 years experiences.

Ø

Seriously quality control.

Ø

Superb technique.
Q:Are you really manufacturer or trading company?
A:We are indeed filter manufacturer over 16 years experiences and work with many brands for dozen years,such as Coke Cola,Pepsi,Sony,Zhongsheng Medicine and etc.
Q:Where is the air filter generally use for?
A:HAVC(Heating,air conditioning and ventilation system)Spray painting stop,chemical plant,pharmaceutical plant,cement or asphalt powder plant,clean room,power station,heavy and metal industry,Gas turbo and Co-generation utility plants, Engineering and devices plants, dry and bake room, Hospital,etc.
Q:What's your testing standard?
A:EN779:2012, ISO9001

Q:What is the international standard for air filter?
A:European and American use different name for the same standard.
Euro:Pre(G1-G4),Medium(F5-F9),HEPA(H10-H14),ULPA(U15-U17)
American:Pre(Merv1-7),Medium(Merv8-14),HEPA(Merv15-19),ULPA(Merv 20)