FAQ
Q1. What is Virgin Remy Hair?
Remy hair is cut from a single donor, cuticles intact, and all hairs facing same direction from root to tip.
The cuticle layer is important when concerned with hair tangling, longevity of use.
When the cuticle layer is intact and lying flat, the hair is capable of reflecting light, so that the hair shines.

Q2. How many bundles do I need for full head?
For average head size, here is our suggestion:
(12"-14": 2 bundles), (16"-22": 3 bundles), (24"-28": 3 bundles or more).
Q3. How long does it last?
It depends on how you maintain it.
Treat it like your own hair and take very good care of it. Normally it will last for more than 1 year.
Q4. Could the hair be permed and dyed?
It is virgin hair, could be and permed and dyed. But please don't exceed 150°C, or the hair will be destroyed.
Improper dyeing will also ruin the hair.
For further information, please feel free to Contact Us: {Enter DK Hair}
Different Hair Texture,please click The following Picture: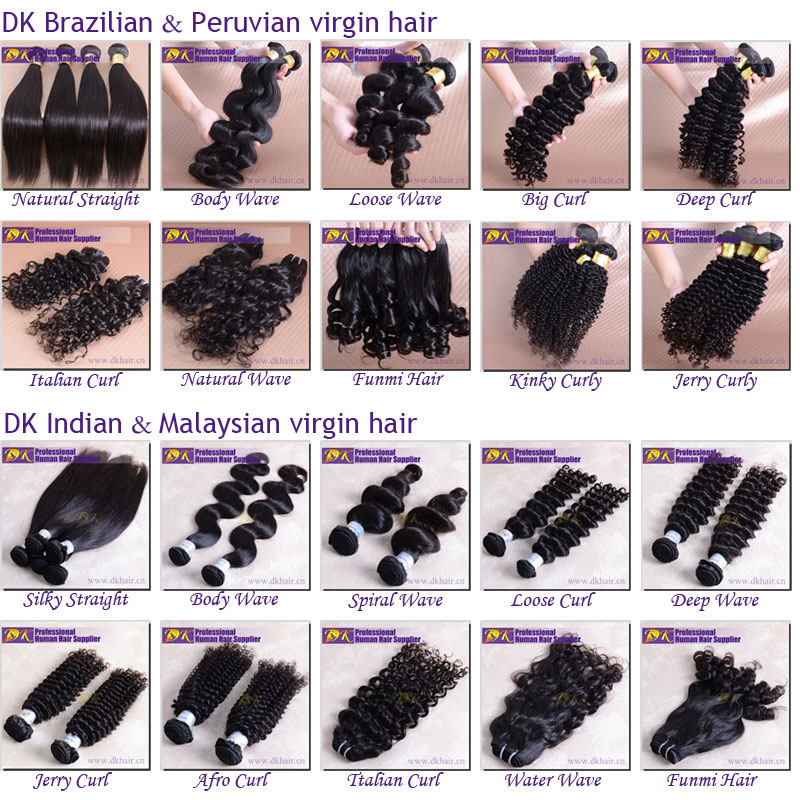 Our website: www.dkhair.en.alibaba.com or www.dkhair.cn