Welcome to our store
New High efficiency T5 fluorescent lighting fixture made in china
T5 Fixture
Great for seeding satrts,cuttings, house plants, flowersanything you want to grow indoors.Idealfoe shelves or over bench tops.
High output lamps have an extremely high lumen. 5000 lumens per lamp 54W, 2000lumens per lamp 24W.
Lamps have very low heat factor which allows the fixture to be hung very close to plant canopy, thus raising light levels.
Bend reflector is made of 95% reflective German aluminum. Light output is 300% higher in our reflector vs.a lamp with no reflector.
Features a light-weight, rust proof power coated metal body
Major brand solid state electronix ballasts (no copper windings) do not emit heat,noise or vibration.
Unique design places ballast outside lamps (instead of above lamps as in competitive fixtures) for longer fixture life.
Comes standard with adjustable steel cable hanger system.
5 year warranty on fixture.
| | | |
| --- | --- | --- |
| item | spec. | packing size |
| 2ft 2tubes | 59×6×20CM | 62×10×27cm-2.5/2kgs-1pc/ctn |
| 2ft 4tubes | 59×6×33.5CM | 62×10×41cm-4.5/2.5kgs-1pc/ctn |
| 2ft 6tubes | 59×6×47CM | 62.5×10.5×54cm-5/3kgs-1pc/ctn |
| 2ft 8tubes | 59×6×60.5CM | 62.5×10.5×68.5cm-6/4kgs-1pc/ctn |
| 4ft 4tubes | 119×6×33.5CM | 122×10×41cm-6/4kgs-1pc/ctn |
| 4ft 6tubes | 119×6×47CM | 122×10×54cm-7/5kgs-1pc/ctn |
| 4ft 8tubes | 119×6×60.5CM | 122×10×68.5cm-8/6kgs-1pc/ctn |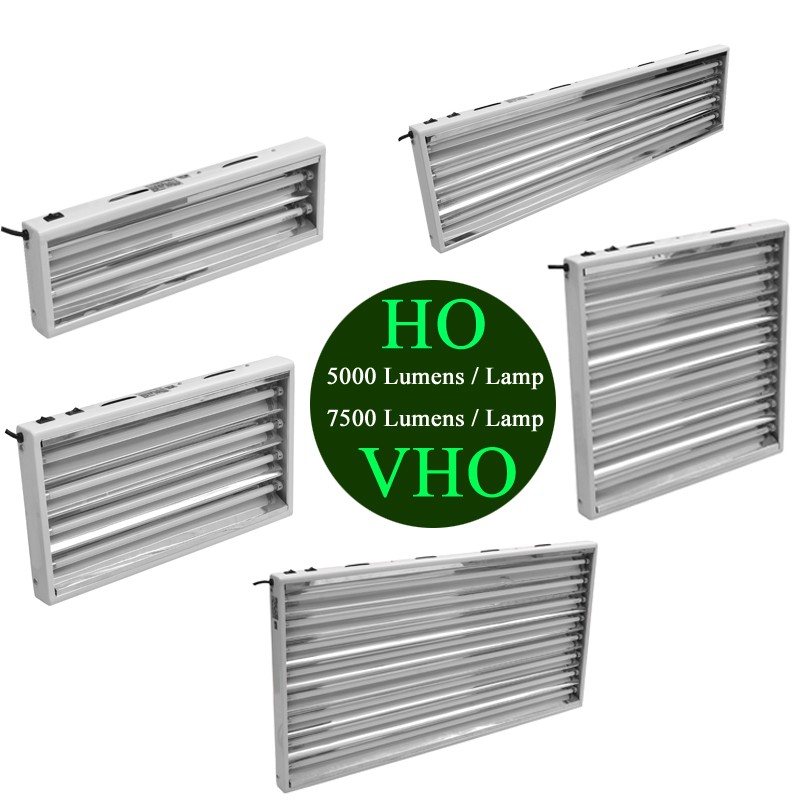 Production
Certification
Factory
If you also have the interest in our hydroponics products,you can visit our website: