Museum Quality Portrait Custom Oil Painting
Canvas
380 gsm 100% Cotton canvas
Customized Request
Painting from custom pictures is available
Customized sizes or Colors are available
Delivery Time
10-15 days for quantity 50 or less
25-35 days for container order
Drop Shipping
Sure, drop shipping is available
MOQ
1 unit of each
Packaging Method

Paper Tube for canvas rolled

Individual carton for stretched
Payment
Below US$1000, pay by PayPal or T/T, 100% when placing an order
Above US$1000, pay by T/T, 50% (deposit) when placing an order, 50% due before the shipment.
Quality Request
High quality
Unit Size
60x60cm,Custom size is available
Shipping
Sending Canvas Rolled by Air way, door to door

Sending Stretched by Sea way, to the seaport
Custom Order - Photo to Art
Want to surprise your spouse with a portrait of your wedding photo?
Want to surprise your mother with a painting of her favorite pet?
ROYI ART can turn any photograph and digital image into a handmade oil painting masterpiece.
We can create anything from a portrait of yourself, your family and loved ones to a painting of your
favorite vacation spot or first car.
Since our artists work from a blank canvas, there's no limit to what they can create. We can insert your
face into a famous painting, or repaint you in a particular style.
Can you imagine your family photo in the style of Picasso? Or your portrait in the style of Van Gogh or Andy Warhol?
ROYI Art is the one stop shop for original hand painted contemporary art at affordable prices.
With ROYI Art you are buying direct from the studio, the creators, the designers, the artists.
We have assembled thousands of the world's finest oil paintings, ranging from European masterpieces
to more contemporary works.
Real Oil, Real Brushes, Real Artists, Real Art.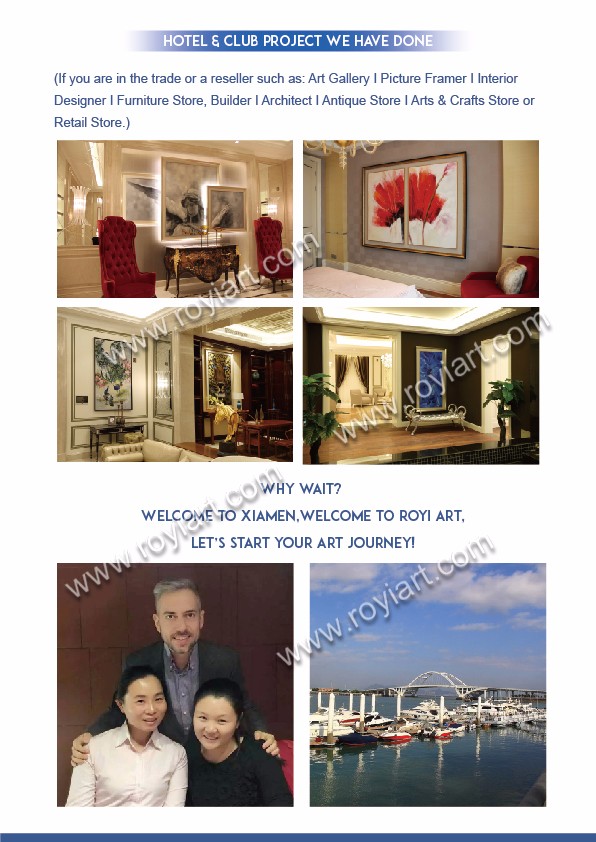 ROYI ART Advantages
7 years' experiences for handmade art oil painting creation
Custom service with strong personality
1 unit order, no MOQ restriction
Flexible selection and Quick delivery
ROYI ART Customer Testimonials
Invoice#880508
Hi Alizee,
They look great!
Thanks again for the great service and punctuality.
It was great working with you.
Yvonne C
CCS ARCHITECTURE NY
Invoice #929059
The beautiful oil painting that I ordered from your company, I gave it to my Aunt for a 90th Birthday
gift and she was delighted to say the least. We are sticklers for quality, and this is truly the highest
quality painting I have ever purchased. It's truly incredible! Thank you so much for the great service!
I will be ordering again and again, very soon! Sincerely, Linda Lester, Gilroy, CA.
Invoice #704085
"Our painting arrived just fine and in good shape. Wifey and I are both well-pleased and have hung this in our living room. Thank you. It will remind us of God's glory in creation
and his provision for our family. Sincerely, James" Pine, CO
Invoice #608036
"My painting arrived this afternoon and I'm just thrilled. I'm sure I'll be ordering again!
Best regards,
Vicki Carl, Evanston, IL."
Invoice #603027
"NICE!NICE!!NICE!!!Your courtesy and professionalism continues to hook me,
thank you again. Jones J. South Pasadena, CA."
Invoice #1202013
Hi Alizee,
Hope all is well. Finally got the painting today. It is wonderful and will be enjoyed by the end
beneficiary....my sister who is an art student. Brilliant service all around.
Will certainly recommend you guys to my friends.
Cheers. Imad Khan DUBAI AE
... ... ... ...