China Wholesale High Quality car mp4 player fm modulator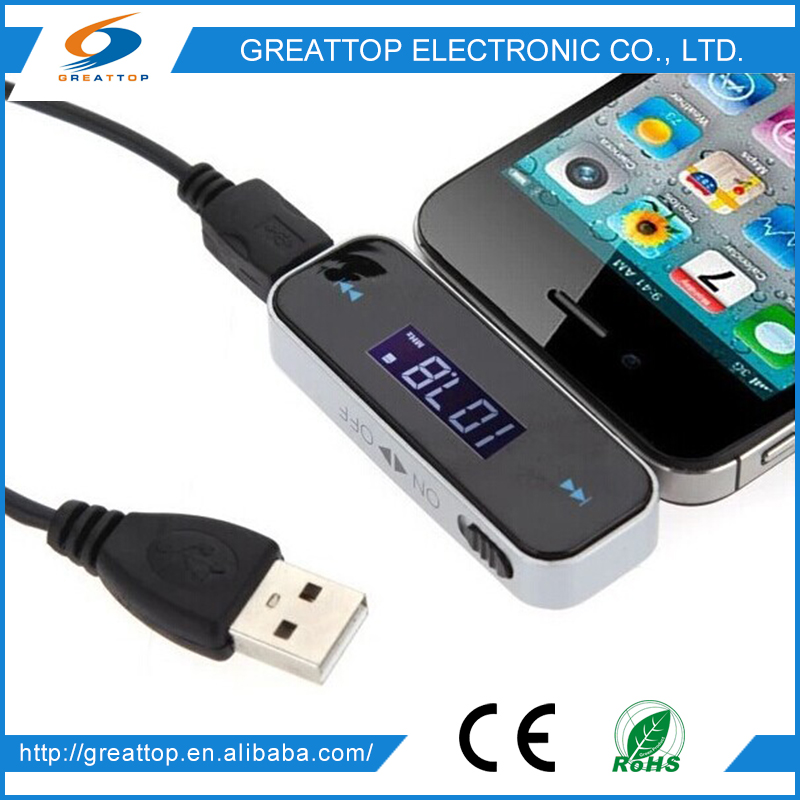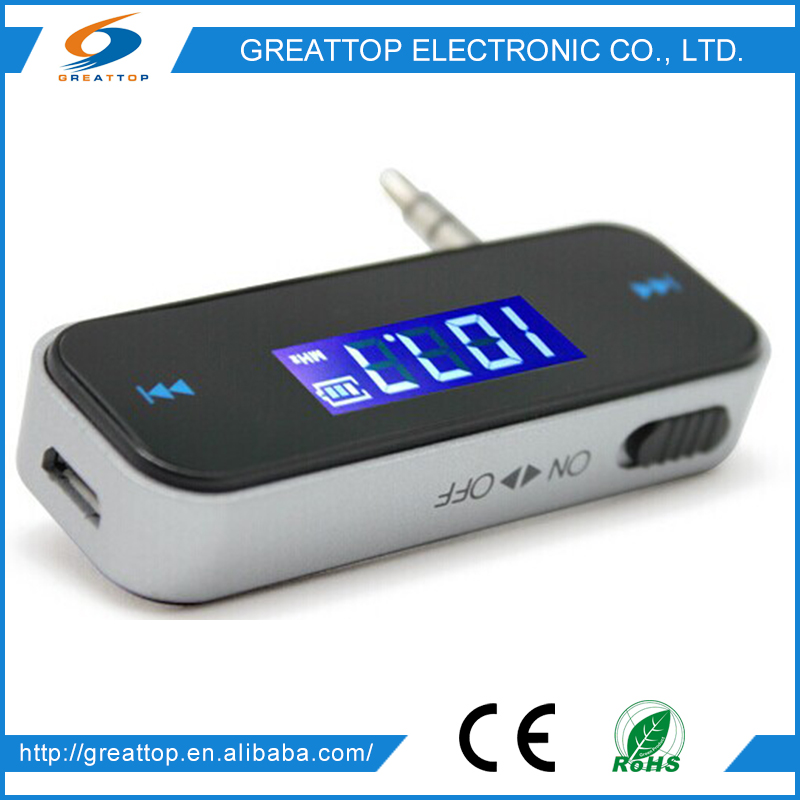 | | |
| --- | --- |
| Material | ABS |
| Product size | 58mm * 20mm * 9mm |
| Package size | 175mm*120mm*20mm |
| Weight | 70g/set |
| Color | Black |
| Output voltage | 5V |
| FM transmitter current | 12V |
| Car current | 600mA |
| Storage environment | -20ºC to 50ºC |
| Working temperature | -10ºC to 50ºC. |
| Battery | 120mA |
| Frequency response | 206 Hz |
| Transmitting Frequency | 87.5-108.0 (MHz) |
| Audio input response | 100-15000Hz |
| Stereo crosstalk | 38dB |
| Transmitting distance | 15 meter |
1. Frequency: 87.5-108MHz
2. Frequency response: 20Hz-20kHz
3. Input: 5V
4. Working current: 20-30mA
5. Battery type: Lithium polymer battery
6. Battery capacity: 120mA
7. Charging time: 5hours
8. Working time: 5hours
9. Transmitting distance: 3-5m

Product Description
1. High fidelity stereo.
2. Full frequency range.
3. Memory for last frequency
4. With touch key design.
5. LCD displays frequency with backlight.
6. Powered by rechargeable built-in lithium battery.
7. Hands free talk function offer you more safety during driving.
8. Digital PLL, transmission is stable in different environments.
9. FM Transmitter for All iPhone model, iPods, iPads, MP3/4 players, mobile players, and all other compatible 3.5mm audio socket.
100% Brand NewColor: BlackSize:5.9cm x 2.1cmx 1.2cm(L x W x H, 2.30"x0.82"x0.47")Cable length: about 81cm/31.6"FM Transmitter for iPod / iPhone 3G / 3GS / 4 and other MP3 / 4 players, all 3.5 mm headphone jack's cell phoneHands free talk function offer you more safety during driving.Launch distance of 15 metersLCD displayers frequency with blue backlight.With touch key design, high fidelity stereo.Digital PLL, transmission is stable in different environments.Full frequency range.Memory for last frequency.Powered by rechargeable built-in lithium battery, do not need to use the Phone's power.Frequency range: 87.5 - 108MHz/StepWork current: 25mA, Voltage: 3.3V
More products