Engine Oil Purification Features:
Components List: CKD assembly is adopted, such as vacuum pump and Roots pump are imported from Leybold, Germany; oil pump is imported from Magnus, Canada; filter element is imported from FILTREC, Italy; temperature controller is from Omron, Japan; electrical control is from Schneider, France etc.
Functions:
Due to long-term running of industrial equipment, its inevitable for water, solid granule to enter into the lubricating system, which will lead to the erosion and wear of metal components, and reduce the performance of lubricating oil to affect the safe running of the unit group. The TY series oil purification device is specially designed and produced for solving the problem mentioned above.
Model&Type:
Application Scope

Turbine oil, fire resistant oil, lubricating oil, hydraulic oil, engine oil, etc

Function

Efficient dehydration;

Quick break of oil emulsion;

Fine filtration of particulates in the oil;

Safe operation with units online

Color

Yellow, green, blue, orange, white, silver

Type

P movable type

M trailer cart type

F fixed type

Operation Mode

Online and offline operation
Technique Advantage:
Adopt American coalescing-separating spraying technique, greatly raise the efficiency of removing moisture and air from the oil.
Adopt American dry-decompression technique, double the efficiency of dehydration.
Adopt Fengyu patented technique of folded filter element to achieve better filtration fineness to 5μm, outlet oil ß index≥1000, together with gas recoil technology, it will double the life of the filter element.
Low load design less than 1.0W/C to ensure constant heating of the oil so as to avoid affecting oil quality.
Multi group control, constant temperature, adjustable from 0-100.
With safe chain controlling system to avoid heating without oil.
Using float valve and photoelectric oil level control, no need of human supervision.
Adopt French defoaming technique to avoid oil leaking
Major electrical apparatus imported from America, so its used safely and reliable.
Using phase protector to avoid damage of electrical motor.
Oil pump with low noise..
Ship-shape chassis-mount structure to ensure oil leak proof and protect the environment from pollution.
Optional parts:
| | | |
| --- | --- | --- |
| Number | Parts | Description |
| 1 | Alloy cabinet | Made of alloy to prevent wind, rain and dust |
| 2 | Flow meter | To measure the flow volume of the oil |
| 3 | Molecule filter | To reduce acid value:MgKOH/g≤0.03 |
TECHNICAL INDEX
Index

Unit

1

2

3

4

5

6

8

10

12

Flow rate

L/H

1000

2000

3000

4000

5000

6000

8000

10000

12000

Working vacuum

MPa

-0.07~-0.096

Water content

PPm

50

Filtering fineness

μm

1-5

Working pressure

Mpa

≤0.5

Working temperature

40-70

Power supply

According to clients request

Working noise

dB

≤65

Heating power

KW

.9

15

24

30

54

72

72

108

144

Total power

KW

11.5

17

26

33

58

76

78

114

150

Diameter of inlet/outlet

MM

32

44

50

Gross weight

Kg

350

550

700

850

950

1100

1300

1500

1800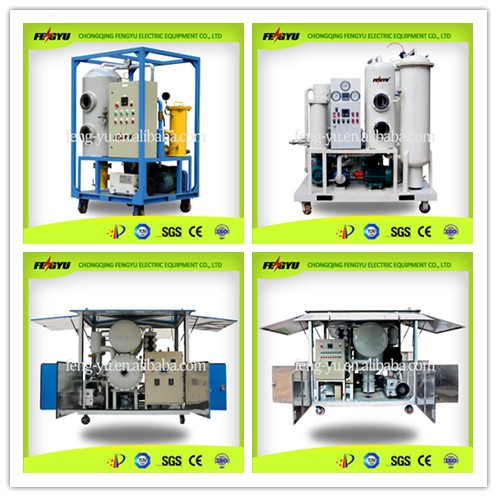 Fengyu Company: