NOVAL ULTRA CLEAR FLOAT GLASS HIGH QUALITY DESCRIPTION
NOVAL Clear Glass is made by high-quality sand, natural ores and chemical materials by mixing them and melting them at high temperature. The molten glass flow into tin bath where the float glass is spread, polished and formed on the molten tin. The float glass has smooth surface, excellent optical performance, stable chemical capability, and high mechanism intensity. It is also resistant to acid, alkali and corrosion.
NOVAL ULTRA CLEAR FLOAT HIGH QUALITY FEATURES
1). Smooth and flat surface and good vision
2). Excellent optical performance
3). Stable chemical properties
4) Resistant to acid, alkaline and corrosion.
5). Flexible size specifications, minimizing cutting loss
6). Substrata for each level of glass processing
7) . Applications: architecture, furniture, mirrors
NOVAL ULTRA CLEAR FLOAT HIGH QUALITY OPTICAL PARAMETERS
Thickness

Visible Light
Transmittance

Visible Light
Reflectivity

Solar
Transmittance

Solar
Reflectivity

Visible-Infrared
Transmittance

Ultraviolet
Transmittance

2mm

90.69

8.3

87.22

7.9

84.15

83.44

3mm

90.25

8.3

85.09

7.7

80.51

80.62

4mm

89.82

8.3

83.04

7.6

77.03

78.18

5mm

89.39

8.2

81.07

7.4

73.71

76.02

6mm

88.96

8.2

79.17

7.3

70.54

74.08

8mm

88.31

8.1

76.51

7.1

66.14

70.6

10mm

87.47

8.1

73.61

6.9

61.56

67.15

12mm

86.25

8

68.53

6.6

53.09

66.23

15mm

85.25

7

67.83

6.3

52.09

65.25

19mm

83.85

7

65.53

6.1

51.01

63.15
NOVAL GLASS ADVANTAGES IN GLASS AND MIRROR PRODUCTS AND SERVICE
1). 16 years' experience specialized in glass manufacturing and exporting, since 1996.
2). Top quality glass with CE Certificate and PPG Technology, exporting to 75 countries and areas worldwide.
3). Full range of flat glass supply, offering one-stop purchase with most competitive prices.
4). Rich experience in value-added glass, such as tempering, cutting, bevel edge as per clients' requests.
5). Strong and fastened sea-worthy wooden cases, managing to reduce the breakage rate as low as possible.
6). Warehouses available at TOP 3 container seaports in China, ensuring fast delivery.
7). Professional and experienced sales team, offering personalized and excellent services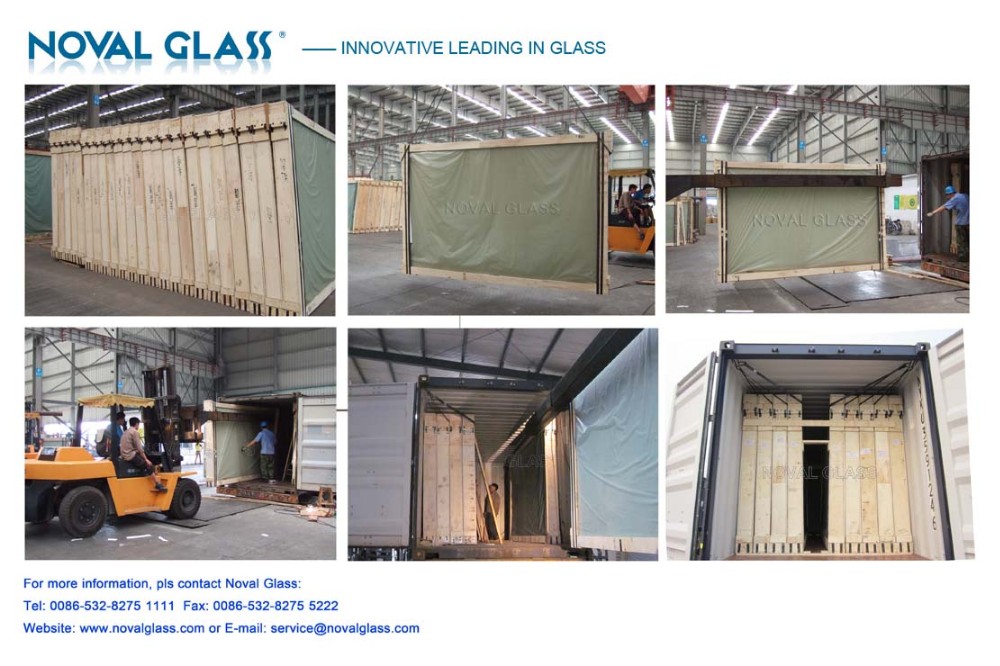 WHO ARE WE
Noval Glass is a highly professional glass and mirror supplier from China. Owing to 12 years' exporting experience, Noval Glass has become China Leading glass and mirror supplier with Strong Technical Support, Rich Experience, Huge Productivity and Strict Quality Control. Noval has been exporting glass and mirror to all over the world like Europe, American, Latin America, Africa and South Asia.
OUR PRODUCTS
Noval Glass always focuses on the glass and mirror quality. Strict QC allows no defects silver mirror to be delivered. Standard Size , Customize dimension, cut or grinded edge, round or square shape, Clean or LOGO mark, all requirements are available in Noval Glass.
OUR PACKING
Thanks to professional and experienced working stuff, all packing and loading is guaranteed to be strong and seaworthy to reduce the breakage rate to as low as possible. Wooden crate, carton box, plastic film, customized, all packing can be fulfilled at Noval Glass.
OUR SHIPMENT
Noval's shipping department has been doing a great job. We do more CFR than FOB. Competitive ocean freight and well organized operation saves you both money and energy.
OUR SERVICE
Noval's sales team is always offering excellent service for our customers. Every detail will receive Noval's full attention. Every personalized requirement will receive Noval's utmost efforts. Every confusion and difficulty will receive Noval's corresponding solution.
OUR AIM
With all the products and service, Noval Glass is dedicated to make all your business and purchasing much more smooth and easy. The ultimate aim of Noval Glass is to offer most suitable and favorable solutions for all our customers.