2017 Hot Selling Products fda approval diode laser hair removal machine
Features of 808nm Diode Laser for Hair Removal
808nm diode laser for hair removal skin tightening uses the most advanced technology that penetrates , More assured the mechanism performance, clinical results, safety.

High energy: no pigmentation, excellent treatment result can be expected at the first treatment and suitable to all types of hair

Long laser width: Effective for the hair follicles produce heat accumulation, Permanent hair removal.

Safety:Almost no skin scattering, no harm to the skin and sweat glands, no scar, no any side-effect

Strong touch cooling system can make momentary epidermal anesthesia, no any painless during , increases comfort during treatment

Quick: Squared big spot size could prompt the treatment speed, treatment speed and efficiency. Reduce treatment time for original 1/5

The power module design is suitable for import and export business.It is convenient to maintenance

Best thermostatic water cycle system guarantee semiconductor pump can't burn cavities due to overheating

Self-checking and auto-protection mechanism to ensure the stability
808nm Diode Laser Hair Removal Treatment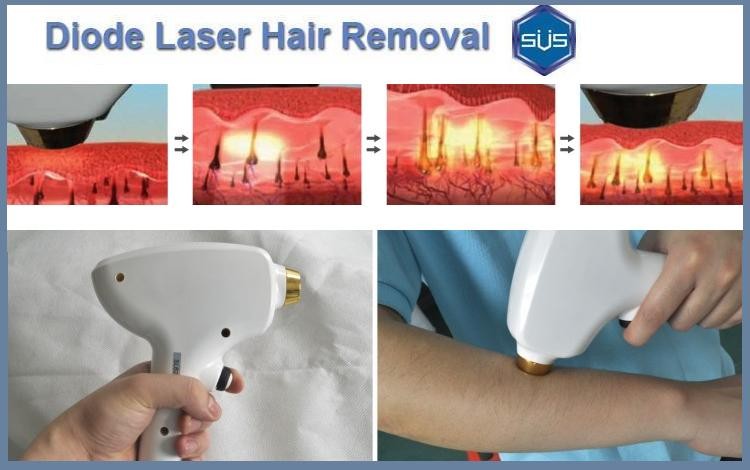 808nm Diode Laser Specifications
| | |
| --- | --- |
| Light Source | Diode Laser |
| Machine type | Terminator |
| Display system | color microcomputer touch screen |
| Laser type | High power diode laser |
| LCD screen | 8.0 inch 24 colour multi color touch screen |
| Wavelength | 808nm |
| Power | 1400W |
| Output Energy | 0-280J/cm2 |
| Fluence | 0-280J/cm2 |
| Pluse frequency | 0.5-10Hz |
| Pluse width | 5-800ms |
| Spot size | 11*11mm |
| Cooling system | Compressor Refrigeration+Sapphire contact cooling style+air+semiconductor |
| Crystal temperature | -5~5°c |
| Power requirement | AC220V/110V 50~60Hz |
HOW DOES THE 808NM DIODE LASER REMOVE HAIR?
The laser emits a beam of light that passes through the skin, to the hair follicle. The energy is absorbed by the pigment in the hair follicle, and then transformed into heat to destroy the follicle.
WHAT IS THE DIFFERENCE BETWEEN IPL AND 808NM DIODE LASER?
IPL stands for Intense Pulsed Light and is not a laser. While IPLs can be effective for some cosmetic procedures, experience supports the more powerful, yet safer use of the laser for hair removal.
IS THE hair removal PROCESURE EFFECTIVE?
The effectiveness of the treatment depends on the colour, thickness and depth of the hair, thus red, blond and grey hair reacts less than black hair. The outcome of the treatment also depends on the hormone level. To reach a high effectiveness it is important to set up a treatment plan with your doctor depending on your skin type and hair consistency.
ARE THERE ANY SIDE EFFECTS?
Short-term side effects may include a slight reddening of the skin or local swelling which typically lasts less than an hour or two, although infrequently last a few days. Most clients resume normal activity after their treatments. Occasionally, a slight rash may occur that may last from a few hours to a couple of days. In very rare instances, some blistering and discoloration of the skin may occur which are usually only temporary.
WHO IS AN IDEAL CANDIDATE FOR LASER HAIR REMOVAL?
The ideal candidate has dark hair and light skin. Dark hairs absorb more of the laser light and lighter skin allows more transmission of the laser light into the follicle. We do safely treat darker skin tones and tanned skin; however, the treatments are most effective when you are your natural skin tone. Non-pigmented hair does not respond to the laser treatments, and electrolysis would be the best permanent alternative.
CAN YOU DO LASER HAIR REMOVAL ANYWHERE ON THE BODY?
We can do laser hair removal just about anywhere on the body. The most common areas for women are the upper lip, chin, underarms, bikini line legs and arms. Men desire hair removal on the back, shoulders, chest and abdomen. We can treat any area with the exception of the areas around the eyes.
Annually Exhibited
1. Cosmoprof Bologna Italy - March
2. Beauty Vision Poland - April
3. Turkish Beauty Eurasia - June
4. Cosmoprof North America-July
5. Cosmoprof Asia HongKong- November
6. 20th InterCHARM Exhibition in Russia
7. 2015 Cosmoprof-Italy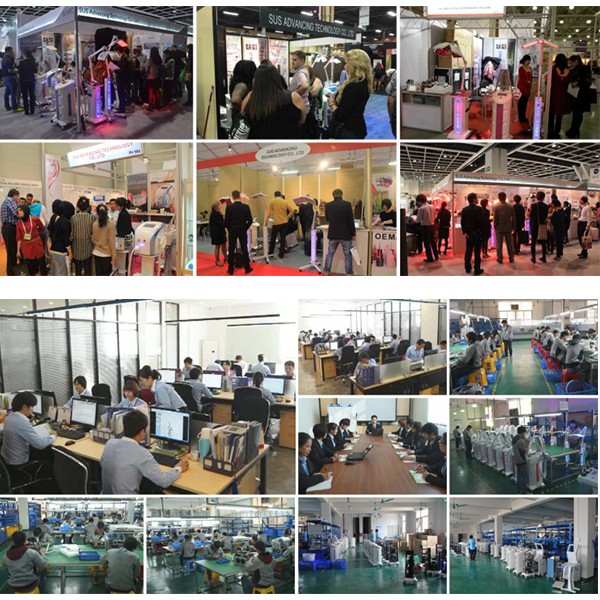 About us:
SUS Advancing Technology Co.,Ltd is a global developer, manufacturer and provider of laser, light-based, radio frequency and ultrasound devices of aesthetic and medical applications. SUS have been at the forefront of innovative systems designed to meet the unique needs of today's practitioners. SUS's mission is to provide modular, cost-effective and high-performance systems that enable practitioners to confidently offer safe, effective and profitable aesthetic treatments to their patients. Born and work for beauty & slim machine.
All of our machine have CE, ISO, and NQA certificate. Besides, we have a team of QC to control and inspect every single machine is in perfect condition before delivery. Because we fully understand that it will be a great trouble if machine have any problems during working at oversea.
1. Online customer service: customer can contact each Suslaser staff online if they meet any questions, and our staff will help to judge the situation and give our advises. Most problems will be solved at this stage.
2. Engineer Judgement: If our customer service do not work, our engineers will give their pinpoint solution to each case.
3. Warranty: Up to 12 months for repairing or replacement. During warranty period, customer will enjoy free repairing parts or necessarily replacement due to material and workmenship problem. But any men-made or inappropriate conduct damage will be excluded.
About instruction and usage
We can provide a complete user manual and usage video for instruction and application. And 24/7 online consultant service ensure you whatever problem and whenever you meet, you can solve easily.
For more options of our customers, Suslaser only give the Exw price, which factory price without shipping. But if you need, we can provide door to door express and assist to send machines by carrier, like DHL, FedEx, EMS, TNT, etc with prepay freight cost or collective account. Customer also can let your shipping agent to contact us, and we suslaser will do our best to cooperate with them.
If customer have any needs of customization or OEM service, please contact our staff for more information. For appearence change, like Logo, operating system background, outlook adding, print, language, it would be easy to achieve. For technology change, like PDT with two applicators, Lipo laser combined with cavitation, please contact us for more support.
Suslaser cherish every chance to cooperate with every distributors or willing to assist buyer develop into a local distributors. Distributors will enjoy more supports from us, regarding of price terms, technical support, customization, technical cooperation, exclusive policies, etc.