50m Portable wheels mobile Electric/diesel water well drilling machine/Air DTH water well bore hole drilling rig


Hydraulic& Pneumatic, All-Pneumatic and Electric & Pneumatic Type dth drilling rig:
KQD Series are mainly used for water well drilling rig 60m and blast hole drill, This series electric drilling rig is to transfer the motor power and compressed air power into mechanical power for rock crushing .When energized, the torque generated by the motor through gear reducer parts to drive the rotation of drill. Compressed air lubricated after the pneumatic valve is divided into two roads, one is through the air valve come into the front and back chamber of push cylinder , which produces an axial force through the cylinder piston rod and guide rod to advance or promote the rods,; another way is through the intake seat reducer and other components into the impactor inside , so as to realize impact drilling.
KQY is one hydraulic & pneumatic model, rotation is driven by hydraulic station, the drilling work is driven by compressed air. It can easily drill down hard rock and is very efficient, portable for open-air drill work.
KSZ100 is one full pneumatic model, both rotation and drilling work is driven by compressed air, the advantage is ealisy work in areas without electricity,can drill rock efficiently.
Specification of small DTH drilling machine for sale
1.High performance-all air driven down the hole drill
2.Simple structure and single dynamic
3.Adapt to any geological feature
4.Easy operating and move
5.Good noise reduction effect, reduce the pollut ion

Features of small DTH drilling machine for sale
1. The Ultimate combination of performance and economy.Our DTH system delivers the highest-possible drilling performance at low running cost.Our DTH used in varity heavy industry.
2. It is used to drill blasting holes like small to medium mining porjects,national defense projects , irrigation projects,road construction and ect. Our down the hole drill is edeal equipment for down -hole blasting .
3. Split type hudraulic power pack is the product that gains national patent. The power section and operation section are separate,therefore,when the drill works ,it is only need the move the operation panel to realize multi-sopt work, which would lower the labor intensity and make the working life whole machine longer.

Advantages of small DTH drilling machine for sale
A----Forward,turn,and the impact of all the compressed air as power,structure simple ,power,relocation facilities.
B----In the single-top,double top,bearing-type three supporting structures to choose fom,can adapt to any geological features.
C----Centralized control mechanism,easy to operate.
D----Unique dual muffler,muffler effect, reducing environmental pollution.

Application of small DTH drilling machine for sale
It is widely used in small and medium-sized mines,defense engineering,water conservancy,irrigation projects,road constrtction, blast hole drilling operations in Rock engineering, which is ideal machine to acheve hirarchial extraction and medium deep-hole blasting.
| | |
| --- | --- |
| Dia of The Hole | 90-130mm |
| Depth of The Hole | ≥50m |
| Rotation Speed | 0-60rmp |
| Working Pressure | 0.7-1.4Mpa |
| Specification of Drill Rod | 76*1500mm |
| Air Consumption | ≥12m³/min |
| Lifting Power | 12000N |
| Motor Power | 7.5KW |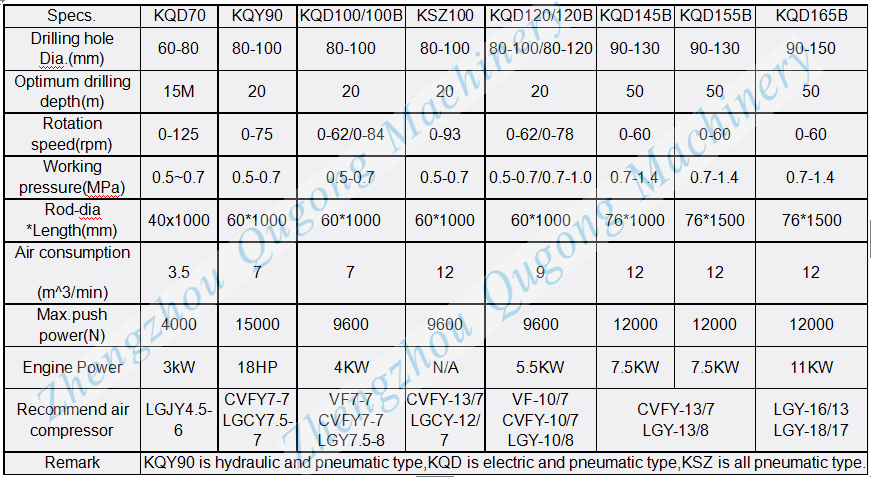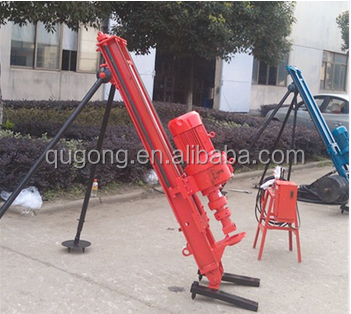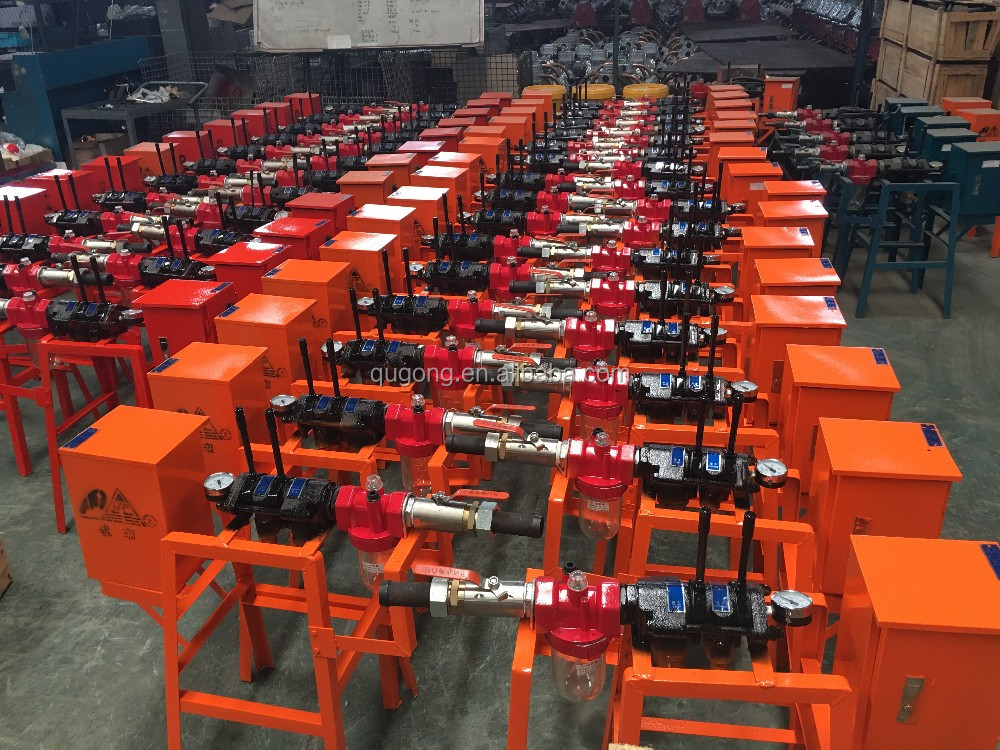 More Details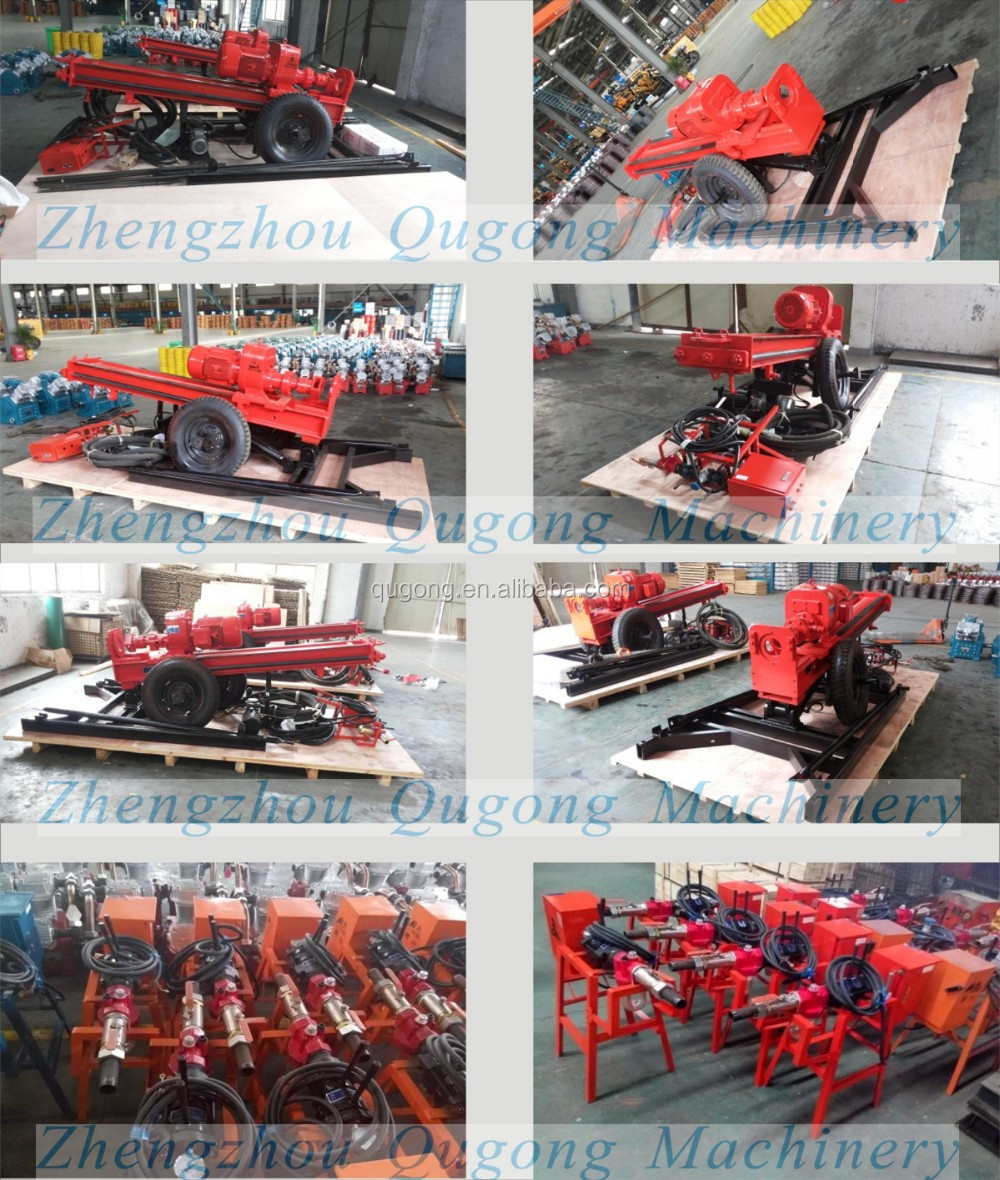 Application
Small Water Well Drilling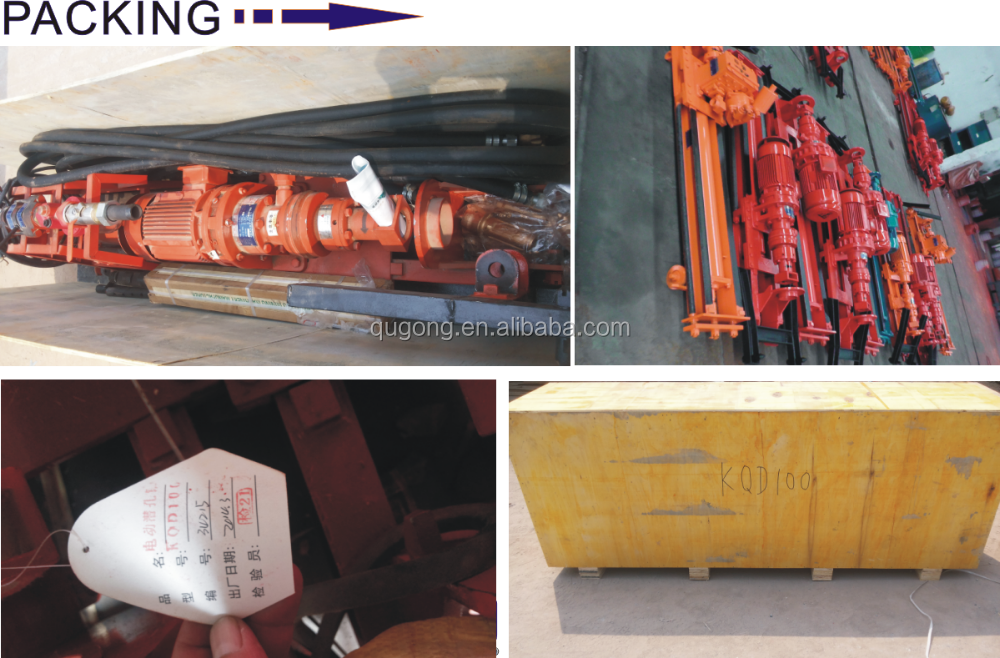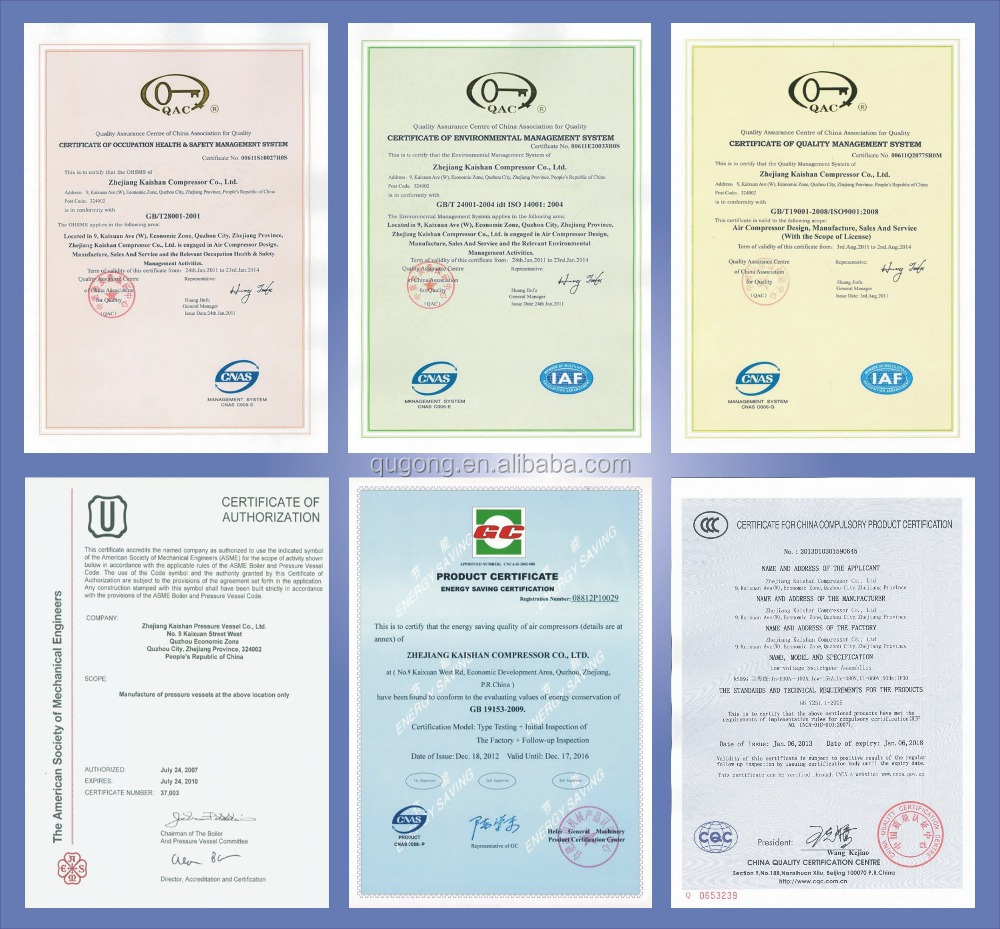 Contact Way
Icey Wang
Office Line:+86 371 86609811
Email: icey(at)qugongmachinery.com
WhatsApp:+86-18737109729
Skype:alicewangqugong