2016 New Design 10w Mini Solar Kit Lighting Home System with Car Charger
1. Introduction
This is DC solar panel kit for home. It can provide power for all kinds of low voltage electrical appliances, such
as Automobile electric appliance, DC LED, Mobile phone, digital products. With complete functions, simple operation, no need complex installation, plug and play.
1.MCU control (Micro Control Unit), PWM type charging work in with advanced charging and discharging control algorithm, it can effectively prolong the service life of battery.
2.Offer DC 12V output interface and 5V USB output interface.
3.5 grade Indicator for Capacity of battery, Indicators for LVD, Charging, Float charging, and Overloading.
4.All round Reverse Connected Protection, Reverse Charging Protection, Overcharging Protection, Overload Protection
5.It can direct start charging function without turn on the production, so the self-consumption will be low.
6.Battery Low final protection, no need to worry about destroyed battery because long time forgetting to close the system.
7.Optional MP3 Decoding and Radio.
8.
2. Operation and Troubleshooting
(1).Operation
indicator

state

function

Charging indicator

solar panel is charging the battery

flickering

battery is full and enter float charge state

off

panel low voltage or no connection

batte

load indicator

on

load output port is aviaiable

flickering

overload protection state

off

load output port is not available

battery level indicator

100%

on

battery voltage is no lower than 13V

off

battery voltage is no higher than12.6V

80%

on

battery voltage is no lower than 12.6V

off

battery voltage is no higher than 12.4V

60%

on

battery voltage is no lower than 12.4V

off

battery voltage is no higher than 12.0V

40%

on

battery voltage is no lower than 12.0V

off

battery voltage is no higher than 11.5V

20%

on

battery voltage is no lower than 11.5V

flickering

battery voltage is no higher than 11.0V and enter under-voltage protection state

off

Power switch is off or voltage is lower than 10.5V and enter standby state
(2)Troubleshooting
1.Charging indicator is off: please check whether the solar panel is sunwards or battery is full. Make sure
the connecting cables are connected in the right way.
2.Output is not available and the load indicator is off: please check whether there are only three indicators for battery levels are lighted; whether the system has entered battery under-voltage protection state; whether the power switch of the machine is turned on. If the battery is under-voltage, please charge it continuously for 10 hours before reuse it.
3.Output is not available and the indicators for battery level are flickering: battery is
under-voltage, please wait to reach the recovery point or restart to normal working state.
4.Output is not available and the load indicator is flickering: please check whether it is overload or short
circuit, remove the loads then wait for 2 minutes or restart the power switch.
5.Radio function is not available: please check whether the power switch for the radio is turned on and
you have chosen the right mode; check whether you have to searching for FM channels and save them.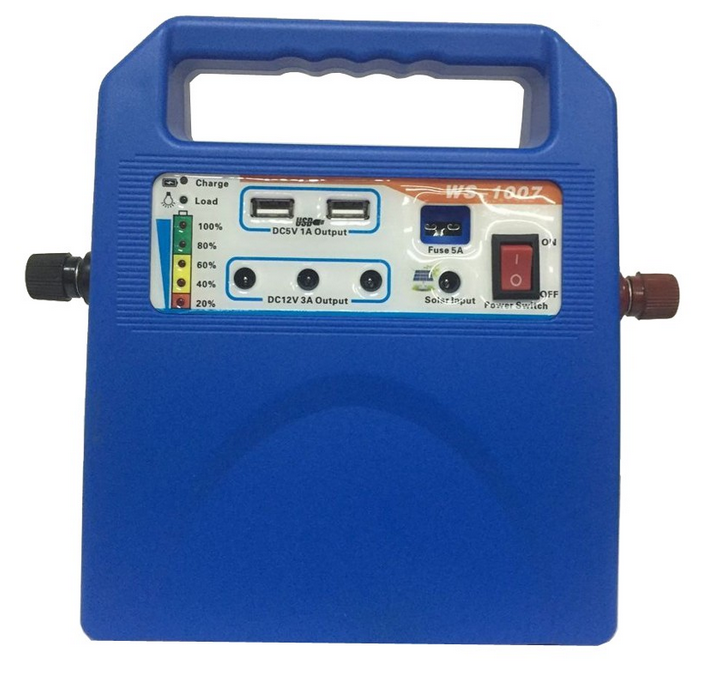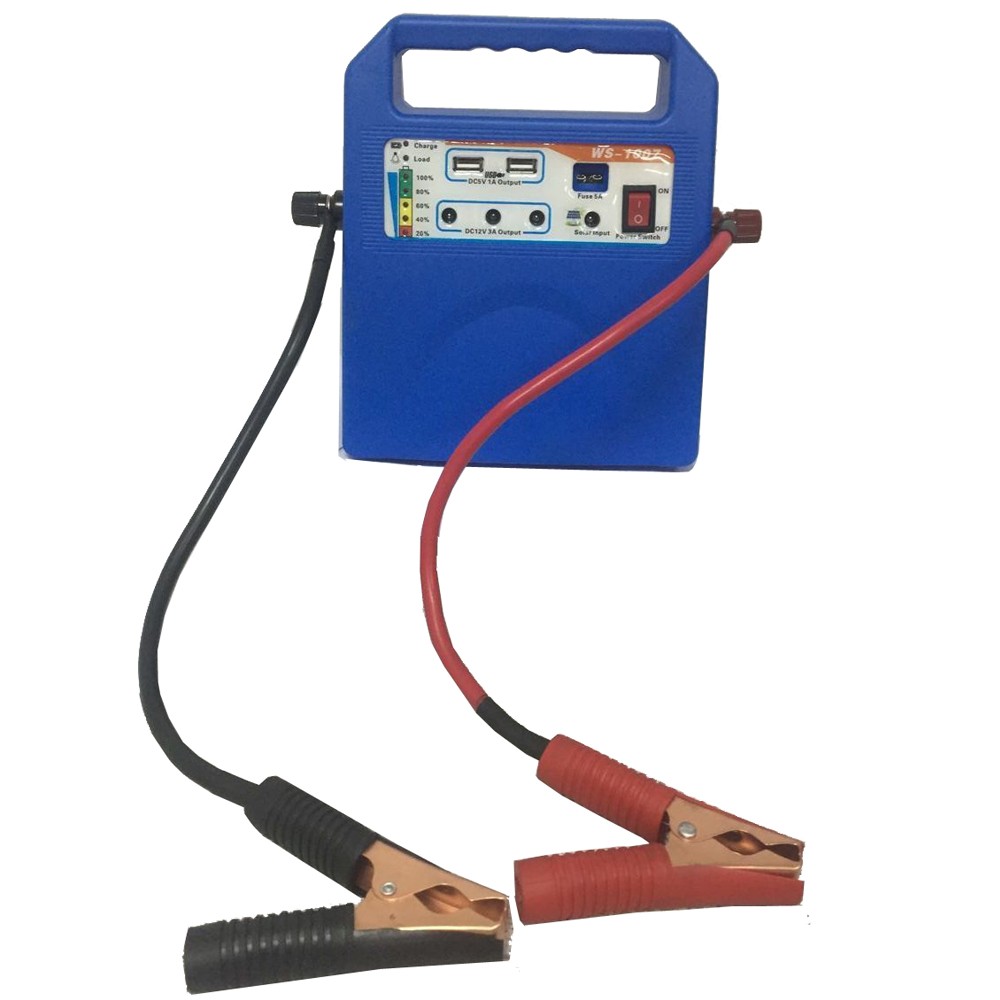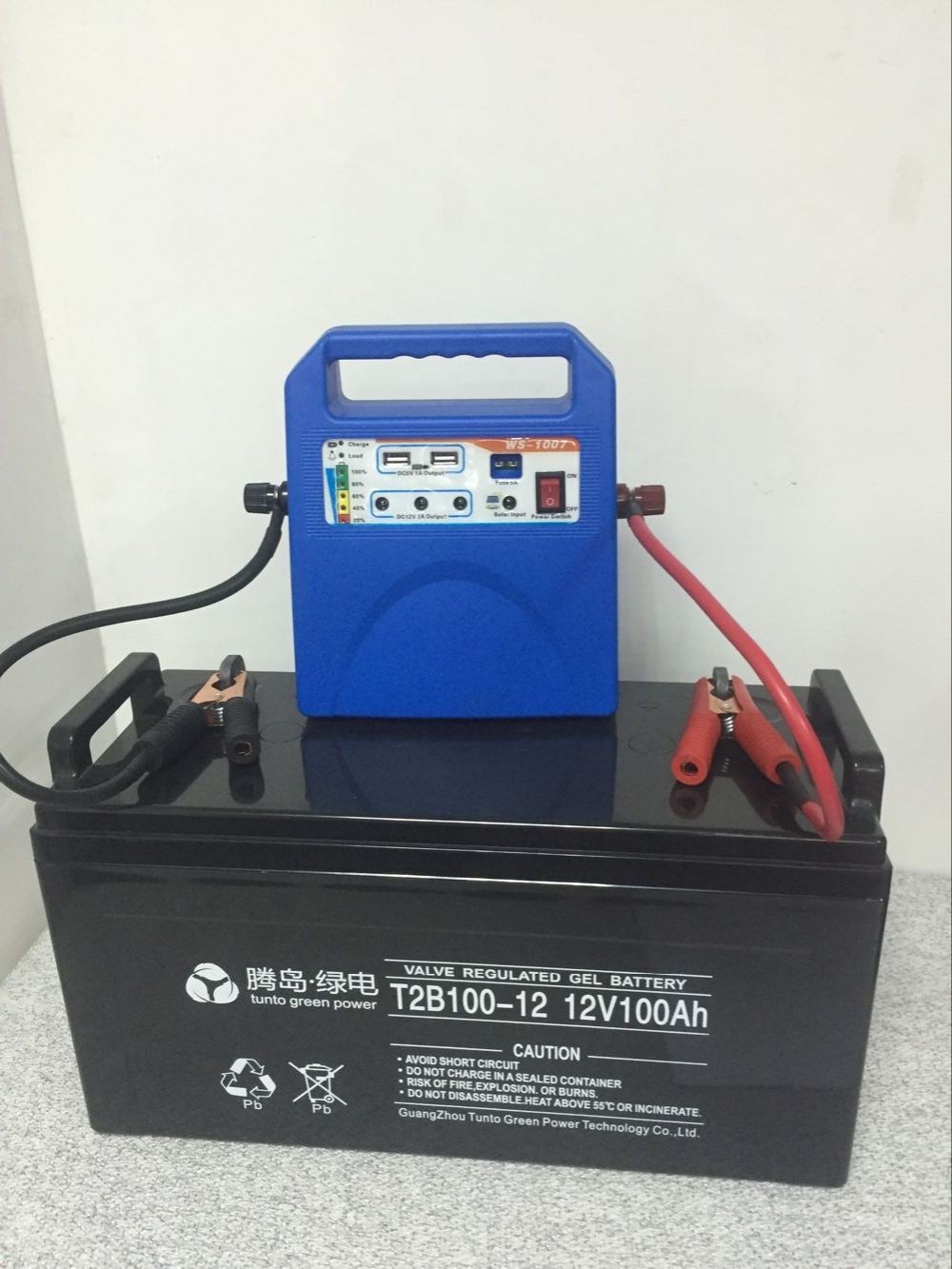 1. USB interface: Charging for 5V DC equipment such as Mobile phone, Pad, Digital Camera and so on.
2. Power Fuse: To prevent short circuit of battery, please take out the fuse if long term no use.
3. Power Switch: Control the machine and output of the load.
4. Solar Panel Input: Connected with solar panel and AC charge adapter.
5. DC 12V Output: Connected with 12V LED or others 12V equipment.
6. Capacity: A real-time indicate the capacity of battery.
7. Load Indicator: Indicate the working state of load.
8. Charge Indicator: Indicate the charging state of battery
9. USB Port :Capable of reading MP3 files from USB driver and card reader.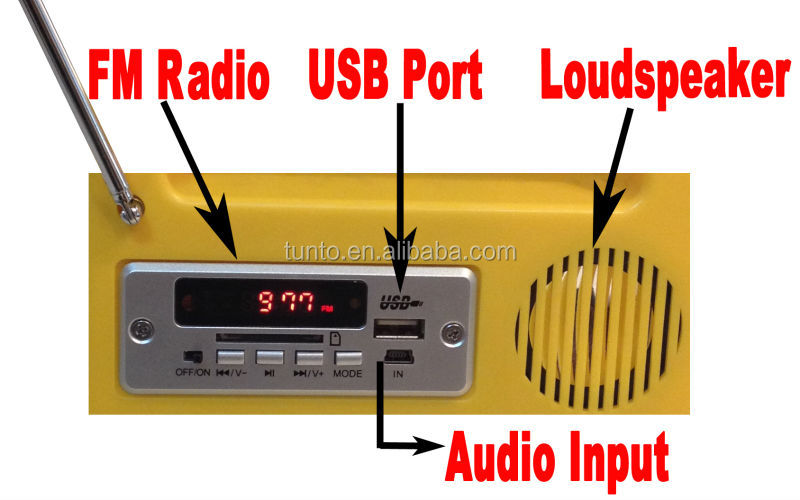 Features
*Green power system,powered by Solar energy
*Portable fashion, plug and play design ,very easy for using
*Lighting and Mobile phone charging function
*2pcs Super bright LED Lamp , with more than 10 years self life
*With switch on each lamp , and turn on and off easily for energy saving
*Perfect for remote area ,island area where short of electricity ,used as lighting ,mobile charging, radio and MP3 player(can use memory card to play)
*Perfect for using as a Emergency Lighting power sourcing , any place can work just with sunlight
*Perfect for camping with the portable design.
Application Place
1. Samples
Samples are Available for Testing and Market Test.
2. Warranty of Tunto Products
Tuntoprovides warranty against defects in materials and workmanship for its Uninterruptible power supply, Power inverter/chargers including inverter12v 24v 48V, Solar charge controllers,Solar system,Solar street light,Solar mini system ("Product").
3. Guides and After-service Consultancy
Tunto Power Team will offer these guides below.
A. Need an Accessory?
B. Products Repair?
C. Power Problems to Solve?
D. Power Protection Solutions, etc.?
24 Hours After-service consultancy just for you and to make your problems to solve easily.
4. OEM Service
OEM service of Tunto is strictly based on the ISO9001 ISO14001 quality assurance system. The TOP involves the effective teamwork of departments from Sales, R&D, and Engineering, purchasing, production & QA, assuring a high quality product and prompt delivery for customers. The standardization of our quality system and the quality stability has earned us the trust of our customers for 3 years.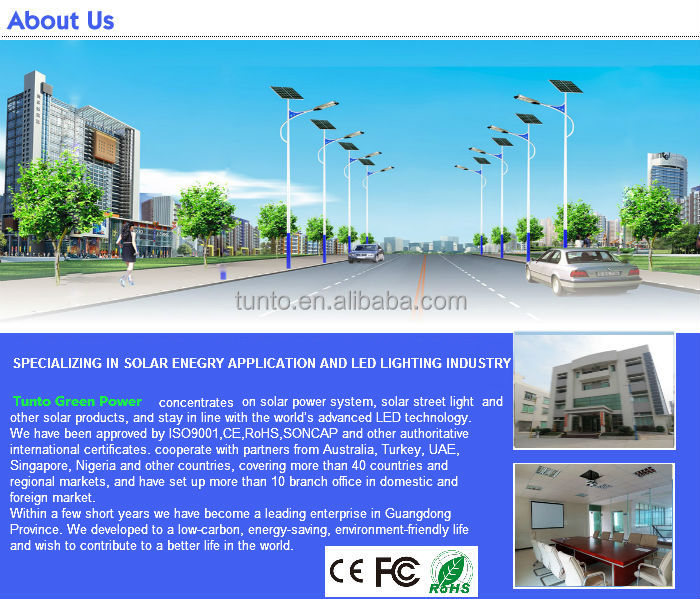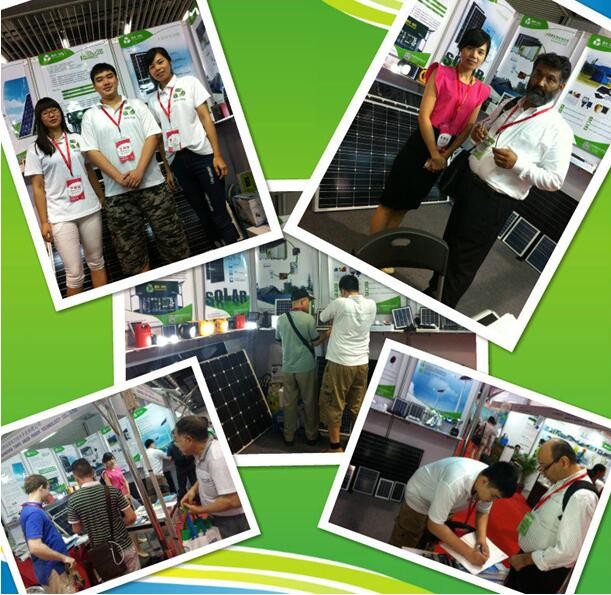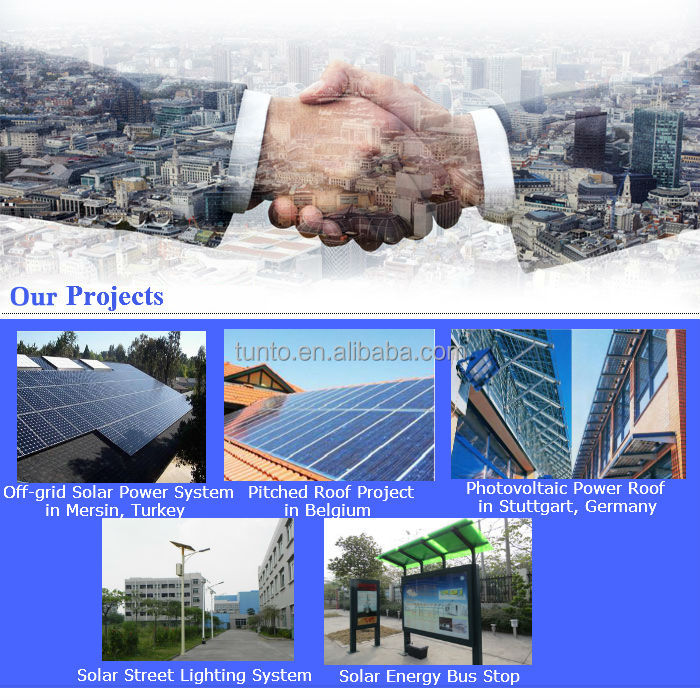 Are you factory?
Yes,Welcome to visit our factory.
2. All products have a warranty?
Yes,All kinds of products at least 1 year warranty.
3. What is the shipping way?
DHL,UPS,TNT,FEDEX,EMS.
4. What is the payment?
T/T,Western uinion,Money Gram,Alipay,Paypal
5. Can you design packaging?
Yes,Default is regular packing.We can make customer's own packing