Diesel Particulate Filter (DPF)
Diesel particulate filter is a kind of special structure and material of wall flow honeycomb filter element, which is used in diesel engine exhaust gas purifying device. Diesel particulate filter can effectively intercept and trapping particulate matter(PM) and soot from diesel engine exhaust emission, usually remove 90% or more of the soot.
Working Principle
By forcing the exhaust gases through the walls between the channels of the DPF, the particulate matter is deposited on the walls, so reducing the amount of air pollution.
Advantage of DPF
1. Low pressure drop.
2. Low coefficient of thermal expansion.
3. Good thermal shock resistance.
4. High temperature resistance, good resistance to chemical corrosion.
5. High porosity, pore size distribution uniform, high filter specific surface area.
6. Long-term durability performance.
7. High particulate trapping efficiency, suitable for all kinds of regeneration.
Diesel particulate filter is suitable for exhaust gas purification of various kinds of diesel vehicles and ships. We can produce different materials of DPF: cordierite diesel particulate filter and silicon carbide diesel particulate filter.
If you want know more things about the DPF, please contact us directly, I will do my best to service for you.
Cordierite Diesel Particulate Filter(DPF)
The most common filter is made of cordierite. Cordierite filters provide excellent filtration efficiency, are relatively inexpensive (comparison with Sic wall flow filter). The major drawback is that cordierite has a relatively low melting point.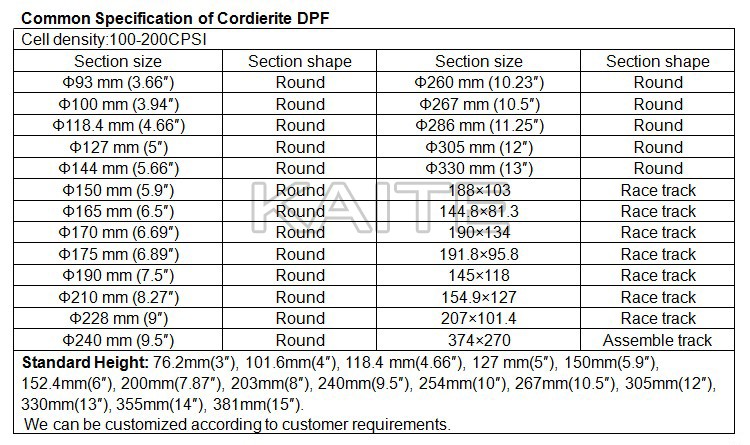 Silicon Carbide Diesel Particulate Filter(DPF)
Silicon carbide diesel particulate filters (Sic wall flow filters) have a higher melting point and filtration efficiency (can be up to 95%) than cordierite, they are usually more expensive than cordierite wall flow filters.