Service introduction: marine fixed aluminium rectangular window 1360/955*1040 with high quality
We are specialized in producing all kinds of marine windows:Ship's ordinary rectangular window,Side scuttle,Skylight,Fireprooof window,Marine steel fixed circle window,Aluminium alloy soundproof window
1. Ship's ordinary rectangular window:Ordinary rectangular window,Fireproof rectangular window,Heating rectangular window,Opening rectangular window,Fixed rectangular window
2.Side scuttle:Opening scuttle,Fixed scuttle,Scuttle with deadlight cover,Fireproof scuttle
3.Skylight:Long side open skylight,Short side open skylight
4.Fireproof window:A60,H120 side scuttle, A60,H120 rectanguler window
5.Marine steel fixed circle window:Fixed window,Fixed window with guard bar
6.Aluminium alloy soundproof window:Safety glass window,Plate glass window,Composite glass window,Dark brown safety glass window
7. Related products like marine door and marine hatch cover can also be provided.
Please contact with us for any of your inquiry!
Product Description: marine fixed aluminium rectangular window 1360/955*1040 with high quality
·Used for the wheel house and metting room on ship
·Waterproof and sound-reduction marine fixed rectangular window
·Supply of superior factory which can guarantee quanlity
Drawings: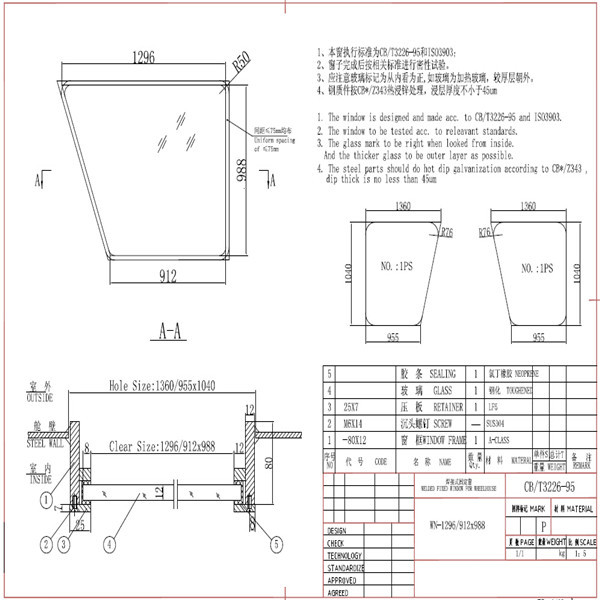 Products:
OEM are welcome!
Please send us the detailed specification or drawings for quotation
why choosing us?
1.more than 15 years professional experience
2.excellent quality control team for design,purchasing, manufacturing to testing
3.delivery without delay
4.attractive in price and quality