Large Space Automatic Fire Fighting Water Monitor Cannon System/ water spray fire suppression cannon system
Mold Number: FL-AFFC0.8/20S-55, Protect Radiu:55Meter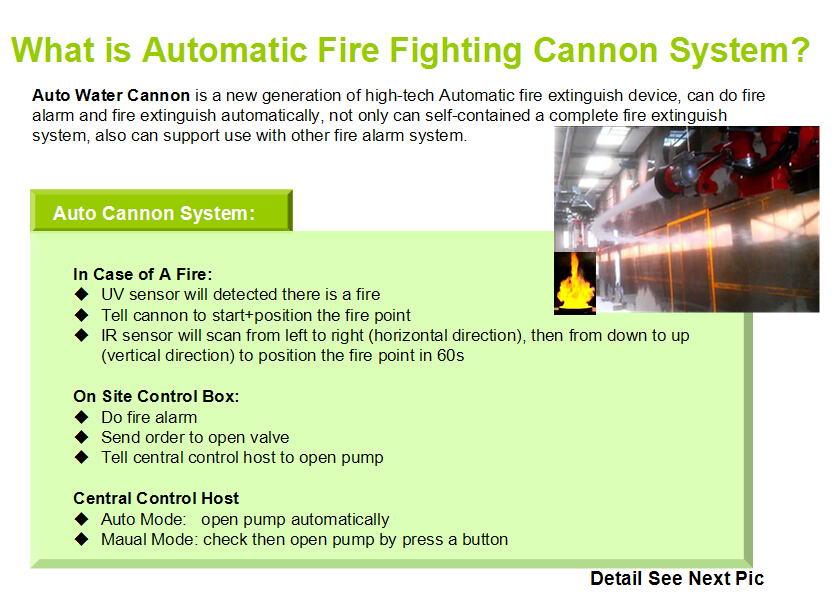 How it Works?
It combined the IR UV sensing technology, computer technology, mechanical technology and image transmission technology, automatically detect its monitor area 24 hours a day, automaticall do fire extinguish.
When there is a fire, the UV sensor can detected there is a fire(UV), then the cannon will be started, the IR sensor will start scan from left to right(horizontal direction), once detect the fire point, it will detect from down to up(vertical direction), to position the fire point accurately in 60 seconds, then the on site control panel will send out alarm signal, open the electrical operated valve and pump,extinguish the fire by jetting water to the fixed point. It will stop jetting water once fire out, will restart if re-fire again. It greatly improved the efficiency of fire extinguishing, and can find and extinguish fire in the early stage, to avoid fire disaster.
Product Specification:
Protection radius:

55m

Shoot water flow:

30L/S

Dimensions(L*W*H):

680mm*350mm*400mm

Weight(kg) :

16.5

Interface diameter:

DN80

Mounting height:

6-22m

Rated working:

0.8Mpa

Max working pressure:

1.2Mpa

Voltage/Power:

AC220V/Monitor:1W,




Scan: 50W

Communication:

RS485 to communicate with on Site Control Box

Fire positioning time(S):

≤ 60 S

Operation Environment:

4-55℃ Humidity: ≤95%

Horizontal rotation range:

0-360º

The vertical swivel range:

Up: 0º(adjustable), Down: 90º
Comfigurated Device List for Automtatic Fire Fighting Monitor Cannon:
It is a new generation of high-tech fire extinguish product,can do fire alarm, fire extinguish by itself. It can self-contained set of systems, also can support the use of automatic fire alarm system.
Widely used in

Factory, Warehouse, Airport Hall, Exhibition Center, Shopping Mall, Hotel, High Speed Rail Station, Gymnasium,Cinema, Auditorium,

and other large spaces buildings.
Using IR, UV compound flame detection technology,

can automatically detect the fire in the early stage, identify the true and false fire effectively, do accurate positioning, avoid error or miss alarm.
Strong water flow, high penetration, not easy to spray, can extinguish fire in early stage

.

With RS485 and CAN communication, can switch to manual or automatic control

the cannon by the help of video management system or on site control box.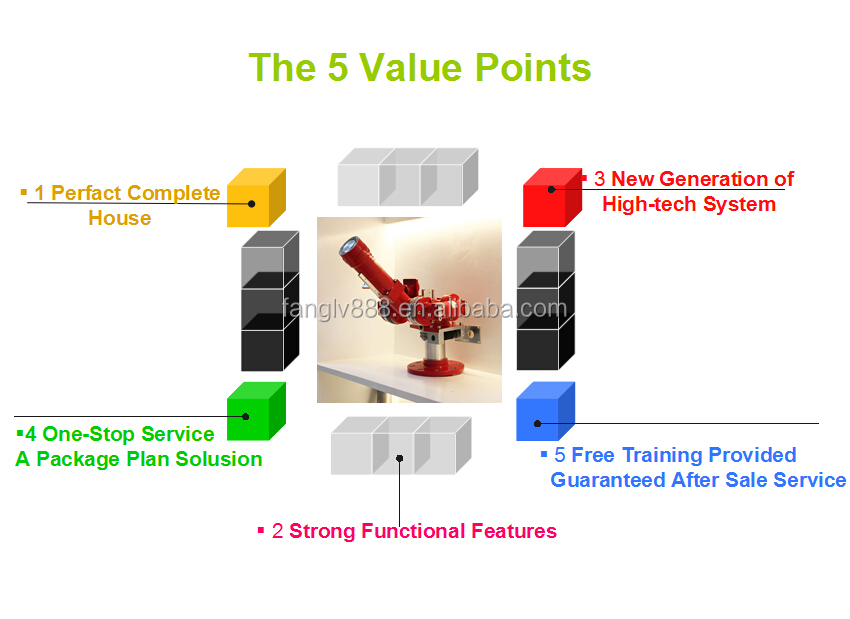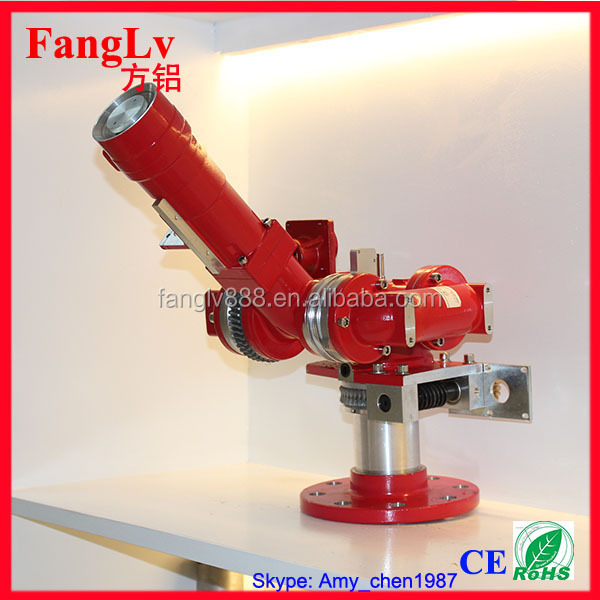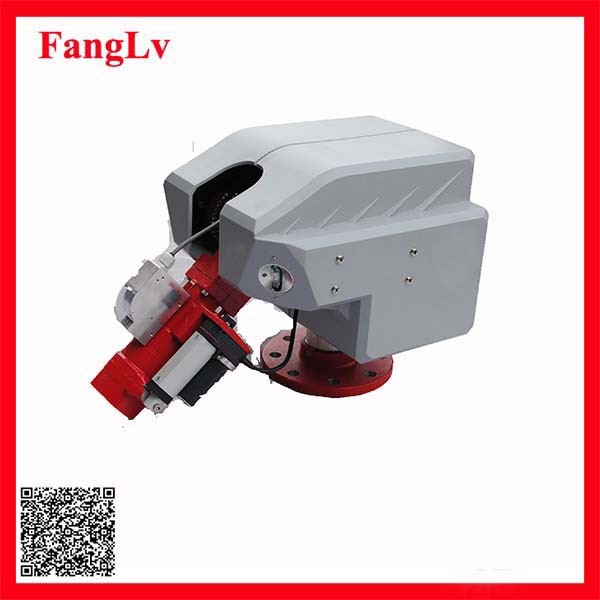 Export & Safe Packing + Shipping Method:
+ Each Individually packed by polybag/Shockproof packaging
+ Then put in K=K hard cartons
+ Build polywood box for each cartons
+ Fix box on polywood pallet
+ Waterproof flims pack around the pallet
For Samples: 3 Days, By Expresss,such as DHL,Fedex, TNT,UPS..China Mail
For Mass Production: Usually 10 to 15 days! Ship by SEA, FOB terms, or by AIR!
What is Fanglv ?~
Fanglv is a word's leading manufacturer, expert in Automatic Fire Fighting Extinguish Device, has one factory product the electornic components, assembling and testing, another factory manufacturer the full set house, such as aluminum extrusion, aluminum dia-casting, aluminum forging and further precese machining.
Fanglv's expansive product line:
+ Automatic Fire Fighting Montior Water Cannon System
+ Automatic Tracking Positioning Sprayer Device +Electronic Remote Control Fire Fighting Cannon
+ LED Emergency Aluminum Exit Sign Light +Manual Operation Fire Fighting Gun

+ Difference Sprayer Nozzles +Aluminum Precise Machining Parts
What Fanglv Provide?~
" One-Stop Service" : From Precise Machining of Metal Part, Surface treatment, MCPCB Production, Assembling of Finished Product, Testing of Function, Installation, Adjustment.
"A Package Plan Solusion" : From Customer Idea, Project Evaluation, Project Design, Construction 2D/3D Drawing, Functional Specifications, Software Development, Product Specification, Manufacturing till Delivery, After sale Service, Maintenance.
1. Q: How long and how to get sample from us ?
2. Q: What is the payment terms for sample and order amount?
3. Q: What's the delivery time?
4 Q: What's the freight charge?
5. Q: What's the trade terms?
A1: Support OEM/ODM design, 3-5 days for samples!
A2: Payment Terms: T/T,Paypal, Western Union for Sample cost.
TT 50% before producing, balanced 50% Settle before shiping for order
L/C accept for mass production order, also accept OA for valued customers.
A3: Delivery time: 7-10 days for sample,within 15-18 days for mass production.
A4: Freight charge offered based on your request, by sea,by air, express...
A5:Trade Terms: Ex-Work, FOB Shenzhen/Guangzhou, CIF,FCA...
6. Q: Does support OEM/ODM design?
7. Q: How about quality control and after sale service?
A6: YES, we are manufactuere, has professional R&D team, flexible of OEM reqeust.
A7: Our products are good quality, so we confidence:
a, 2 Years Warranty, Maintenance-Free, including the flight & hotels ...
b, Free maintenance of the 3rd year, but not including free flight & hotels .
c, Free Training customer Engineer to do Testing & debugging
d, Free Training customer Engineer to do Routine inspection & maintenance