High performance heat shrinkable sleeve for HDPE pipes
Heat shrinkable sleeves are the most widely used technology in the world today for field girth-weld corrosion protection because they are easy to install,provide excellent protection and are cost-effective.With formula made of various raw materials and radiation,cross linking and other process techniques, heat shrinkable wrap sleeve with various size for various purpose are manufactured. They are widely used in joint corrosion prevention, leakage prevention, protection of petroleum, natrual gas and heat insulation pipelines, etc. They are predominant in high mechnical strength,strong anti-aging capability, good sealing property, corrosion resistance, convenient construction, etc.
I. System description:
Heat Shrinkable sleeves is a hand wrapped heat shrinkable tape designed for corrosion protection of straight pipes, fittings, bends, elbows and other irregular configurations.. When heated the backinglayer shrinks and the adhesive flows and forms a reliable corrosion protection seal onto metal and adjacent coating surfaces. The Heat shrinkable Tape needs no primer nor patch closure and reduces application time and labor costs.
II. Structure:
The specification of the Heat Shrinkable sleeve consists of three layers,
Adhesive: butyl rubber based hot melt adhesive
Film backing: polyethylene
Interleaf:Anti-adhesive Film Treated with Silicone
III. Features:
After heating, formed corrosion protection seal
Strong backing provides outstanding waterproofing effect
High chemical resistance. resists impact, abrasion and ultraviolet light.
Excellent resistance against cathodic disbondment, dielectric breakdown.
Simple Application
VI. Application
No Special skills, equipments, patch closure nor primer are needed. Its superior flexibility provides easy and reliable application for irregular configurations of fittings, bends and elbows and small diameter of straight pipes.
Wrap spirally the tape over foreign matters-free and preheated surface, beginning at least 25~50mm (1~2 ) onto pipe coating. Wrap the tape with enough tension to obtain conformability and with minimum 50% of overlapping, while removing the release liner. Warm the end part of the tape and press down firmly. Using a torch, start at the edge of the tape and heat circumferentiallyaround the coated pipe.Finish off by heating over the entire tape vertically to ensure a uniform adhesion and by using a rolle or gloved hands to remove wrinkle and air.
Technical Data
No.

Item

Unit

Test results

Test Method

Conclusion

1

Tensile strength

MPa

24.6

GB/T 1040.2/ASTM D638

Pass

2

Ultimate Elongation

%

640

GB/T 1040.2/ASTM D638

Pass

3

Electric strength

MV/m

32.3

GB/T 1408.1/ASTM D149

Pass

4

Volume Resistivity

Ω·m

6.05×1013

GB/T 1410/ASTM D257

Pass

5

chemical corrosion resistance

10% HCl (7d)

10% NaOH (7d)

10% NaCl (7d)

%

%

%

98

98

98

GB/T23257-2009

Appendix H

Pass

6

Heat Aging(150℃ 21d)

(%Elongation)

%

554

GB/T 1040.2/ASTM D638

Pass

7

Heat Shocking (225℃,4h)

-

No cracking,

flow, or dripping

GB/T23257-2009

Appendix L/ASTM D2671

Pass

8

Impact Resistance

J

>15

GB/T23257

Appendix k/ ASTM G14

Pass

9

Softening point of adhesive

℃

115

GB/T 4507

Pass

10

Lap Shear Strength

KPa

2053(23℃)

GB/T 7124/ASTM D1693

Pass

320(70℃)

11

Peel strength

PE/FBE

N/cm

191(23℃)

Pass

Pass

24(70℃)

PE/PE

185(23℃)

23(70℃)

PE/Steel

166(23℃)

22(70℃)

12

Cathodic Disbondment

mm

16.5

31.2

ASTM G42

ASTM G8

Pass

13

(70℃,120d)

Hot-Water Immersion

-

No delamination, blisters,or water under strap

GB/T23257

Appendix N/ASTM B870

Pass

14

Water Absorption

%

0.05

SY/T0447/ASTM B570

Pass

15

Low-Temperature Flexibility

-

-15℃Min

ASTM D2671

Pass
Pictures of heat shrinkable sleeve for HDPE pipes in applications: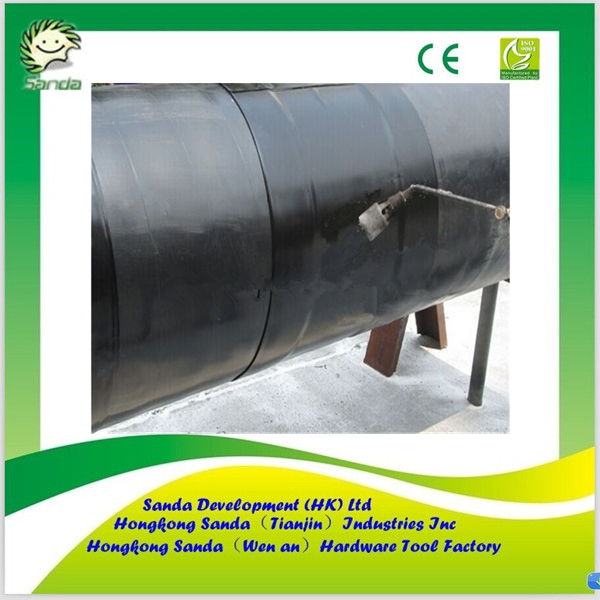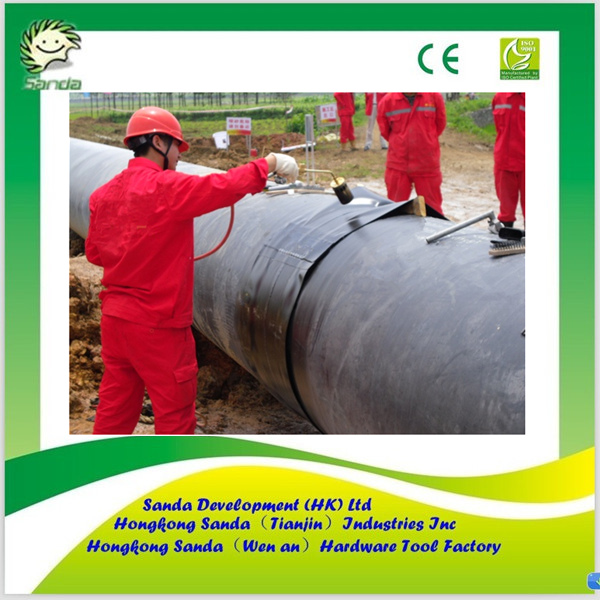 Cross-linked backing provides superior abrasion, mechanical and chemical attack resistance.

High performance adhesive provides excellent resistance to Cathodic Disbondment to ensure long-term corrosion protection.

Just-in-time customized lengths allow bulk rolls to be field cut to protect any pipe size.

Open sleeve configuration allows the product to be applied after the pipeline has been welded and cleaned.