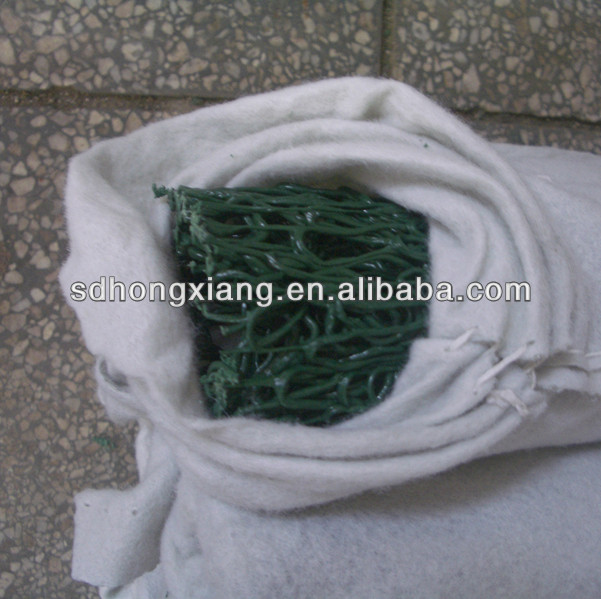 Geocomposite pipe Geocomposite pipe coated by non woven geotextile
Geocomposite Subsoil Drain
Introduction:
Geocomposite Drain Pipe is made of plastic core and outer filtering cloth. In the state of hot melting, it is formed into three-D network structure. It has two shapes: rectangle and round. This kind of pipe has some advantages: good drainage, high pressure resistance, light weight, so it is very popular in some projects.
Features
1) High pressure resistance strength
The geocomposite drain is made of many plastic fibers through fusion, which can't be broken and damaged by pressure. Under 250kpa pressure, the interspace rate of the section can keep above 60%. Even though under greater pressure, there still be a spacing of 10-15% for drainage and its reversion ability is good.
2) High hole opening rate in surface
Good water collection and drain feature The hole opening rate in geocomposite drain surface is up to 90-95% which is above other similar products. It can effectively collect water in soil and drain the water off.
3)Permanent using life
The geocomposite drain is composed by sieve membrane made of fiber with good erosion resistance, and tri-dimensional reticulation made of polyethylene. These materials will not decompose in soil and water.
4)The sieve membrane is selective
The sieve membrane can be selected pursuant to different soils and meet all kinds of requirements of project. So it can avoid old products using the same kind of sieve membrane.
5)Easy for construction
Its light weight make it easy for construction and improve construction efficiency.
6) Good flexibility and adaptable to the earth distortion
Application of Geocomposite Drain Pipe:
1) Highway and roadway subgrade
2) Retaining wall
3) Landfill
4) Roof garden
5) Building foundation
6) Underground irrigation
Technical Data
Art No.

PLD0201

PLD0202

PLD0203

PLD0204

PLD0205

PLD0206

PLD0207

PLD0208

PLD0209

Item

Square shape

Circular shape

Type

YA7030

YA1435

YA1550

Y1235

YB60

YB80

YB100

YB150

YB200

Outer Size(mm)≥

70x30

140x35

150x50

120x35

φ60

φ80

φ100

φ150

φ200

Cannular Size≥

40x10

40x10x2

40x20x2

40x10x2

φ25

φ45

φ55

φ80

φ120

Weight≥

350

650

750

600

400

750

1000

1800

2900

Gap rate≥

82

82

85

82

82

82

84

85

85

Pressure

Resistance

Flat rate 5%

60

82

50

70

80

85

80

40

50

Flat rate

10%

110

120

70

110

160

170

140

70

70

Flat rate

15%

150

160

125

130

200

220

180

100

90

Flat rate

20%

190

190

160

180

250

280

220

125

120