* Established in 1976; 10,000 employees;
* 24 million unites annual production; 4 plants now and 1 more in 2015
* Top 14 in tire worldwide; Second largest tire manufacture in China
* Provided tire products to the domestic and international markets for over 36 year.
* Full ranges: PCR/LTR, SUV, 4X4 VANS, TBR, Military Tire, OTR and Jumbo OTR
* Quality warranty
* OE tires for CNHTC, Shanghai GM, Suzuki, XCMG, No.1 Automobile Factory, Dongfeng Motor Corp., Shanxi Motor Corp., Wulin Motor Corp., Chongqing Changan, Chery, and Huatai Hyundai, Dongfeng Nissan, Double Rings etc.
* Professional spot engineer team; Full range after-sales service.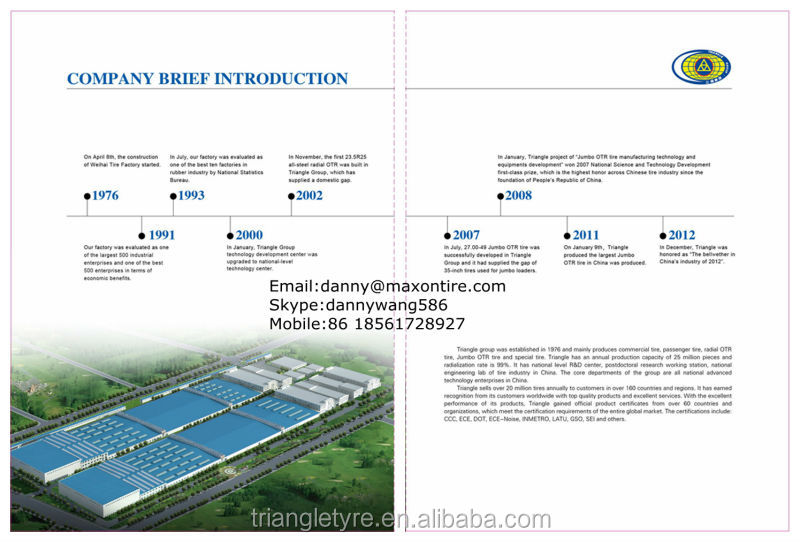 A) Triangle passed the stringent performance tests of Goodyear, Caterpillar and Volvo, and has since established strategic partnerships with them.
B) Triangle Group was award Goodyear's "OUTSTANDING PROVIDER"in 2009
Triangle Group obtained the highest prize from Caterpillar-Platinum Medal of SQEP and Triangle was the first enterprise to get this prize among all the global suppliers.
With the excellent performance of its products, Triangle gained official product certifications from over 60 countries and organizations, include: CCC ECE DOT ECE-Noise INMETRO LATU GSO SEI and others.
More than 200 achievements through independent innovation
- More than 50 experts and talents from all over the world to further strengthened company's technology
- Develop new energy-saving and environment-friendly materials
1- Scientific Workshop & Production Management ;
2- Advanced & Complete Laboratory Equipment;
3- Professional and Responsible Staff.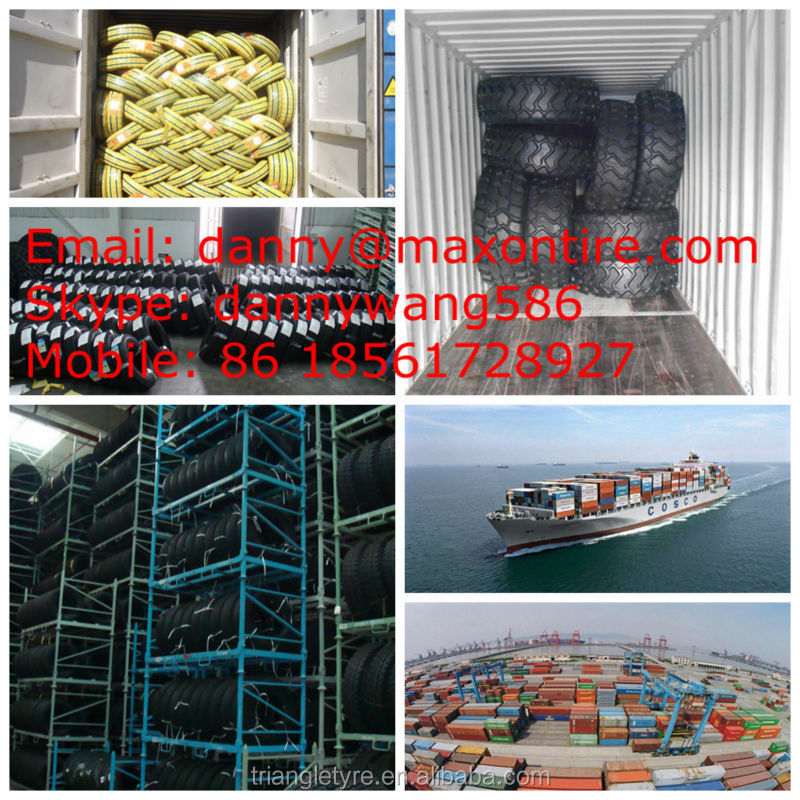 A. Best price to increase your margin:
No. 4 Export Department of Triangle Tyre Co., Ltd, directly supplier from the factory with best prices.
B.We Take Care Of Your Order:
Punctual delivery time:
- Put your order into our tight production schedule, ensure delivery time.
-Shipping notice/ insurance to you as soon as your order is shipped.
After sales service:
-Respect your feed back after receive the goods.
-Deal your complain within 48hours.
Professional sales:
-We value every inquiry sent to us, ensure quick competitive offer.
-We cooperate with customer to bid tenders. Provide all necessary documents.
-We are a sales team, with all technical support from engineer team.
SEMA SHOW -- LAS VEGAS, USA
REIFEN SHOW -- ESSEN, GERMANY
AUTO SALON -- TOKYO, JAPAN
TYREXPO ASIA -- SINGAPORE, SINGAPORE
AUTOMECHANIK -- DUBAI, UAE
LATIN AMERICAN & CARIBBEAN TYRE EXPO -- PANAMA, PANAMA
TYREXPO ZAF -- JOHANNESBURG, SOUTH AFRICA
CANTON FAIR-- GUANGZHOU, CHINA
TIRE EXPO -- SHANGHAI, CHINA