1.Steam sterilization and Moisture:13% Max
2.Ingredient:100% pure
3.3 colors and 12 grade spicy tastes
4.Quality packaging
Kaiseki Curry series are Japanese style curry. Our curry powder is a blend of spices including cumin, nutmeg, mustard seed, turmeric, coriander, and cloves. We improved the original manufacturing process to make the taste easier accept in local. It tastes more delicate, soft and can be used for cooking various aftertaste endless dishes.
Kaiseki curry series are divided by the three colors and twelve grade spicy tastes. From spicy 0 level to the most spicy, you will take the different tastes with different spice levees.
The Kaiseki curry is made up of turmeric as main ingredient, with dozen spices made from compound spices. It has a special aroma, can promote appetite, blood circulation and has the inhibitory effect of cancer cells and prevents Alzheimer's.
The flavor of Kaiseki curry is quite different from Indian or Thai curry. Japanese curry is thicker, milder, and sweeter and always served with rice. We don't have the choices of yellow, red, or green curry like Thai curry, but instead there are usually three degrees of spiciness indicating mild, medium hot, or hot.
Our features
1, reply to your mail within 24 hours
2., we are willing to help you finding ingredients upon your request
About sample:
If you request, you can get free sample. But freight fee will be paid on your side.
If you need more sample, we send you invoice from Paypal.
About delivery
1. If order is less than 10 cases, you can get within a week after you paid us
2. If order is more than 10 cases, please check with us delivery date
Established in year 1994, we, Dalian Tianpeng Food Co., Ltd, are a well-known ISO 22000:2005 and HACCP certified name engaged in manufacturing, supplying, trading and exporting Dehydrated Vegetable Powder, Flakes and Finished Products, at competitive price. Having an experience of decades, we are primarily into proffering an exclusive selection of Dehydrated Horseradish Flake and Powder, Wasabi paste, Wasabi powder, Soy sauce, Mirin, Japanese Sake, Sushi Vinegar., Mayonnaise and Curry, for ensuring the quality. Because of the purity, freshness, pleasant aroma, amazing taste, extended shelf life and zero adulteration, our product range is massively demanded in Restaurants, Homes and Food & Hospitality Industries.
Kaiseki Series(Mirin, Sake, Curry, Wasabi paste, Wasabi powder, mini wasabi paste and soysauce)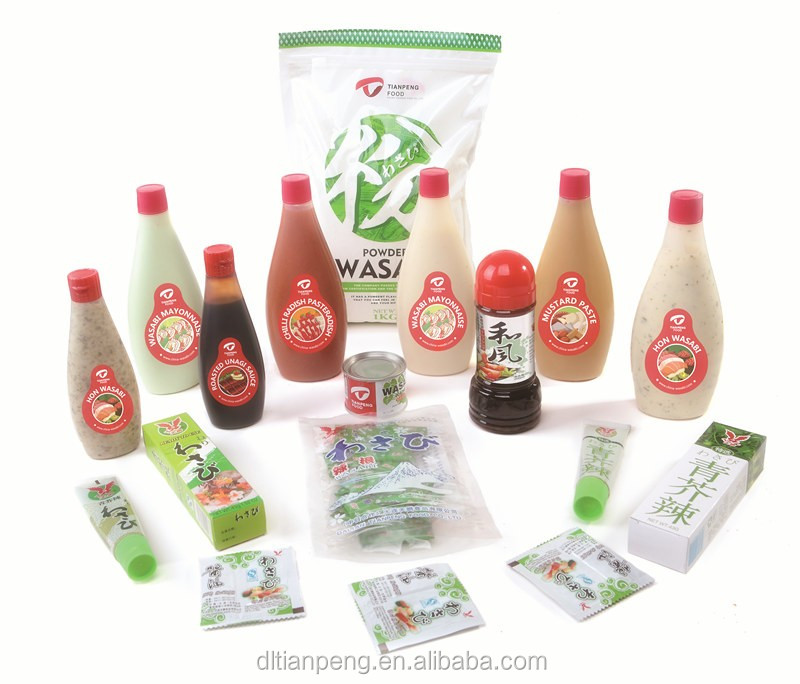 TianpengSeries( Wasabi powder, Mayonnaise, Wasabi paste, , mini wasabi paste and soysauce)
MazumaSeries( Wasabi powder, Soy sauce, Vinegar, Mirin, Cooking sake, Wasabi paste, mini wasabi paste)