plastic PE tube 1000mm production line machine manufacturer
Features: Extruder adopts big L/D and multi mixing structure, which is more suitable for the PE low temperature extrusion production.

Specially-designed spiral moulds for PE pipes, with inside oil controlling temperature system.

Beautiful and practical stainless steel body for the vacuum calibration and spray cooling system, unique multi-section vacuum system ensures the stable sizing and cooling for pipes; Special spray cooling system improves the cooling efficiency; Special water position, water temperature system make the machine more intelligent.

Hauling-off unit adopts particular pedrail structure, which is easy and convenient for operation; Pedrail clamping uses mechanical and pneumatic combining system, which is more reliable.

Cutting system adopts saw blades and planetary cutting means; Sumping uses hydraulic system, which ensures the smooth cross section; Equipped with dust-collecting unit, which ensures the clean working environment.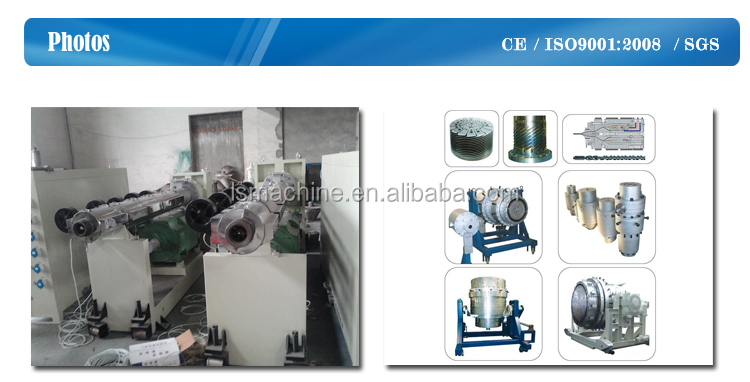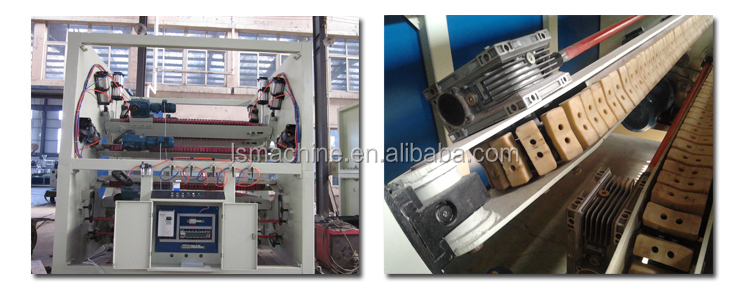 Question and answer
Q: Your company is a transactional company or an industrial manufacture factory?
A: We are an industrial manufacture factory which locates in Zhangjiagang city.
Q:All of your products are made by your self or compacted via purchasing the others?
A: We have independent technical team who focus on making machines, all the products are made by our technical team.
Q:What is the ability of your factory?
A:About 90 lines per year.
Q:Do you have any other services about your products?
A:We have a lot of experience on making projects and specifications for our clients, also we have a fixed service system.
Q:How do you make the quotation for clients?
A:The price depends on quality and performance but the clients should be satisfied first.
Why choose us:

1. Low cost : all the machine ,we make it ourself to reduce the cost of our customer.
2. Genuine product with excellent quality : we choose our material very strict, all the material come to our factory must pass the quality test substandard goods are returned to the supplier.
3. Engerneers available to serve oversea:
4. Quick delivery: the company provide just in time delivery with its streamlined supply chain
5. Cost saving we take strong attention to every detail in the manufacturing process,the quality control in our factory is very strict, all defective semi-manufactures must be treated again or reject. all the machine must be checked out ,then deivered to our customer. all about that pushing up the price, what we want to do is give our customer a good quality product with stable working and long lived.