Product Description:
The Carbon Fiber Sheet or Carbon Fiber Plate is manufactured using 100% carbon fiber reinforcement and epoxy resin.
The surface can choose from will /plain, matte/glossy. without any glass fiber contents. It is especially applicable for FPV frame, helicopters, and RC airplanes.
Product Feature:
100% 3K Carbon Fiber Strong Strength and Light Weight.
Perfect for any application including RC, drones, helicopters, etc.
The surface is cross grain, the nice surface without any glass fiber contents.
These carbon fiber sheets contain 100% carbon fiber imported from Japan.
It is especially applicable for Multicopter, Helicopter and RC airplanes.

Product Application:

1. Aerospace, RC model parts Helicopters Model Drone, UAVS
2. Decoration parts for Car and jewelry
3. Manufacture fixtures and tooling
4. Industrial automation and robotics
5. Sports equipment
6. Musical instruments
7. Scientific apparatus
8. Medical device
9. Others
Product Size:
Thickness(mm)

Width(mm) * Length(mm)

0.5
400*500
500*500
500*600
600*1000
1000*1200
0.8
1.0
1.2
1.5
2.0
2.5
3.0
3.5
4.0
5.0
6.0
8.0
10.0
12.0
Details: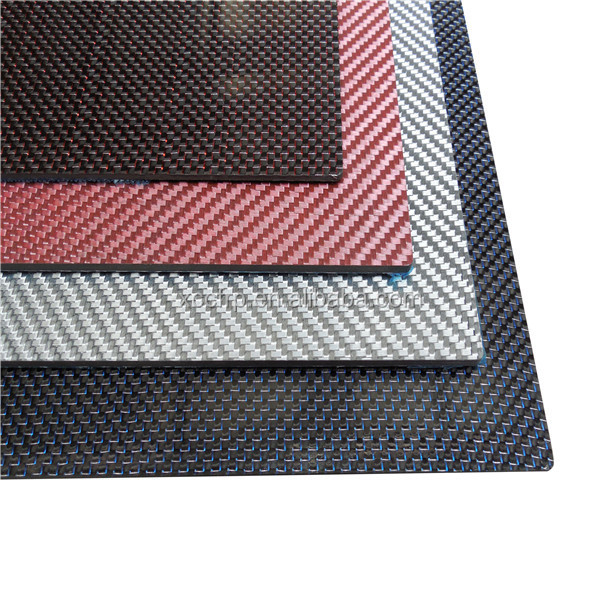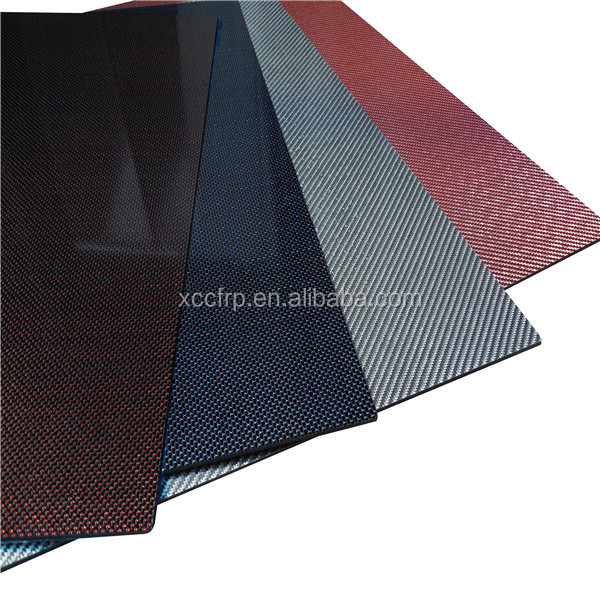 Packaging:


Application:
Company Profile
Found in 2008, XC Carbon Fiber is specialized in the production and sales of carbon fiber plate, carbon fiber tubes, carbon fiber CNC processing parts, unmanned aircraft carbon fiber, CNC aluminum alloy high precision parts, all kinds of hardware and electrical insulation processing parts. Our product approved ISO-9001-2008 Quality system certification, the positive reviews rate reached 99%. So far, we have established business partnerships with 56 countries. We have already got 20 patents and received 5 patent certificate, while we applied for national high-tech enterprises. Fortunately, we were honored with the title of the 2015 annual TOP 10 well-known enterprises in China.
Company Certifications
Factory Show
Production Capability
At first, our production equipment was not so good, we just own great techniques and technicians. However, 3 years later, our production line was expanded from the carbon fiber sheet to carbon fiber tube and CNC machining, the previously outdated device were replaced by advanced production equipment. Covering an area of about 2500m², we have good production capability, sale scale. The annual production of carbon fiber sheet increased to 60,000 pieces. And much professional staff continue to join us, the establishment of a new department and management system made us improving continuously, the number of employees is more than 200. All these can ensure us to offer the best service of quality assurance, timely delivery, and our customer's trust.
Production Process
XC carbon fiber manufacture carbon sheet by the wet process. The carbon fiber fabric is placed in a precast mold at first, then we use vacuum pressure to inject the resin into the mold and combine it with carbon fiber. Because the resin was infiltrated when carbon fiber cloth is fabricated, so the combination of them is great and they have high proportional control. We'll get high quality & precise carbon sheet after high temperature and high pressure.

As the regular supplier of DJI and Walkera, we have established partnerships with more than 56 countries. We partner with our customers to deliver the most innovative solutions for after-sales service. Our customers trust us to solve even the most complex business challenges, as we continually evolve and scale to meet each customer's unique needs. We're honored to work with these top brands to not only drive revenue and profit improvements but also enhance the customer experience.