Batch solar water heater for home use 300L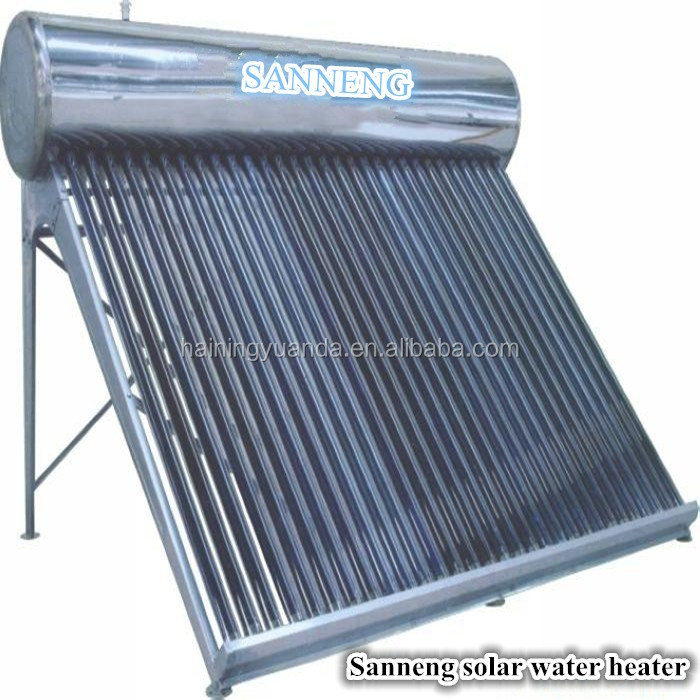 Water Tank

Material of outer tank:

Stainless steel/Galvanized steel/Color steel

Material of inner tank:

Food grade stainless steel 304-2B

Tank insulating layer:

50 mm thickness with high density polyurethane foam

Welding:

Argon arc welding

Tank structure:

Inlet, Outlet, Drainage & Air Vent or Customized

Vacuum Tube

Tube structure:

All-glass double deck co-axial structure

Glass material:

High borosilicate 3.3 glass

Outer tube diameter and glass thickness:

Ø 58± 0.7mm; Glass thickness 1.6 ± 0.15mm

Inner tube diameter and glass thickness:

Ø 47± 0.7mm; Glass thickness 1.6 ± 0.15mm

Tube size:

58*1800mm

Absorptive coating property:

Structure

Cu / SS-ALN(H) / SS-ALN (L) / ALN

Sediment method

Three targets magnetron sputtering plating

Specific absorption

0.93-0.96(AM1.5)

Emission ratio

0.04-0.06(800C± 50C)

Solar irradiation for obtaining
a preset water temperature:

Φ =58 H≤ 4.7MJ/m²

H=3.7-4.2MJ/m²

Vacuum tightness:

5.0× 10 -3 Pa

Idle sunning property parameters:

260-300 m² . C/KW

Average heat loss coefficient:

ULT=0.4~0.6W/(M 2.0 C)

Resistant Hail:

≤ 25mm

Life span:

15 years

Bracket

Bracket material:

Stainless steel/Galvanized steel


Bracket angle:

22, 45, 52 degree optional

Fastening pieces:

Stainless Steel Nut Bolt

Thickness:

1.5mm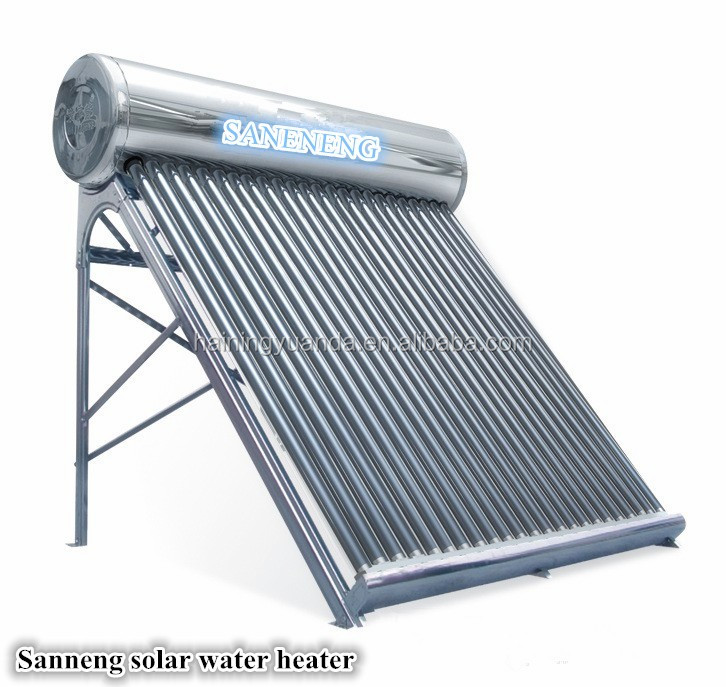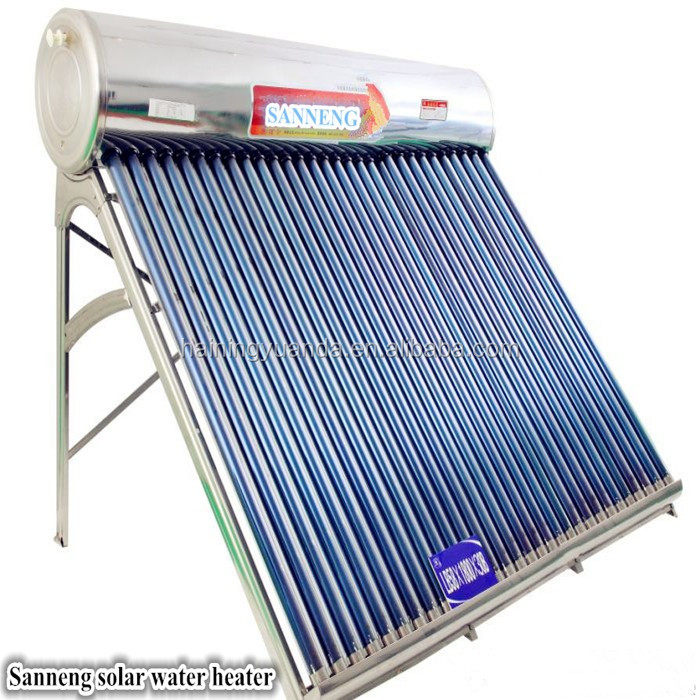 1 Working principle
1. Solar vacuum tube was evacuated into the tank, the coating inside of tube can absorb heat energy from sunshine.
2. The cold water in water tank flows into the tube and become hot because of different density between cold and hot, there will be a natural circulation in the tube. Hot water will float back to tank.
3. The polyurethane heat insulation layer can keep the water warm about 3 days without any sunshine. Consumer can enjoy comfortable bathe anytime.
2 Features
1. Imported Stainless Steel.
2. Reliable and efficient.
3. CE Approved.
4. Stable solar conversion during the day.
5. Easy installation.
6. Ideal for many solar water heating applications.
7. Can be used for heating water, room and floor.
8. Simple structure and working principle.
9. 5 years' warranty for the whole system.
10. Environmental.
3 Solar water heater tank pictures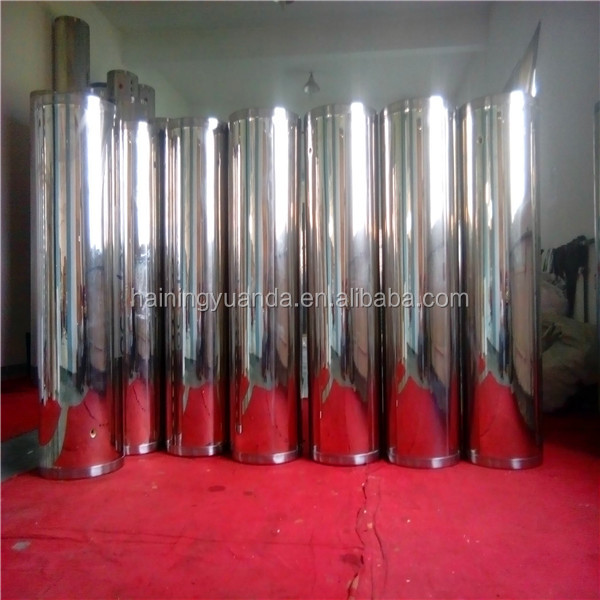 4 Remarks
1. Lead-time: 7-15 working days after receiving payment.
2. Payment Term: T/T, L/C, Western Union.
3. Warranty: 5 Years for the full system, 15 Years for the vacuum tube, and 1 year for accessories.
4. Trade Term: FOB, CFR and CIF.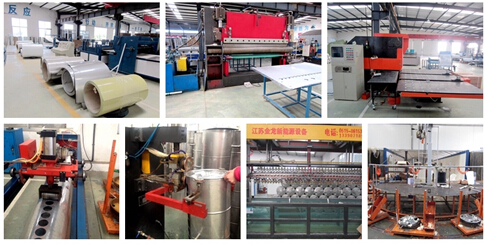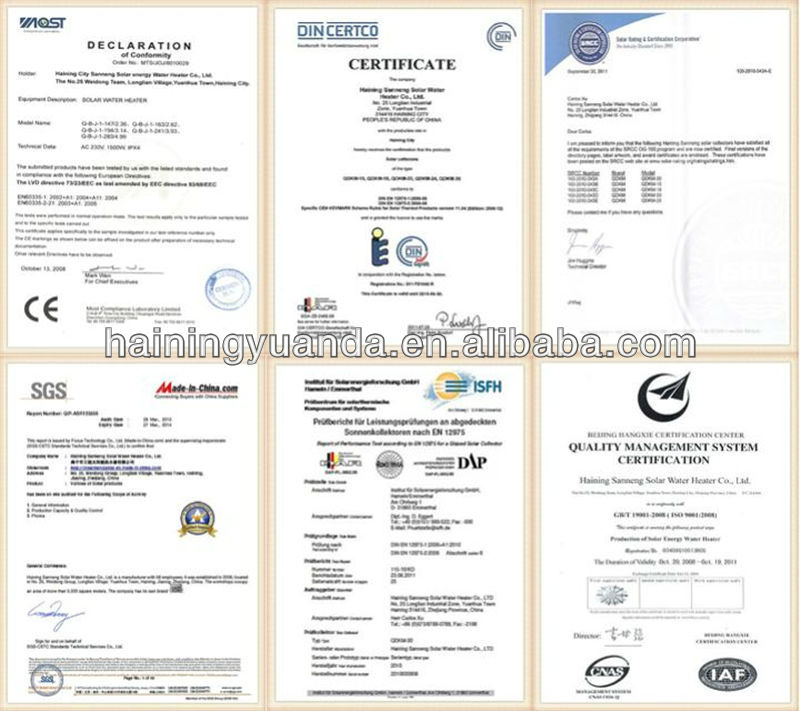 we can customize according to customer's requirement
Contact: Mr. sunny Mobile: (00)86-18357309575 Skype:sunny-yu77