We are the best buying agent ,purchase agent, sourcing agent for
Dollar Store / Chain Store / Super Market / Wholesaler/ Retailer
Why us?
A. Strong sourcing ability, more than 3000 factories in our database.
B. Customized service, best partner for supermarkets and chain stores
C. Good product research ability. You can always find the right items from us.
D.1-3% Commission, We make mix container available and affordable. One stop solution, and 100% safe buying experience.
E. 10 years of experience to make sure our business running smoothly.
F. Very very strict QC! The biggest risk for importer is that you made payment but received low quality goods, wrong packagin
G. Elite Team, Professional staff, Passionate and positive working attitude.
H. Always beyond your expectation. We care more about you as a business partner.
I. Logistic support-different ships for choosing,best sea freight.

If you are interested in importing from China, seeking for a reliable agent, do not look around, you've come to the right place, send us your i
Our Service(Yiwu Agent):
-Issue China business Invitation Letter
-Pick you up from Airport or train station
-Hotel Booking
-Our professional team together with you to visit Yiwu Market, take photos and record the goods that you wanna buy
-Place orders and push the suppliers to deliver the goods without any mistake
-Collect the goods into our warehouse
-Our QC team check the quality for each item
-Loading container
-Arrange shipping documents for you.
Value Added Service:
1,Customized Packing:
-Packing Redesign
-Branding
-Barcode
2,After-sales Service
-Quick Problem-Solving Skills
-Strong Financial Support
Provide Mutual Benefit Payment Terms
-Real-Time Logistics Tracking And Feedback
-Safety&Quality Assurance Of Products
-Market Analysis
Arrange The Market Exploration
Provide The Product&Market Analysis
3, 24-Hour Service&Await Your Calls Respectfully.
Yiwu Commodity Market Introduction
Founded in 1982, Yiwu Commodity Market is one of the largest commodity export bases in China, which owns 5.5 million square-metered business areas, more than 75 thousand offline shops 1.8 million kinds of commodities, and attracts more than 210 thousand daily visitors. It is named as "the world's largest small commodities wholesale market" by the United Nations, the World Bank, Morgan Stanley and other authoritative organizations.
Yiwu Commodity Market's goods exported to 219 countries and regions. Each year more than 570 thousand standard containers have been exported. There are 3,059 permanent representative offices of foreign enterprises, and the number of resident foreign businessmen has exceeded 13 thousand. The UNHCR (United Nations High Commissioner for Refugees), Ministry of Foreign Affairs and other institutions have established procurement information center in Yiwu Commodity Market.
Since 2006, Ministry of Commerce of the People's Republic of China has issued Yiwu-China Commodities index and the industry standard of "Commodities Classification and Code" successively, which means Yiwu Commodity Market has got more decisive rights on prices and standards in the worldwide commodities trading.
Yiwu Market Map: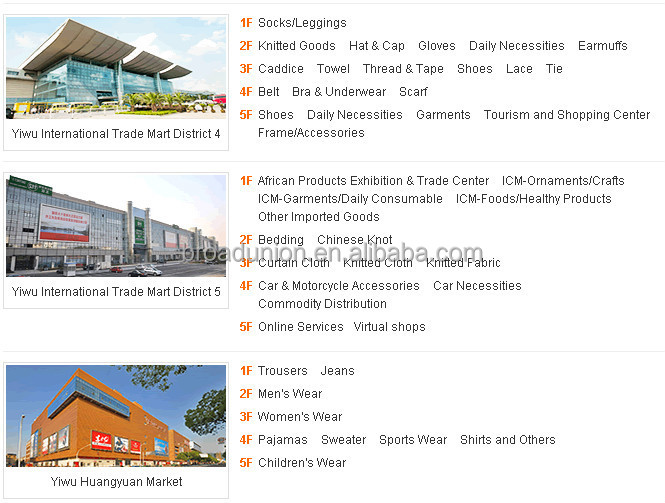 CUSTOMERS IN YIWU: