General Introduction
Outdoor Stationary Load Banks offer the most robust, high-capacity, outdoor designs in the industry. It is setting the standard with intelligent operating controls, safety indication layouts, adjustable load step resolution, and ease of installation. It is the perfect solution for regularly scheduled testing and commissioning of mission-critical standby emergency power systems.
Main features and advantages
Power consumption components adopt special alloy resistor, high-temperature resisting, small thermal drift, safe and reliable. Running temperature is 1/3 of design temperature.

Industrial heavy duty blower, horizontal inlet, vertical exhaust, low noise.

Weather-proof structure, suitable for abominable environment.

Multiple control mode: (1)Local panel control, (2)Remote control box/cabinet(3) Intelligent control(by PC software)

Multiple protection function: overvoltage, overcurrent, overheat, low over blowing rate, blower overheat, blower phase sequence reverse protection, smoke alarm etc.

Integrated design, easy to installation.
Technical Parameter of 4000KW Marine Generator Testing Load Bank
AC440-4000kW Automatic Load Bank

Rating Voltage/Frequency

440VAC/60Hz, 3 phase 4 wire

Rated Load Power

Resistive load: 4000kW

Installed Capacity

Resistive load: 4000kW

Load Step

1,2,2,5,10,10,20,50,100,200kW*19, total 28 steps, min step load: 1kW.

PF(Power Factor)

1

Load Tolerance (each step)

±5%

Load Tolerance(overall)

±3%

Display Precision

0.5 class

Control Power

380VAC/50Hz 3 phase 4 wire

Wire Connection

Load power supply input——Copper bar (star coupling)

Control power supply input——Connector-bar

Insulation

F

Way of Working

Continuous Working

Casing Dimensions and Cooling

Forced air cooling,Horizontal inlet air,Vertical cooling

6058*2438*2591mm (L*W*H) 20'GP container type.

Weight

About 8000kgs

Transportation

Hoisting, there are lifting lug in top of casing

Casing Color

Grey(RAL7035)

Operating Environment Parameter

Workplace

Outdoor

Ambient Temperature

-10℃~+50℃

Relative Humidity

≤95%

Altitude

≤2500 meter

Atmospheric Pressure

86~106kPa

Brands of Main Components

Contactor

CHINT

Fuse

DELIXI

Alloy Resistance

Kaixiang(self-developed)
Pictures of 4000KW Marine Generator Testing Load Bank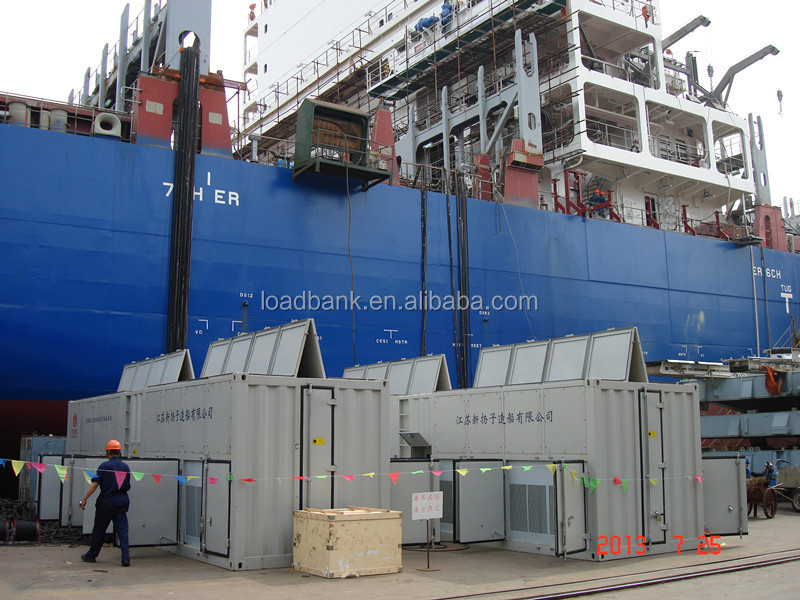 1.The earliest and most professional manufacturer of AC/DC Load Bank in China, dedicated to this industry for more than 20 years.
2.The most patent technology and scientific research awards gainer in China.
3.Advanced detection method and strict inspection procedure build the qualified quality.
4.Customized production meet the individual requirement.
5.Prompt delivery & excellent after sales service.
6.Cooperate with many well-known enterprise, offer OEM and ODM service to world famous brands.
7.Certified with China Classification Society (CCS) and ISO9001:2008 Quality Certificate.
8.Triumph Load is the first brand in the emergency power supply test & maintenance industry in China.
Bruce Pan
No68 Jianshe Street, Shijiazhuang, Hebei, China
Tel: 0086-311-86125326 Fax: 0086-311-86125381
Cell: 008613739721527 QQ: 394784156
Skype: brucepan1981
Web: http://www.load-banks.com