PET Blowing 6m3 Oil Free 40Bar High Pressure PET Air Compressor
AET-6.0/40 PET Air Compressor is our new technical for PET Bottle blowing industry, this is the first design with piston+screw oil free in this line, we R&D this product from 2013 and improved it in 2016, now it is a mature and stable machine, and widely used in Australia, the United States, Canada, Vietnam, South Korea and ect country PET botle industry, with high working efficiency, high quality compressed air.
As a professional compressored air solution provider, our engineer will suggest you a complete working system and provide you a one-station purchase, include: high pressure air compressor, air tank, oil filter, dryer and etc.
---AET-6.0/40 PET Air Compressor Appearance---
Product name: Oil Free Air Compressor
Model:AET-6.0/40
Power:67kw
Air flow:6.2m3/min
Pressure:25bar~40bar
Rev:520rpm
Weight:3000kg
Dimension:3100*1500*1500mm
---Various Kinds Of PET Air Compressor ---
Pet bottle blowing 40 bar PET Air Compressor

Model

Air delivery

MAX Pressure

Coordinate piping

Speed

Weight

Dimension

KW

M3/min

Bar

High pressure outlet size

Cooling water inlet/outlet size

Rpm

db(A)

mm

AET-4.0/30

44

4

30

DN32

1 1/4"

350

2350

3100*1500*1500

AET-4.0/40

40

AET-6.0-30

67

6.2

30

DN32

1 1/4"

520

3000

3100*1500*1500

AET-6.0-40

67

40

AET10.0-30

112

10

30

DN40

1 1/2"

420

4400

3620*2000*1850

AET10.0-40

120

40

DN40

AET12.0-30

135

12

30

DN40

1 1/2"

460

4650

3620*2000*1850

AET12.0-40

145

40

DN40

4800

AET-16.0/30

175

16

30

DN50

DN65

350

6300

4200*2200*2100

AET-16.0/40

185

40

6500

AET-20.0.0-30

207

20

30

DN50

DN65

420

7300

4200*2200*2100

AET-20.0-40

222

40

750

AET24.0-30

260

24

30

DN50

DN65

460

8500

4200*2300*2100

AET24.0-40

275

40

DN50

9000
Working condition:
Ambient Temp: 20 degree C, Suction pressure: 1Bar, Relative humidity: 0%.
Normally limited condition: Height: 1000m, Normally equipment: the highest ambient temperature 40 degree C
Normally optional: the highest ambient temperature 50 degree C.
---40Bar PET Air Compressor Industry Application---
PET Bottle Blowing Machine: purified water factory, beverage factory, cooking oil factory, cup and etc.
---Good Design, Integrating Reliability&Economy---
AET Series PET Air Compressor (PET Blowing) combined screw technology and piston technology to orm a stable and reliable, 3~4 compression, low noise(as low as 75~82aB(A) medium pressure compressed air system.
Primary compression is AE large rotor of ourstanding performance, low speed screw air end, efficient, long-life, low noise, suitable for 24hours*365 days operation;

Adopt 2-4 stage compressed ofoil-free piston booster, low speed of 400rpm, water-cooled, the cylinder has a lower tmperature(exhaust gas temperature dose not exceed 10), the lower load, lower wear, for 24 hours*365 days operation;

PET blowing residual air( low pressure compressed air) injection technogoly, greatly save energy; low power ratio, save more power and lower total operating costs;

Application of inverter technology;

All stainless steel(ASTM standard 304 grade) high-pressure gas and water line, to elimnate all kinds of faults and potenial risks caused by pipe rust;

As low as 75~82dB(A) noise without soundproof enclosures;

No installation foundatin, beyond the imagination of small vibration, reasonable pipe arrangement, convenient maintenance.
---Components Of PET Air Compressor ---
Oil-free Two-stage piston booster air end+screw air end

Piston ring, bearing ring

Intelligent monitoring system

Cushion valve

Sealing&padding

Efficient water cooling system/ interstage cooling technology
---More details of the PET Air Compressor ---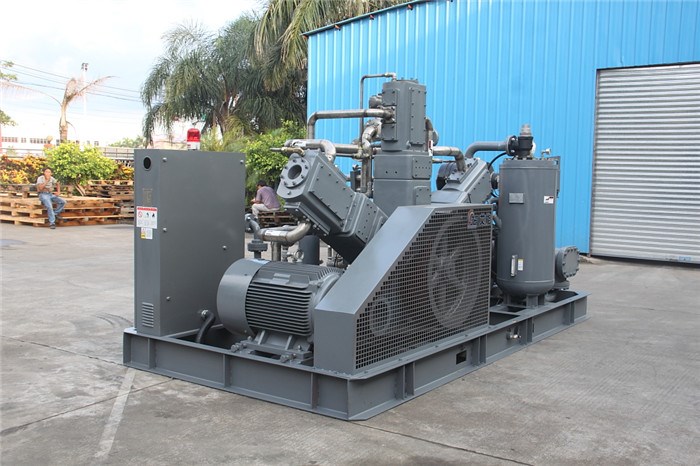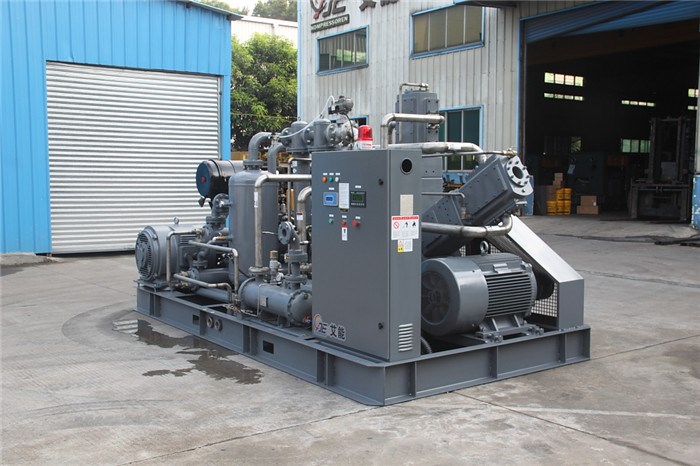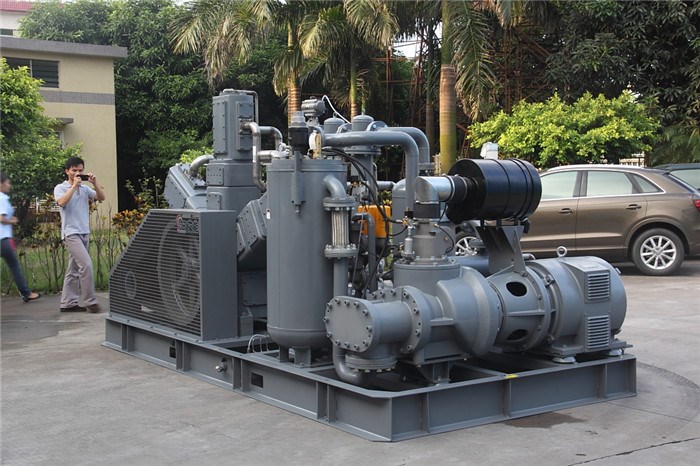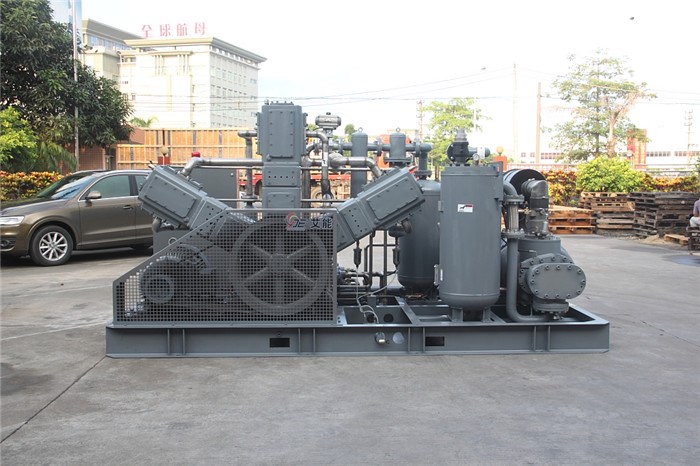 ---Customer Site---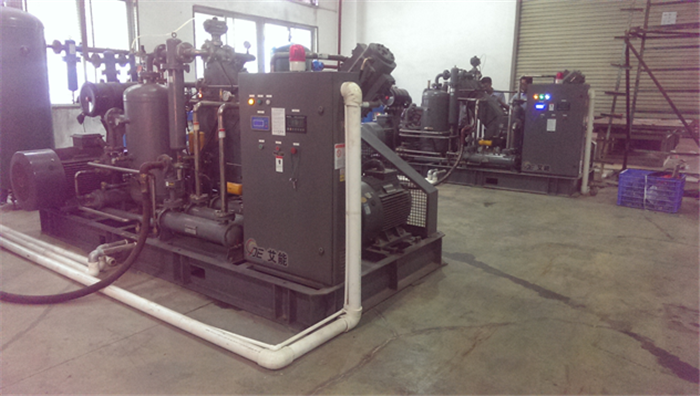 ---Top One Service In PET Air Compressor Industry---
1. Before Sale Service
1).A complete of Air purification equipment can be provided from us, our engineer will deisgn a purification solution based on your working need.
Air cooling refrigerated air dryer

Oil water separator

Purge desiccant air dryer

Dryer

After cooler

Combined air dryer

Oil remover
2).Our team can based on your investment budget, Plant planning and etc condition, give you a best suitable solution, installation design, and provide all kinds of air compressor auxiliary equipment information.
2. Sale Service
By guiding customer air compressor of the water, electricity installation, free adjustment and operator training, make the high pressure air compressor installation more specification and reasonable, And make the relevant personnel to be familiar with the operation of our machine, understand the machine maintenance.
1). Air compressor installation and adjustment of the service
2). Air compressor operation of the workers' training.
3). Relevant technical personnel's training
3. After- Sale Service
1). Free training operator to can independent operation, use and maintenance.
2). In a timely manner to solve technical problems, we can timely send someone up to help guide the user scene.
3). If the user needs to build new equipment or expansion (change), provide free technical guidance.
We will keep our mind, and alway remember service is our first work, do our best to bring you a valuable business.
---Workshop---
Any question or requirement, please kindly contact me, i am online for 24 hours.
Zhang Zhang
M: 008618615626360
Whatsapp/Viber : +8618615626360
E: grace(at)mgreenbelt.com
Skype: mb.gracezhang
Tel: 0086 531 80960819