FIRST CHOICE, FIRST STONE!
Material

Natural Quartz Rock Face Stone Exterior Wall Cladding Yellow Castle Stone

Surface Choice

Polished, Honed, Grooved, Inclined, Stripped, Tumbled, Antique, Brushed, Picked, Water-hydraulic, Acid washed, Waterproof, etc.

Product Choice

Dry-hangs, Cut-to-Sizes, Panels, Slabs, Tops, Sanitary, Blocks, Stair Steps, Paving, Curbs, Columns, Pillars, Tombstone, Sculptures, Fountains, Lanterns, Pots, Tables, Chairs, Lines, Meshed Paving, Mosaics, Cultural Marbles etc.

Common Sizes

The below sizes are common ones, the close INCH sizes can also be produced.

Panels

Size(mm)

300X300, 300X600, 600x600, etc.

Thickness(mm)

10, 18, 20, 30, etc.

Slabs

Size(mm)

1500upx600, 2400upx650,

2100upx1200up, etc.

Thickness(mm)

16,17,20,30, etc.

Countertops

Size(mm)

1800x560, 2100x560, 2400x660, etc.

Thickness(mm)

20, 30, etc.

Vanity Tops

Size(mm)

1200x560, 1500x560, 1800x600, etc.

Thickness(mm)

20, 30, etc.

Stair Steps

Size(mm)

Lx457, Lx330, Lx250, Lx300, Lx200, etc.

Thickness(mm)

20, 30, etc.

Laminate Panels

Size(mm)

600x300, 300x300, etc.

Thickness(mm)

10-12

Cultural Stone

Size(mm)

600x150, 350x180, etc.

Thickness(mm)

10-30

Mosaics

Size(mm)

305x305

Thickness(mm)

10-20

Package

(Poly) Wooden Crate, Pallet, Rain Cloth, Carton & Foam are Our Usual Packing Material, But Different Product Different Pack, Different Pack Different Cost.

Payment

30% deposit, balance should be paid before delivery.

Port

China port

MOQ

100m2

(Principally 1 full container at least, but mix loading in the same port is allowed).

Supply ability

About 1000m2/week.

Delivery

30-35 days after manufacturing begins.
Natural stone varies in pattern and color from quarry to quarry, even block to block. People have to respect its uniqueness and beauty before order. We will do our best to choose the beautiful block for the project based on its character. So please don't worry about the color range.
Corner Stone for Reference
Rectangel Design for Reference
Crazy Pattern Design for Reference
Project show:
If you are interested in any of our products, please don't hesitate to contact us! We always looking forward to offer you our accurate and favorable price as well as our good quality products with quality service in the coming future.
About As: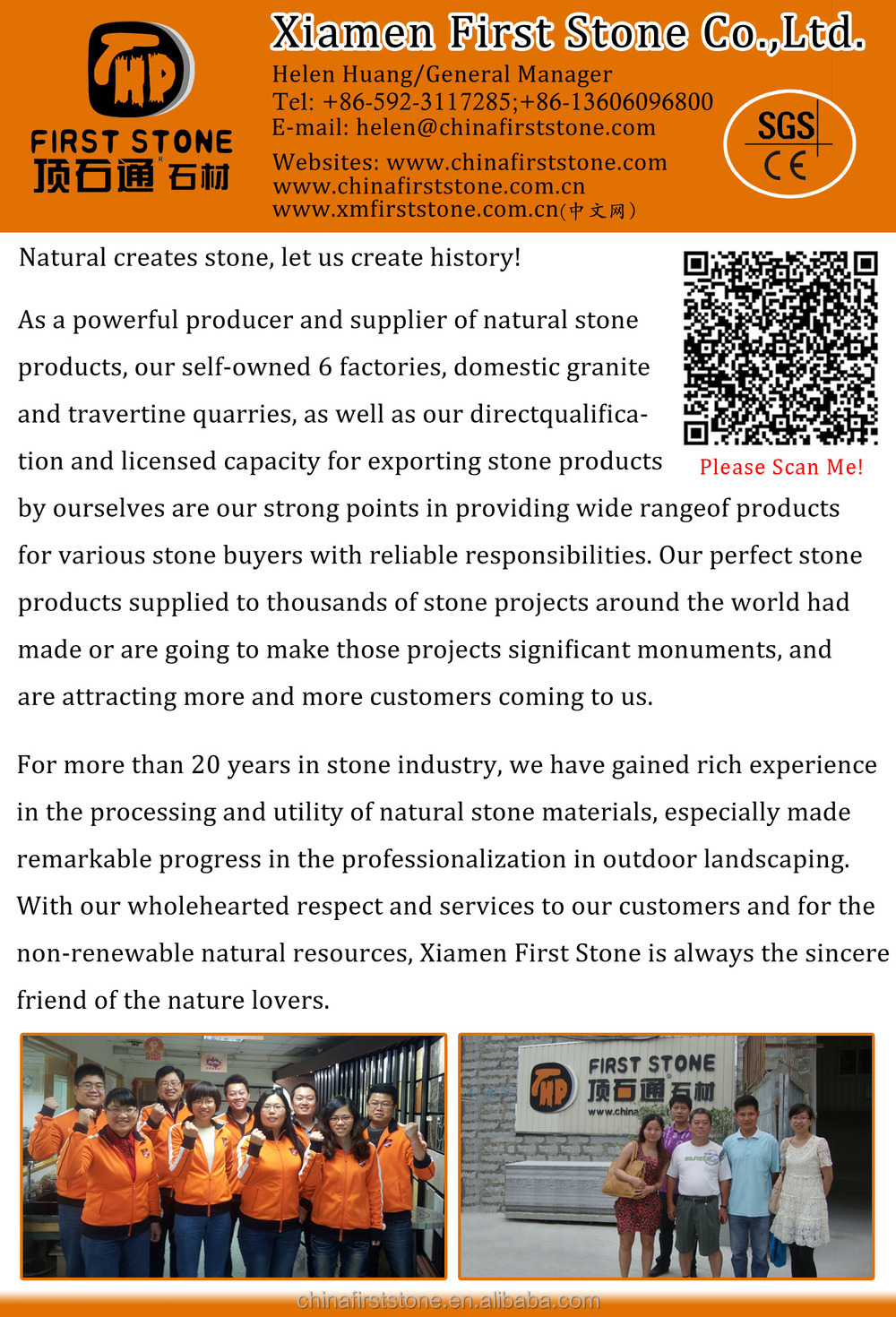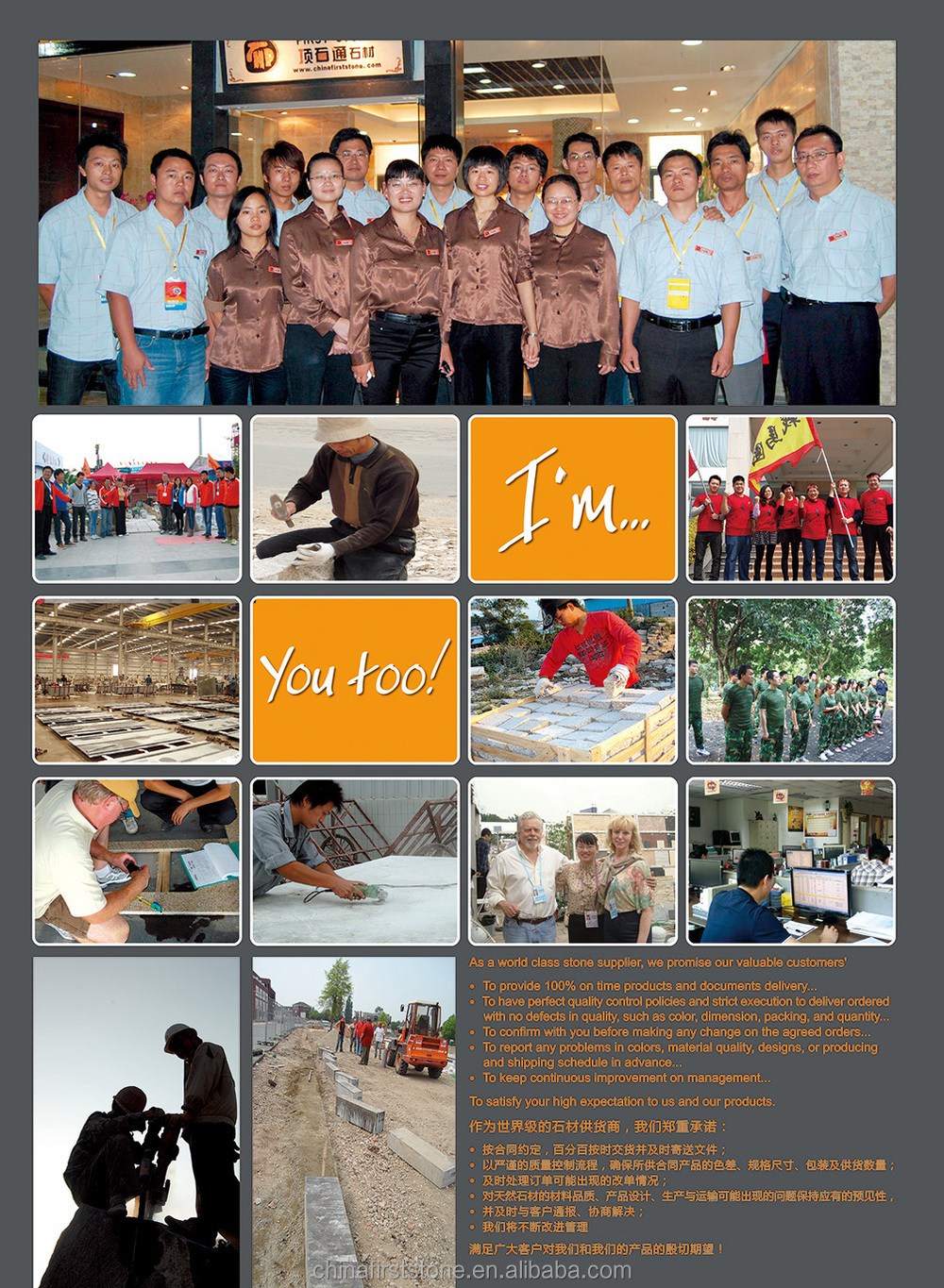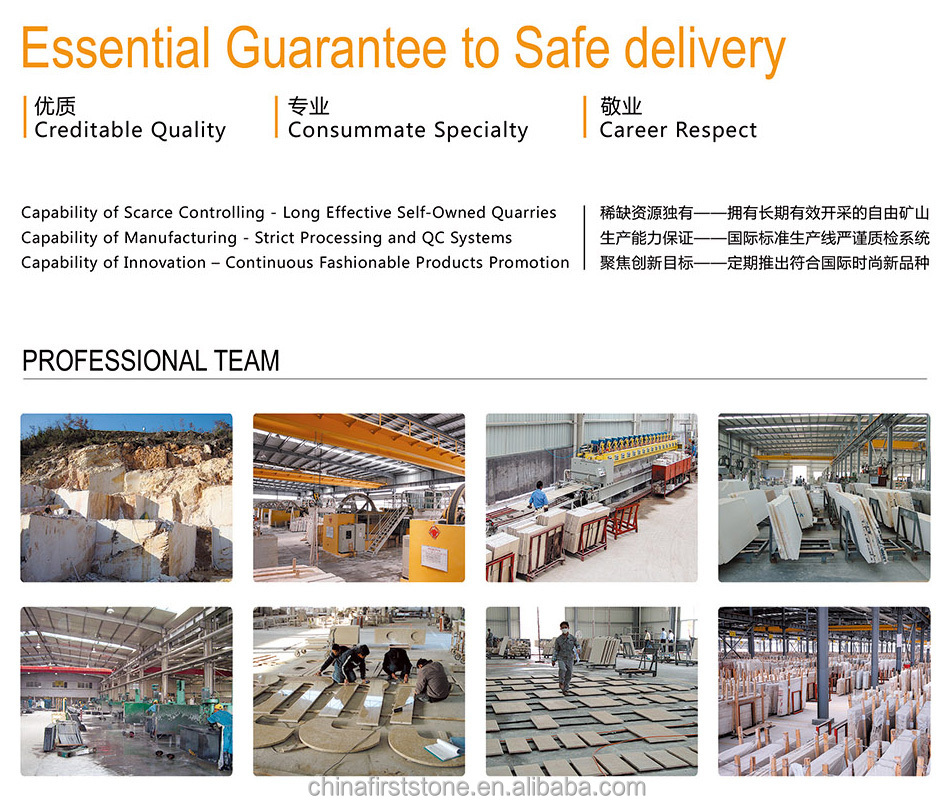 First Choice, First Stone!

All enquiries/questions to be replied within 24 hours.

All claims to be settled down within 24 hours.

Quality level including packing standard is the best and most stable.

The best payment conditions.

Best material and artists for all stone.
1, What is your time of making samples?
Usually we will take 1~3 days to make the samples.

2, What is your delivery time?
The time of delivery is 30-35 days after manufacturing begins.

3, What is the shipping port?
We ship the goods via Xiamen, Tianjin, Shenzhen, Qingdao port.

4,What are your payment terms?
We accept 30% deposit, balance should be paid before delivery.

5, What is the location of your company?
Our company was established in 1980 in the beautiful coastal city of Xiamen, which locates in one of the biggest granite material and production base and equipped with one of the biggest container ports in China.

6, What are your main products?
Our Factories with more than 450 skilled workers and cooperating with many other factories , our company is capable in outputting and supplying a wide range of stone products. Our products mainly cover:
1. The indoor and gardening furniture,
2. Design & carving stones,
3. Indoor and outdoor building and decorative materials,
4. Her borderline products as made in woods, metal, glass, etc.
Material of our products includes kinds of granite, marble, limestone, travertine, slate, sandstone, quartz, pebble etc. from natural resources and some artificial stone such as mab stone, quartz stone, solid surface etc.