Specifications
1. Act Natural Cleaning Products Universal Stain Remover.
2. Super Clean. Anti-fog. Anti-water. Shining. Protect. Five in one.
3. Universal detergent for home cleaning, used for kitchen, floor, windows, doors, etc.
4. 100% biodegradable. No Scratch.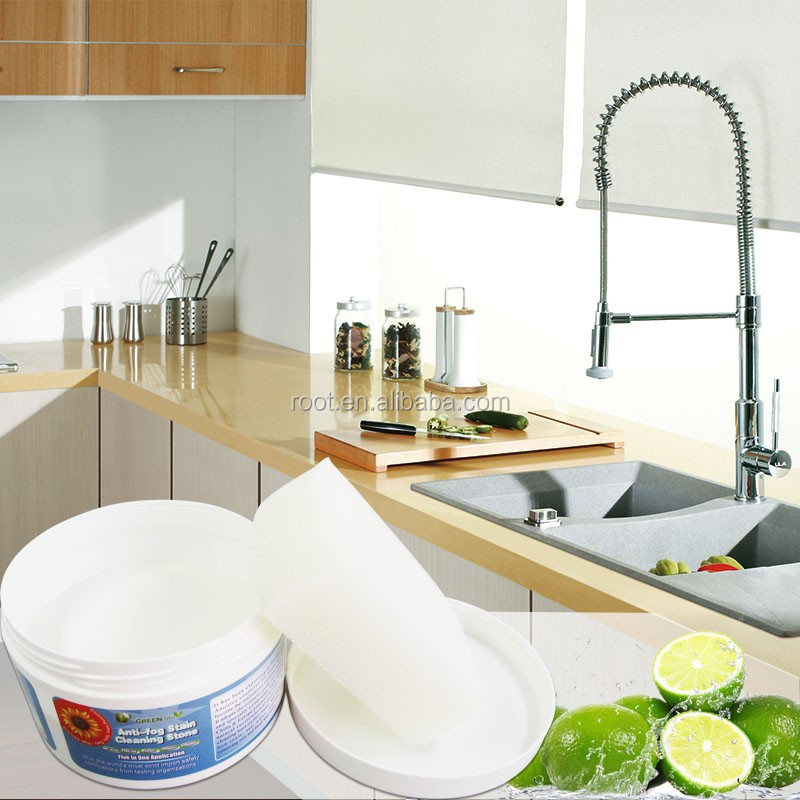 Appearance
Massive gray body
Ingredients
Water, Natural mineral powder, Plant essence
Principles
Complex by a variety of natural mineral power ,can activation the water, so water is more easily penetrate stains, and mineral powder also has a strong adsorption, by wiping out the stain upon the surface to be cleaned, to be adsorbed to the mineral powder surface, which was rinse. Stain Removing Stone is a washing products, combine the washing care function, with the natural environment, strong decontamination, low foam, easy rinsing and so on. No irritant to the skin.
Advantages
1. The water after washing is friendly, no harmful to the environment.
2. It has great stain removing power , can substitution of hard surface detergent products.
3. Good washing performance even in low temperature or hard water.
4. No foam, easily washing, saving time and money.
5. No taint to the stainless and ceramic surface.
6. No harmful substance to the body.
1. The plastic container should be sealed well, stored in dry and shade place ,prevent exposure, attention moistureproof.
2. The product is used for cleaning stainless and ceramic surface. Can't be used in other way.
3. The product contains alkaline materials, eating is forbidden.
4. The product should be taken far away from children, prevent children and pet long time contacting the paste and solution, avoid contacting to the eyes and nasal mucosa.
5. Has better effect with warm water.
6. Once the powder or liquid touch the eyes, flush the eyes for 15 minutes immediately and go to ask the medical care.
Instruction
1. The product has better effect in warm water(40°C~60°C)
2. The professional oil removing product can be used together with the stone for badly smudge oil stain.
3. Be suitable for cleaning variety of stain.
4. Can not be used for mao, wire, leather, silk or can't be washed by water.
5. Can't be used together with bleach that contains chlorin and ammonia.
6. Sponge some water and the stone, then clear the surface lightly and flush with water.
Package
300g/box, 400g/box, 500g/box, 750g/box
Storage
Stored in dry and shade place,to be sealed well, prevent exposure and rain, attention moistureproof.
Warranty
2 years quality guarantee.

1. More than ten years in household cleaning.
2. Professional R&D team, with 90 kinds of patents in China, Europe, US, HK.
3. Accept OEM service.
4. Free samples could be provided.