Specifications
1. Q switch nd yag laser for tattoo removal
2. 0-2000mj
3.CE certificate
4.Skin white
Guangzhou Renlang Electronic Technology Co., Ltd.
1.Tattoo removal machine
We supply 0-1000mj or 0-2000mj q switch nd yag laser tattoo remova machine
2.Applications:
1. Remove all kinds of tattoo
2.Remove the black &blue pigment on eyebrow, eye line and lip line.
Scour off tattoo, freckle, lentigines, old aged marks, vascular expansion and type of blood vessel lesions etc.
3.No harm to the follicles and normal skin, leaving no scar, only to lustrate pigment.
4.Be in no need of anesthesia and quick recovery. No negative influence.
5. Skin whiten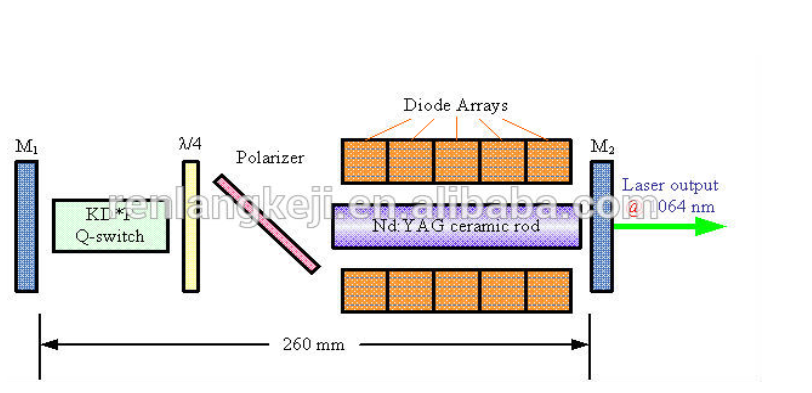 3.Background of q switch nd yag laser:
Q-switching, sometimes known as giant pulse formation, is a technique by which a laser can be made to
produce a pulsed output beam. The technique allows the production of light pulses with extremely high
(gigawatt) peak power, much higher than would be produced by the same laser if it were operating in a
continuous wave (constant output) mode. Compared to modelocking, another technique for pulse generation
with lasers, Q-switching leads to much lower pulse repetition rates, much higher pulse energies, and much
longer pulse durations. The two techniques are sometimes applied together.
4.How did q swithched nd yag laser work?
The Q-switched ruby laser was recently shown to remove tattoos without scarring. The Q-switched
neodymium: yttrium aluminum garnet (Nd:YAG) laser, which targets black ink with a longer wavelength that
has less absorption by melanin, should effectively treat tattoos with fewer pigmentary alterations.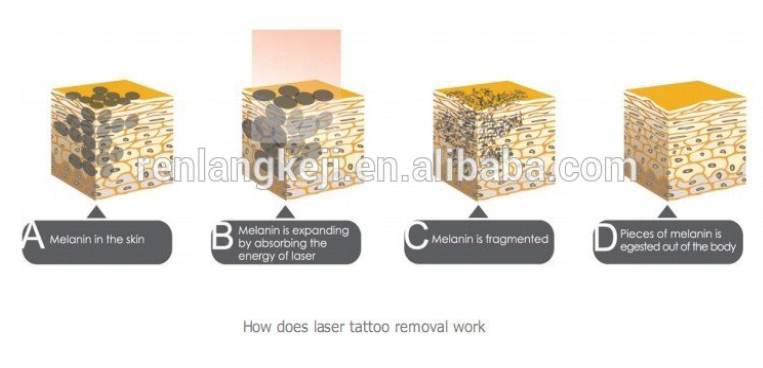 5.Technical parameter
Technical parameter
Model Number: RL-A01
Laser Type:Nd: Yag Laser
Cooling condition: wind system+closed circulating+cooling system
Laser output wave length: 1064nm/532nm/BD-LS
The pulse energy: 0-1000mj or 0-2000mj
Pulse width: 6ns
Recurrence rate:1,2,3,4,5,6Hz
Power source:110v or 220v
Net Weight: 13kg
Gross Weight: 20kg
Size:54*30*33cm (L*W*H)
INC SHELF Size: 58*40*48cm
Place of Origin: Guangdong China (Mainland)
Feature: Skin Rejuvenation,Skin Tightening,Tattoo Removal
Pulse duration: 8-10ns
Spot Diameter: 1-6mm
6.Operation skills for laser tattoo removal system
| | | | |
| --- | --- | --- | --- |
| Items | Q-switch ND:YAD laser | interval | Notice |
| eyebrow | 1064nm;532nm/BD-LS | 30-60day | Remove eyebrow hair and protect eyeballs |
| eyelid | 8-10ns | 45-60day | Remove eyebrow hair and protect eyeballs |
| lips outline | 1.2.3.4.5.6Hz | 15-45day | use 532mn mirror |
| Body tattoo | AC110V-220V | 30-60day | Exude blood is effective |
| flecks ,aged spot | 0-1000mj | 15-30day | Exude blood is effective |
| birth mark | 6ns | 45-90day | Exude blood is effective |
7.Q switch nd yag laser machine detail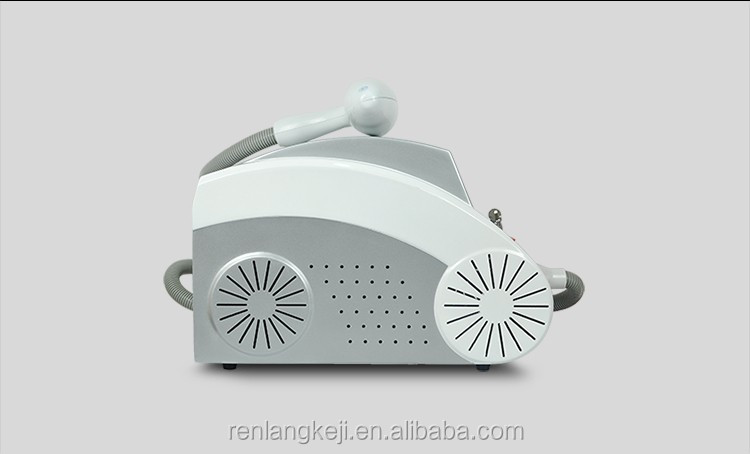 8.Large color touch screen
7.0 inch color touch screen ,0-1000mj or 0-2000mj
4.3 inch color touch screen,0-2000mj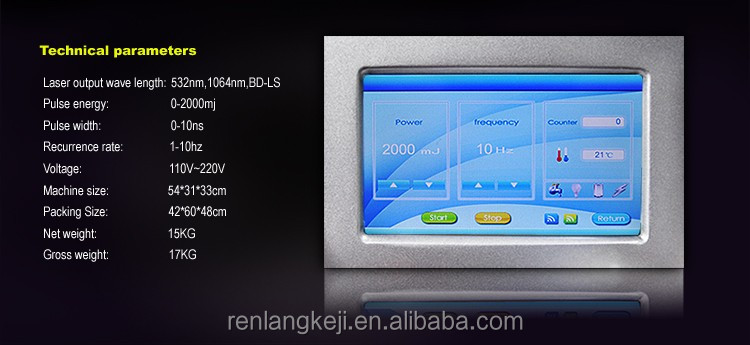 9.Three different wavelength lens
1.1064nm wavelength of the lens is mainly used to get rid of the blue and black pigment, tattoo, etc.
2. The lens of the 532nm wavelength is mainly used to remove brown, brown pigment.
3.1320nm BD-LS( Black doll ) camera is mainly used for whitening facial melanin, fade.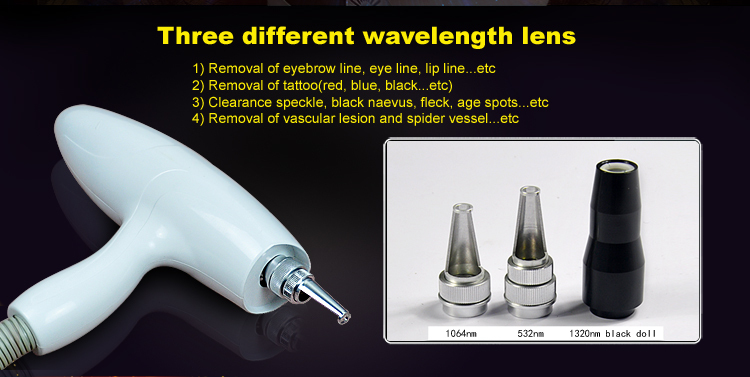 10.Distribution of parts
1.1320nm,532,1064nm wavelength
2. A key
3. A pair big red beautician goggles
4.A Irrigation funnel
5. A power line
6.A pair of customer goggles
7.A pedal switch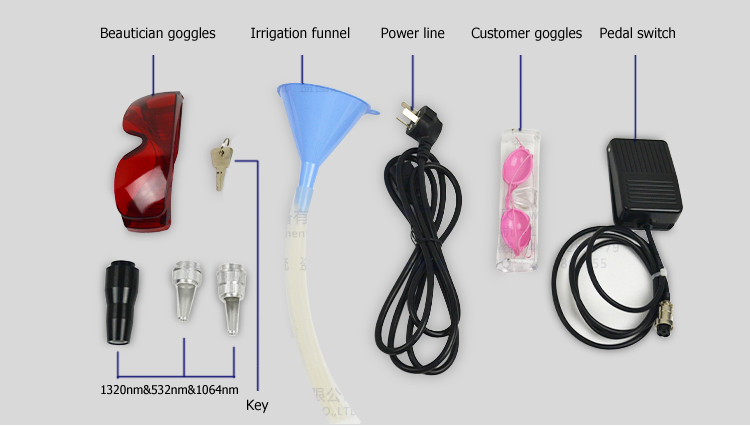 11.Compre are with before and after treatment
An excellent response (>75% ink removal) was seen in 77% of the black tattoos and more than 95% of
the black ink cleared in 11 (28%) of 39 tattoos at 10 to 12 J/cm2 after four treatment sessions. Colored
inks were effectively removed.
1.Standard export carton, strong and firm enough for oversea shipping.
2.Selective air aluminum case,convenient for transfering from your original address revised place.
3.Carton is filled with EPE (Pearl cotton) for fixation and anti-collision.
13.Payment and shipping
1, Payment : T/T , Western Union ,Money Gram ,Paypal
2, Shipment : DHL.TNT.UPS.FEDEX.EMS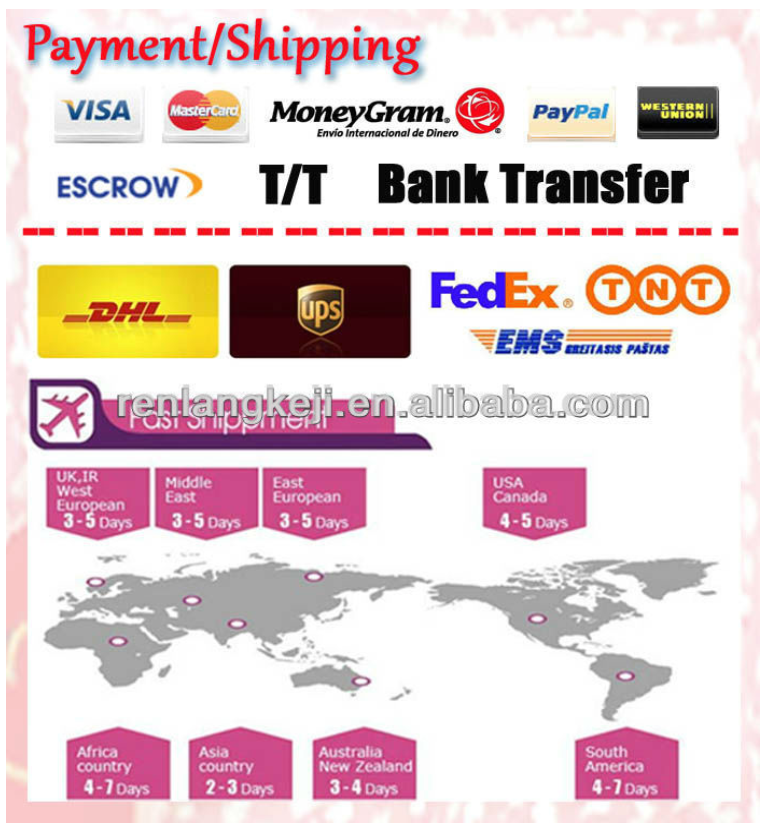 Our company established more than 10 years. we are the most professional company in beauty field
in china. we achieved so much glory because our customers believe in us.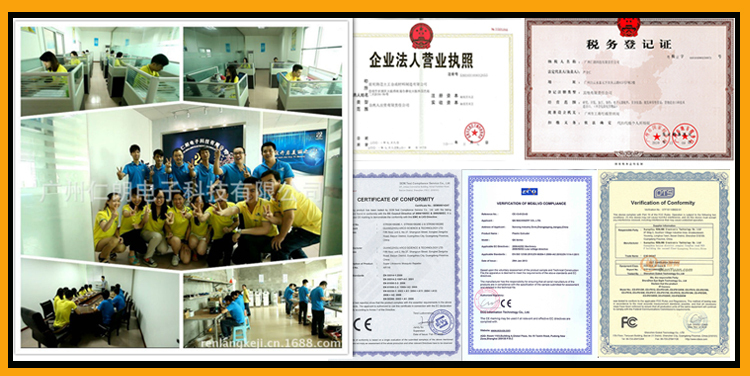 15. Warranty and service
1.One-year warranty for the mainframe without charges for components charge or repairing. Lifetime
maintenance without any charge for repair fee. Only fees to change parts.
2.Free training for operation of the machine in our company, which provided by our specialized training
department.
3.On-line services, for example, technical consultancies provided by our skilled technique group
concerning any question of the laser machine, and after-sale maintenance and more.
4.OEM/ODM services are available. We have our own developing and design department and
manufacturing line, which ensure your required beauty machine.
Dear clients, for more information, please just feel free to contact with us, Renlang will always be here for you!
-