touch the future -- Drupa
May 31 - June 10, 2016
Dusseldorf/Germany
Contact us for more details: export(at)86jg.com
[Paper Product Making Machinery] ZDJ-1000 Automatic Box V Groove Machine and hardcover book case maker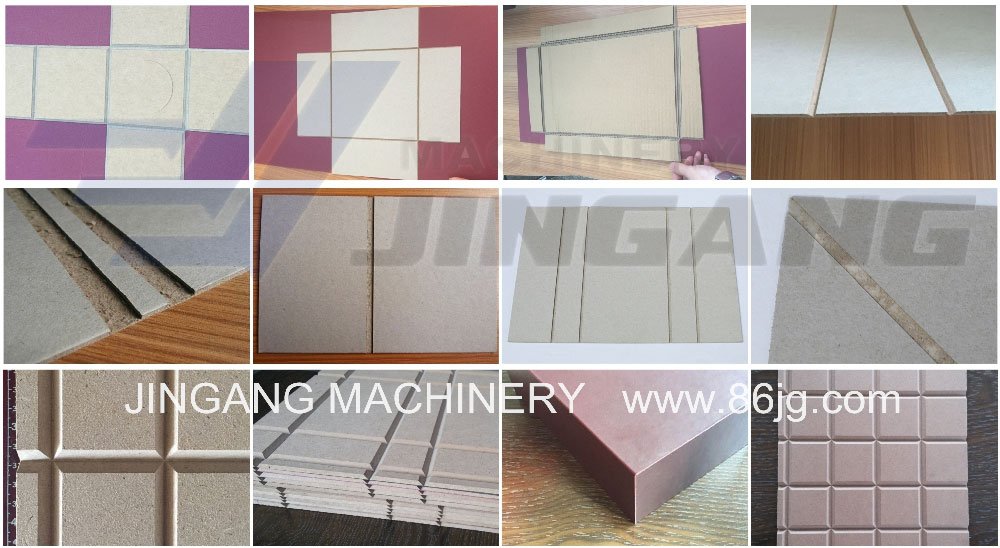 ZDJ-1000 Automatic Plate-type Dust-free Grooving Machine
(High Precision, Easy operation, Safety)
ZDJ-1000 Automatic Box V Groove Machine and hardcover book case maker
Performance and characteristics
1. It adopts PLC control, featuring in simple operation. The troubles are displayed directly on the PLC, which helps the operator easily remove them.
2. The cardboard feeder is controlled by linear guide line and servo motor, positioning accurately and swiftly.
3. Equips with a vacuum pump to keep the cardboard grooved accurately without any movement.
4. Durable knife, equips with knife grinder, easy operation and sharping knife makes better groove effect.
5. Wide use: Can be used in grooving the paperboard, corrugated board, cardboard, MDF and other paper packaging materials etc.
Technical parameters
Model of Machine

ZDJ-1000-450-12

ZDJ-1000-450-8

ZDJ-1000-350-6

Width of Paper Board

120-950mm

120-950mm

120-950mm

Length of Paper Board

60-450mm

60-450mm

60-350mm

Grooves Gap

0-900mm

0-900mm

0-900mm

Min. distance between two grooves

near to 0. Knife can set on two lines.

Shape of Groove

V/L/U grooving shape, 80° -130° (normal), 50°-150°(customizable)

Thickness of Paper Board

0.3-3.0mm

0.3-3.0mm

0.3-3.0mm

Number of Grooves at one time

12 pieces

8 pieces

6 pieces

Grooving Speed

35/min

35/min

50/min

Motor Power

5.2kw/380v 3phase

3.7kw/380v 3phase

3.7kw/380v 3phase

Machine Weight

2.0T

1.8T

1.5T

Machine Dimension

1400×1800×1300mm

1800×1300×1400mm

1350×1050×1300mm
1. V, L, U shape grooving knife -durable knife, import blade material (knife introduction please see below Advantages);
2. Plate-type grooving machine suitable for most kinds board grooving;

3. Technical Grooving degree range: 50-150 degree;
4. Technically, board thickness, min: 0.3mm, max: 8mm. Customizable;
5. (ZJ-1000 model can be custom made for 8mm thickness MDF V groove. )
6. Box Sample test are welcomed. export(at)86jg.com

[High Precision] ZDJ-1000 Automatic premium phone box package V Groove Cutting Machine
ZDJ-1000 Automatic Plate-type Grooving Machine (Two auto feeder)
Why so many clients choose Plate-type Grooving Machine?
How to make my package to be more beautiful and high-end?
You need a high precision Grooving Machine!
[Paper Product Making Machinery] ZDJ-1000 Automatic Box V Groove Machine and hardcover book case maker
High precision

-- +-0.1mm.

Less deviation

-- using a serious of

Vacuum System

to suck the paper board powerfully.

No deformation

--

vacuum system will suck the paperboard without any deformation.

No bend

--

the paper board grooving is fulfilled on the working table.

Dust-free

-- The furface of the paperboard will be clean and s

mooth after grooving.

Strong Power Vacuum system

--

Strong power Vacuum system, to suck the board on the running plate, so when grooving the board, it will cause no deviation, no bend, and the grooving effect is perfect.

High Accuracy

--

0.1mm, almost no deviation when grooving.

Linear guideway

-- Cardboard is feeding on the Plate-type

linear guideway straightly

so that the board will not go wrong way.

Touch Screen

-- Easy operation.

PCL control

-- PLC programmed, High reliability, small volume.

Two auto feeder

--

enough production.

High Speed

--

35/min.

High Quality Knife, adopted best material

Knife angle: 50-150 degree;

Qualty: High quality, imported blade material

Grooving Knife be set on the Knife Seats.

Can be used to grooving about 15000 -25000 pcs per grind.

Please sharp the knife before your operation.

How to maintain the knife?

The knife should be strictly preserve well;

Mind the workers to sharp the knife blade before working; Be careful not to throw or drop to the groud.

Safety & Easy operation

1. Safe Cover -- over the knife seats for protect.

2. Air pipe for cleaning dust -- Can set the Air pipe aiming at the knife blade to blow the grooving dust.

3. Conveyor belt --

The dust will be blow down to the conveyor belt.

Workers doesn't need to clean the dust by hand. Plate-type grooving machine is safe.

4. With two Emergency Stop.

5. Easy operatin -- Touch screen.
[Paper Product Making Machinery] ZDJ-1000 Automatic Box V Groove Machine and hardcover book case maker
Dust-free grooving machine, high precision
Box samples from our clients:
Grooving Samples on different kind of board:
Sample test are welcomed.
Grooving Board thickness -- min: 0.3mm, max. 8mm.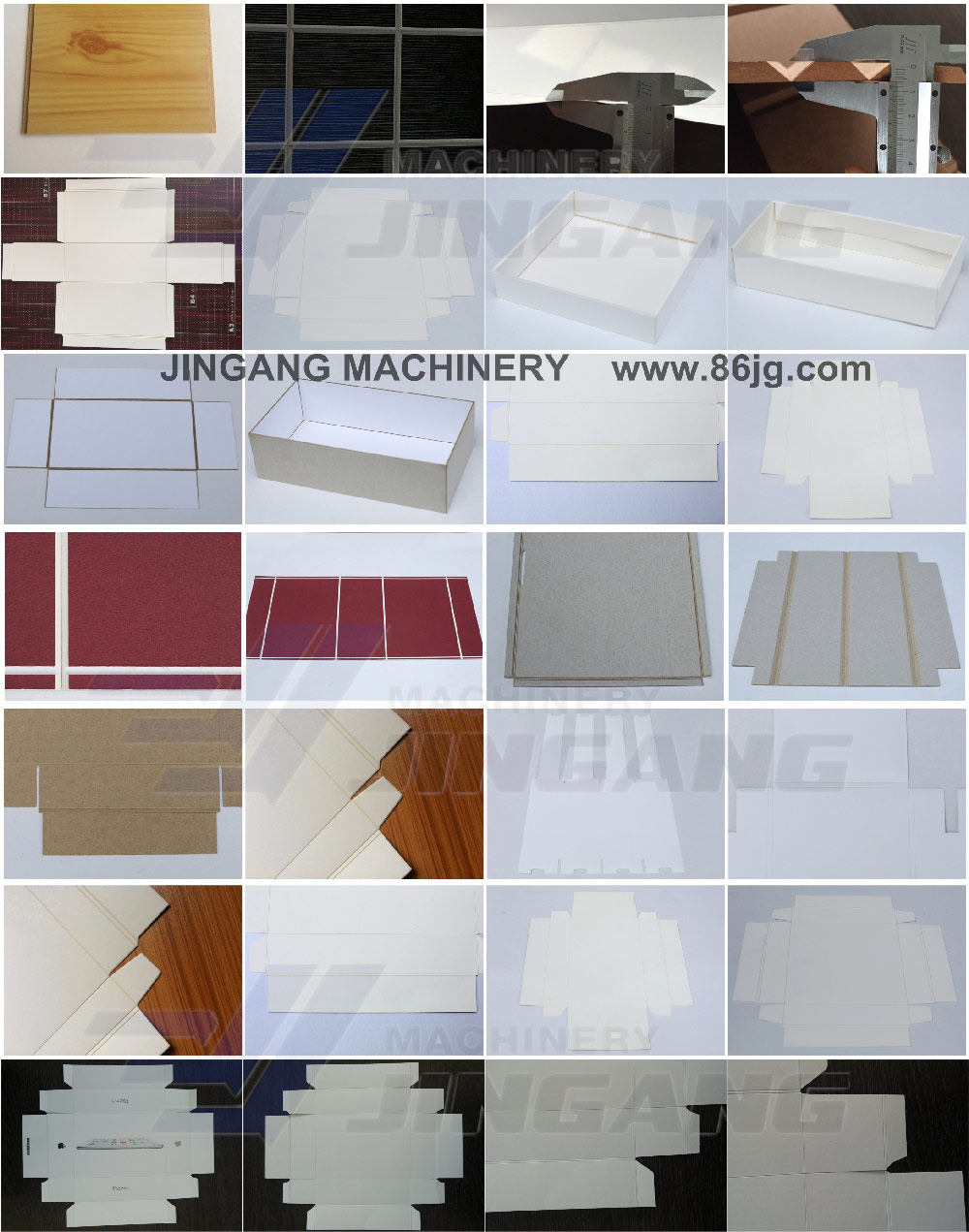 Previous Exhibitions
South China Print(March), China Print (April), All in Print(Nov.), Drupa(Dusseldorf/Germany), Ipex(London)...

Exhibition info:
Welcome to contact us for more info. export(at)86jg.com
JINGANG MACHINERY -- Providing Professional Grooving & Packing Solution For You!
Ruian Jingang machinery Co., Ltd, established in 2008, specialized in Post-press packing equipment professional develop, design and manufacturing. Our company has developed several post-press equipments with our own intellectual property.
At present, our production invluding Gift Box Grooving Machine Series, and Gift Box Making Machine Series, assist to kinds of post-press packing equipment for high-end gift boxes.
High Quality Grooving, More Applications
After JINGANG teem of unremitting efforts, the optimization of JINGANG models from generation to generation, improving the preformance of each type of mechanism of continuous. Truly "reduce the customers' production cost fundamentally, improve product quality and production efficiency".
Classify and function
Name: Slotting Machine, Grooving Machine, Notching Machine...
Function: groove the paperboard material, to make it suitable for box or rigid package.
Material: Cardboard, Greyboard, Chipboard, MDF wooden board, Corrugated board, Paper sheet, Kraft paper, Ivory board, Rigid board workpiece, etc. Special kind paper grooving can be customizable.
Board thickness: 0.3-8mm customizable.
Grooving Angle: 50-150 degree V shape, U shape, L shape on the edge.
For the production of rigid set up boxes
(luxury boxes, luxury packaging, jewelry packaging, phone boxes, gift boxes, wine and spirit boxes, shirt and shoes boxes, make-up and toiletry boxes, biscuits and cakes boxes, ring binder boxes, cd dvd and book boxes, cylindrical boxes, rigid boxes) Grooving Machine
For the production of technical paper flat boards
(game boards, display stands, posters and calendars, frames, special wooden kitchenware )
Dear all value clients,

Good day!
We would like to send our regards to you and your company with health, happiness and success.

Our factory, Ruian Jingang Machinery Co., Ltd, providing professional Grooving and Packing Solutions for you.
We have been woring with Aliababa for export works since 2015.01.
Here's our online transaction history from 2015.01-2015.07.
We hereby thank all of our clients' support and trust, and we sincerely hope you enjoy our technology and services. ;)

Thanks and best regards,

Jodie
Export Department
2015.08.21


Below is the information about the supplier's transactions conducted via Alibaba.com. If you require further details regarding the transaction data, please contact the supplier directly.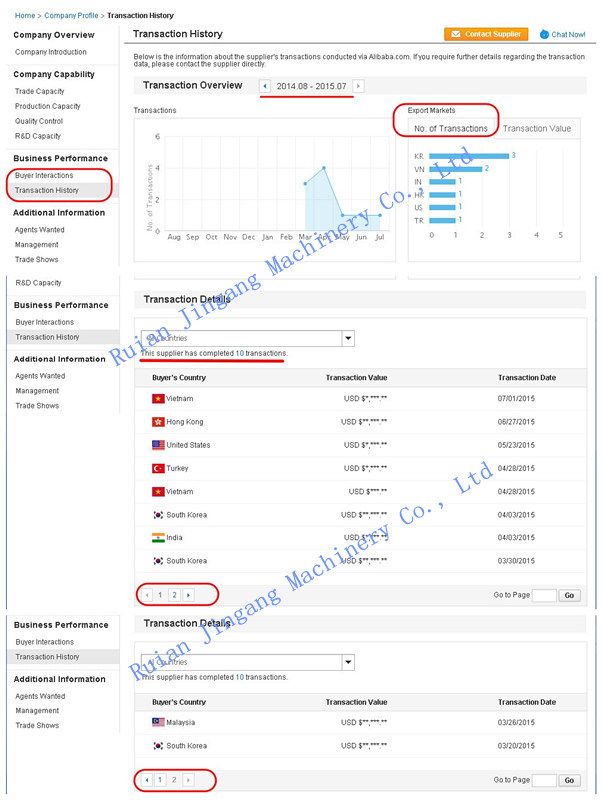 Looking for Grooving Machine? -- Contact us!
Ruian Jingang Machinery Co., Ltd, providing professional GROOVING Solution for you!
export(at)86jg.com
Video will be sent when inquiry.