Hot summer sale 360 Degree Electric 3 seats 9D VR Mount Virtual Reality game machine new entertainment products
Choose Easyfun, your best business partner to make money in the year of 2015!
The newest product comes: 9D VR cinema (9D Virtual Reality)
9D VR headset / VR glass:
Why 9D VR cinema so popular?
Because it is the newest product, the different software with system of cinema, and broke the rules of the technology, Only use four parts and finish the high technology, Computer, Chairs. Control Desk, Glasses Only,its no need installation, and finish production, you can run this business directly!
Choose 9D, 5 advantages FOR YOU !

1.World premiere+Exclusive features
2.Small business location (only 2-9 square meter )
3.Wireless operation.No need to install.
4.Full automatic mode.1 person for operation
5.Professional after-sale service, lifelong maintenance!
What is the function of 9D VR cinema?
1.Free vision
Bionic 125 ° field of view,1080P HD resolution two eyes independently, without dead ends brings you to enjoy the new funny world with real feelings .
2.Interactive cabin with dynamic effects.
The moving speed of the cabin from 10mm / s to 167mm / s can be precise regulation, make you free to move in the new wonderful world.
3.360 ° rotating platform
Rotating platform is based on a high level freely.Once advancing, turning around, you can have fully experience of the real pleasure from the spatial displacement of the new funny world .
4: Head tracking target
Built-in 9-axis sensor, 360 ° head tracking, you will feel your whole body into the world of film when turning around
5.Rich content
Boundless Universal,Endless Ocean,Hail of bullets......Fantasy you ever dreamed of will come true now.
6.Amazing virtual reality experiences
Explore every wonderful creation of our world, broadcast the moment at present, predict the future.
Income of 3 seats

9D VR

Tickets price

$

working time

movies per hour

conversation mode

income

One day

5

$




8h

5 movies

5*8*5*3seats

600

One week

600*7

4200

One month

600*30

18000
The above is just based on 3 seats, and 8 hours per day, Image the holiday, festival, some special days.
The income will Amazing !!!
Our VR games and movies: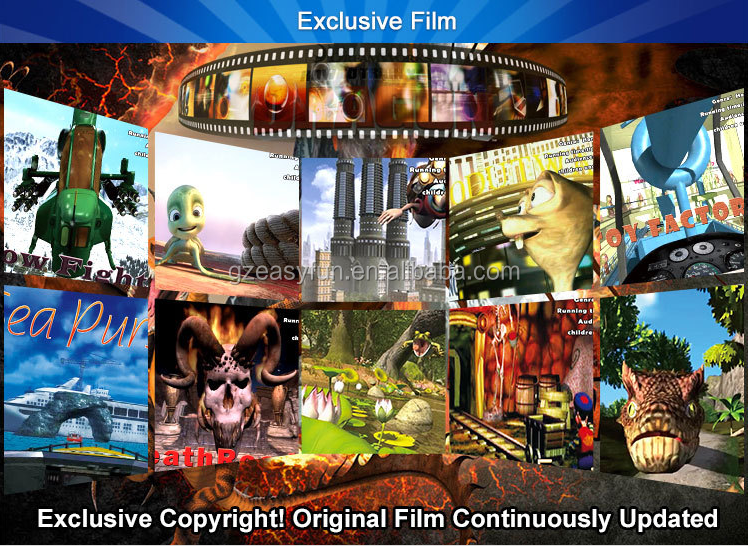 Our Excellent Service:
1) . Installation
A: Almost free installation, just need to connect some lines.
2).One full year factory warranty
We offer you one full year factory warranty. During this period we will offer you online maintenance for free, and supply you for free the damaged key parts excluding projection screen and the lamp of projectors induced by non-human factors.
3). 9D VR Movies
We have our own professional team working on the 9D VR movies, we will update new movies to our customers.
4).Tickets, Posters and Flyers
We will offer you the design for free.
About Easyfun:
Guangzhou Easyfun Animation Technology Co.,Ltd is a professioal manufacturer of 5d 7d cinema 9d VR cinema equipment ,game machines and other amusement park equipment. We have strong development team for producing cinema and movies and other animation products.
Market leader in out-of-home multi-sensory interactive attractions, EASYFUN has created the most technologically advanced immersive and interactive media-based simulators for both the entertainment and edutainment markets. With installations in over 50 countries across all continents, EASYFUN continues to push the limits and allow guests worldwide to "live the moment". Since 2006, EASYFUN has operated its own studio to develop state-of-the-art custom content for its attractions. EASYFUN is a privately held company based in China with offices in Guangzhou and HongKong.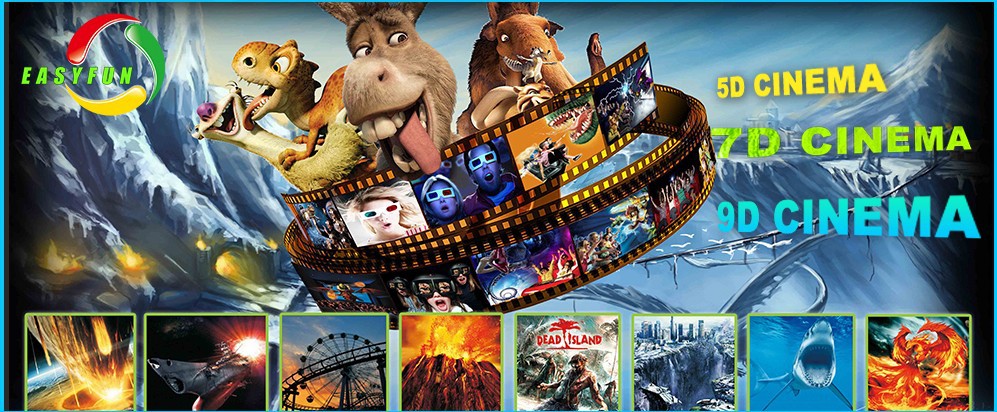 Q:What is Virtual Reality?
A:Virtual reality is an artificial environment that is created with software and presented to the user in such a way that the user suspends belief and accepts it as a real environment.
Q: What is the difference between 9D VR cinema and 5D/7D/8D cinema?
A:There are 4 main differences:
1. There is no need screen and projectors in 9D VR cinema. Just wear the VR glasses,then feel what you see.
2.The seats in 9D VR cinema can have 360° Rotation,fully immersive.
3. Different from shooting with real guns in 5D/7D/8D cinema,9D VR uses the advanced head tracking technology.Just move your head to aim at your target,then press the bottom to shoot it. you can use your head control the direction you want~!
4. Don't need to do a complicated installation!
Q:How many type of 9D VR cinema do you have ?
A: Five types:1.VR glasses 2. Non-rotational 1 seated 9D VR cinema
3.360°Rotational 1 seated 9D VR cinema 4. Non-rotational 1 seated 9D VR cinema
5.360°Rotational 3 seated 9D VR cinema
Q:Where can I run the 9D VR cinema and what is the size of the room it requires?
A:Shopping mall,amusement park,airport,club,theater, scenic spots,Theme park,around the school ect. Many locations are suitable because it just needs 2-9 spare meters to place the whole set of machine.
Q:How many movies do you offer?
A: We have 10 movies offered for free once you purchase it.Then we offer 1 movie every month for you in the future.
Q:What is the type of your movies?
A:Horror,thriller,cartoon,race movies ect. 5-10 minutes for every movie.
Q: Is every movie in the market workable in the 9D VR cinema?
A:Only our special movies are workable because the movement of the seats corresponds to the movie.
Join Easyfun, Easy life from
Easyfun !!!