Waste PP/LDPE/PE/HDPE plastic granulating machine with double piston continuous screen changer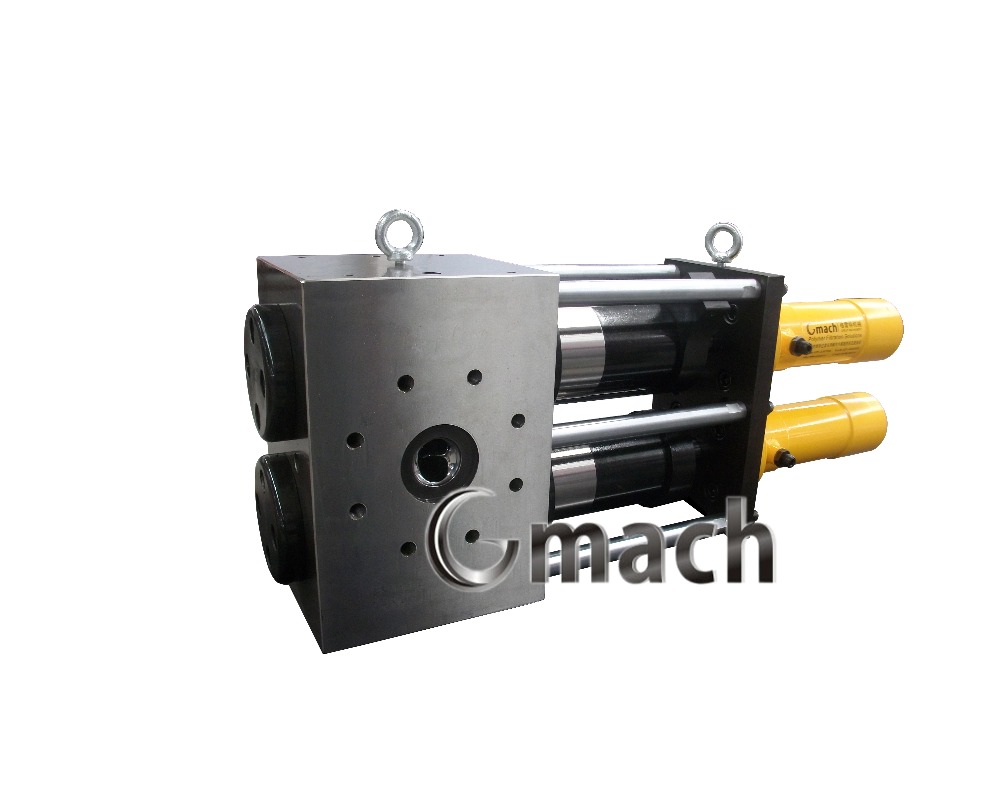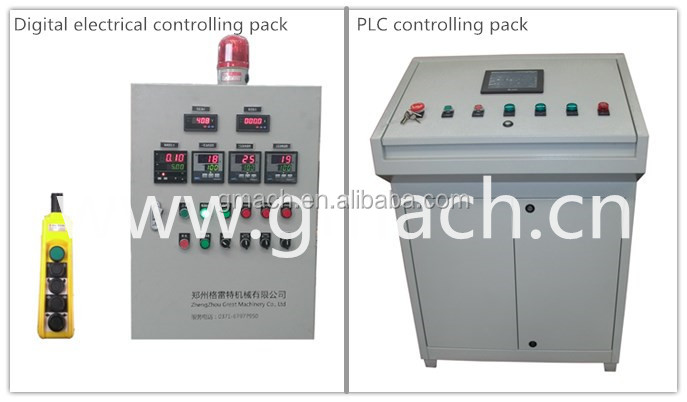 In Polyethylene monofilament production line, the filtyration system makes a very important role, and now in this fields, most widely used is still the traditional "candle type" melt filter, the advantages is the filtration aera is large, but the shortage is more obviously : they are not easy to lean the candle, and the operation is complex, lot of labor interference.
Compared with the traditional "candle type" melt filter, this GM-DP-R series continuous screen changer has its own unique advantages:
continuous operation
no interrupt the production when change the screen
Diachage the gas mixed in the polymer melt by the venting groove
removable breaker plates ,easy to clean

Leak-free mold of operation

Customized design adapters
Flexible installation ways to full use of the limited space

Simply controll by a easy operated control handle

Reasonable price and proved technology
This GM-DP-R series continuous screen changer/ melt filter is consist of
The main body of the screen changer
Hydraulic unit
Electrical controlling pack
Features of this kind of GM-DP-R series of continuous screen changer for plastic extrusion machine
Two round removable breaker plates on each bearing piston
"Continuous type" means operation of screen change without machine halt or disruption of melt flow.
Equipped with three steps of gas venting system

Fit for almost all kinds of polymers

Flexible installation ways

It works well under the high pressure 400bar(40Mpa) not impact the high performance.

The filtration screen area covers from 56cm² to 520cm², depending on the size, fit for output range from 30kg/h to 1800kg/h.
Product show
Double piston continuous screen changer filter for plastic waste recycling granulating extrusion line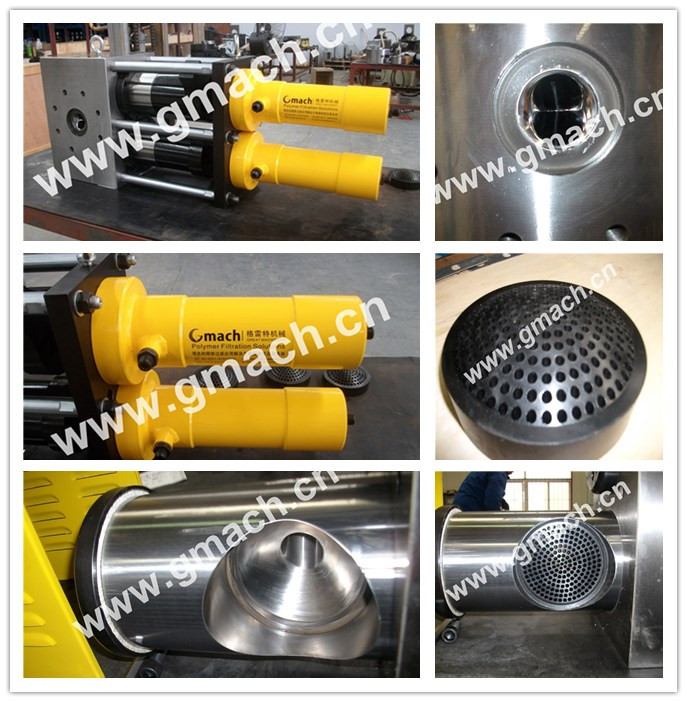 Main application fields
Cast film (Bubble pack/ Medical/Food Wrap)

Sheet (Foam/Strapping/Plastic cardboard)

Coating (Hot melt adhesive)

Pipe ( Corrugated/Gas Pipe) and profile

Compounding (Master batch/filler)

Wire and cable extrusion

Tubing (Medical/Industrial/Irrigation)

Fibers ( Monofilament/non-woven fabrics)

Pelletizing (strands and water-ring pelletizing)

Recycling of most polymers
This kind of Waste PP/LDPE/PE/HDPE plastic granulating machine with double piston continuous screen changer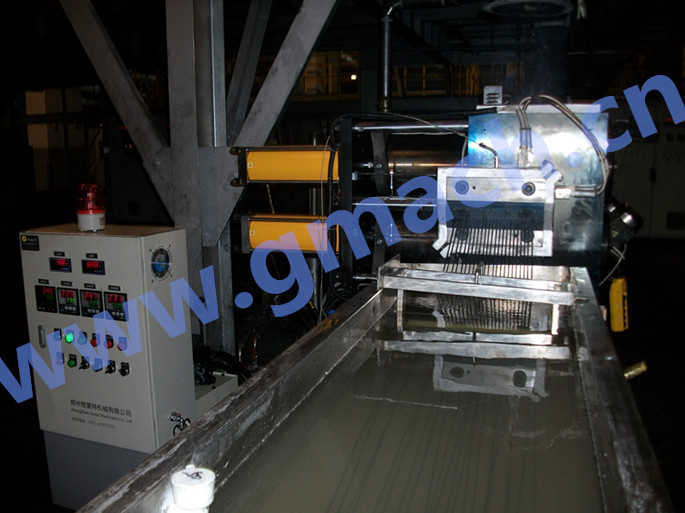 Types
Plastic compounding extrusion line uesd double piston continuous screen changer melt filter

Type


ScreenD&A


Overall &dimension

(mm)


Heating power
(KW))


Output
(kg/h)

Dia(mm)

Filtration area(cm²)

L

W

H

L1

GM-DP-R-80

60

28x2

180

170

280

700

2.4/3.2

30-180

GM-DP-R-100

80

50x2

220

200

320

810

3.5/4.7

80-280

GM-DP-R-120

100

78x2

250

220

360

970

5.0/7.2

220-480

GM-DP-R-155

130

113x2

320

270

450

1100

8.2/11.1

300-700

GM-DP-R-170

145

165x2

370

310

480

1320

9.4/12.7

400-1100

GM-DP-R-195

165

214x2

400

380

550

1470

10.2/13.8

650-1500

GM-DP-R-220

180

254x2

440

410

590

1620

13/17.5

800-1800

Remark:The output rates depend on the individual extrusion process parameters.
Quality inspection
We take only first-class steel and check every production procedure to ensure every dimension is produced precisely. A final complete inspection will be executed before delivery.
Commissioning
We provide the operation manual for customers to gudie to install the screen changer, and at the requirement of user, salers should send technician to install and commissioning the die at site of Buyers, expenses of the trip should be borne by Buyers.
After-sales service
12 months with proper operation by user, all the spare parts shall be replaced free of charge under guarantee period, fee for transportation and packing will be borne by users.
Packaging
Inner packing: bubble wrap film protection
outer packing:wooden case
Shipping: The cargo can be deliverd by sea or by air as the request of the customers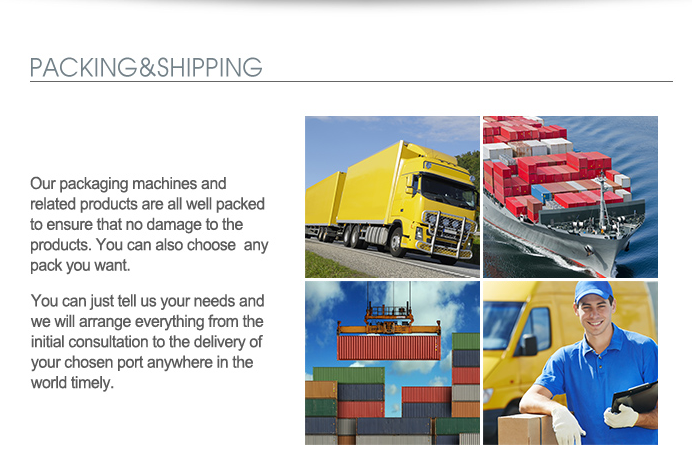 Gmach workshop/factory
About Gmach
Zhengzhou Great Machinery Co.,Ltd, a high-tech company with deep technology background and strong work team and services in China. Our global team is dedicated to equipping our customers with the competitive solutions. Our business across the hydraulic screen changer/ melt filter, melt gear pump, extrusion dies,and plastie recycling granulator.
Gmach is a rapidly growing company, it has a large number of sensior technicians and and full of passion and ambitious young people. the deep technical background and sense of responsibility work team determine it is standing on a high starting point.
We do not just supply the products , but also provide value-added solutions to more customers in more markets all around the world . In the process, we're helping manufacturers everywhere improve productivity, cut costs, increase energy efficiency, eliminate scrap, reduce cycle times and do whatever else it takes to succeed in today's complex global economy.
Our team is committed to provide customers the best products with ever improving design. Strict production and quality control,and the perfect pre-sales and post-sales services.
We are on the way to be your most reliable and trustworthy partner, now more than ever.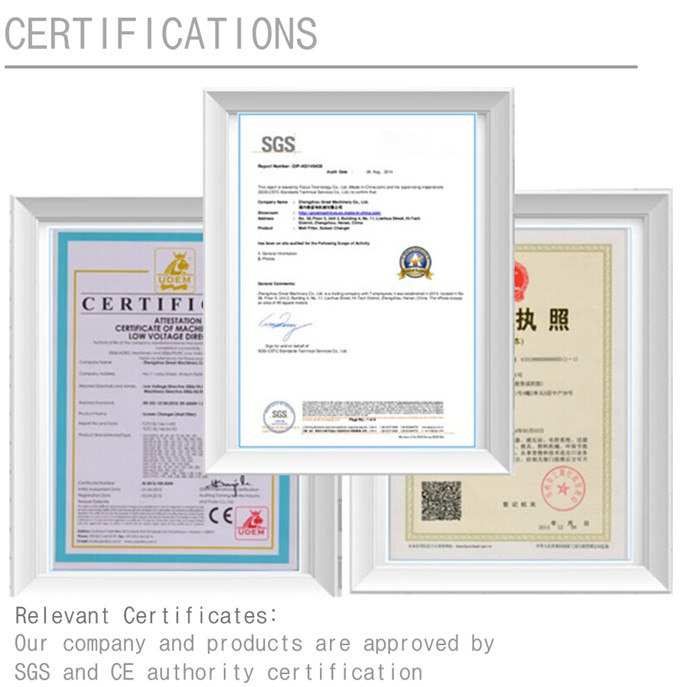 Although we registrated as a trading company here , but we have our own factory, equipped with all needed product processing machinery. So we can control and guarantee the quality of all our products.We do not just sell the products but also provide the best solution for you, your success is our ultimate goal.
We promise to all customers: Service life as long as 10 years, and free maintenance within one year .
Cooperate with us =Get the perfect solutions
How to choose a most suitable type of screen changer for your extrusion line ?
After the equipment supplier making a size recommendation and then you should perform your own analysis to confirm appropriate sizing. That way, you will have the advantage of independent analyses and, best of all, there is no additional cost.
Learn the difference between price and cost. Be sure to take into consideration all of the variables and look at all the factors to determine the real cost of ownership for the screen changer. Some of the hidden variables to consider may be:
•Product quality.
•Maintenance, time and cost of parts.
•Process downtime and cost.
•Life expectancy for the equipment and amortized cost of ownership.
•Cost and availability of filtration media.
•Pressure loss and effect on line output and product quality.
•Operator safety.
•Required operator intervention and labor cost.
If all of these and other factors are taken into consideration, you can choose the most suitable solution, and then you can expect a much better return on investment.