Portable Extreme Ice Hockey Shooting Pad
ABOSN HDPE Sheet can be provided by various color ,size and molecular weight.You can find any kind of UHMW-PE/HDPE Shooting Pad that you want here.
Properties:
Low density

Good self-lubricating

Low temperature resistance

Excellent machanical properties

Excellent tensile

strength

Excellent corrosion-resisting

Excellent wear resistance

Excellent impact resistance

Safe and non-toxic low water aborption
Specification
Size of Abosn Hockey shooting boards:
1000*1000mm 1500*1500mm 2000*1000mm 1220*2440mm
(Other customer size is available with requirements)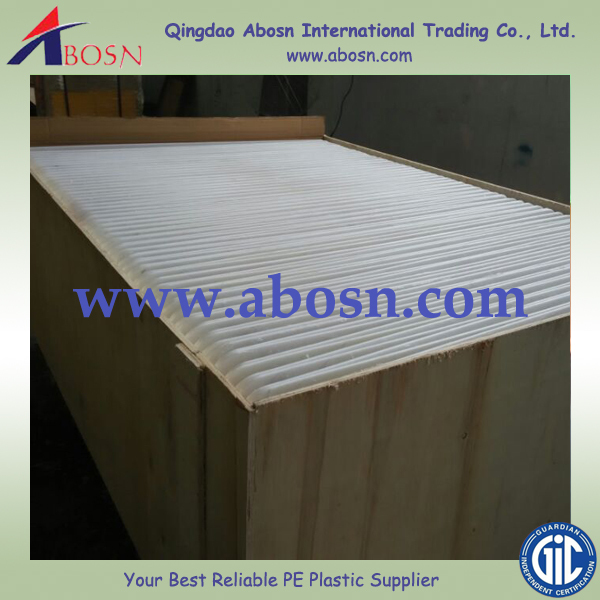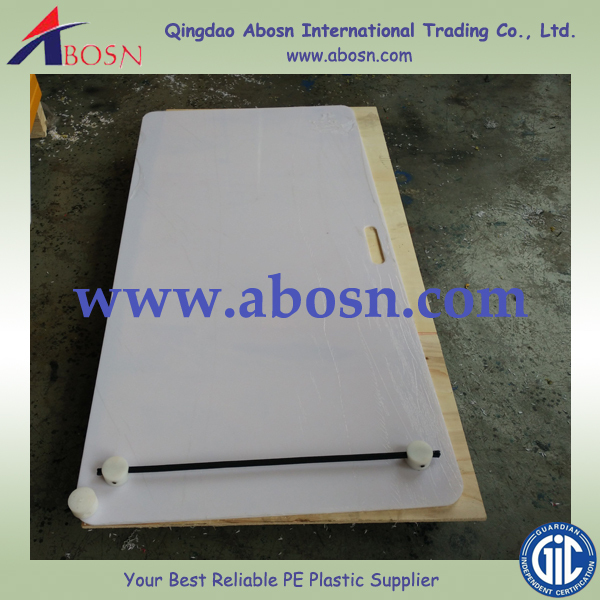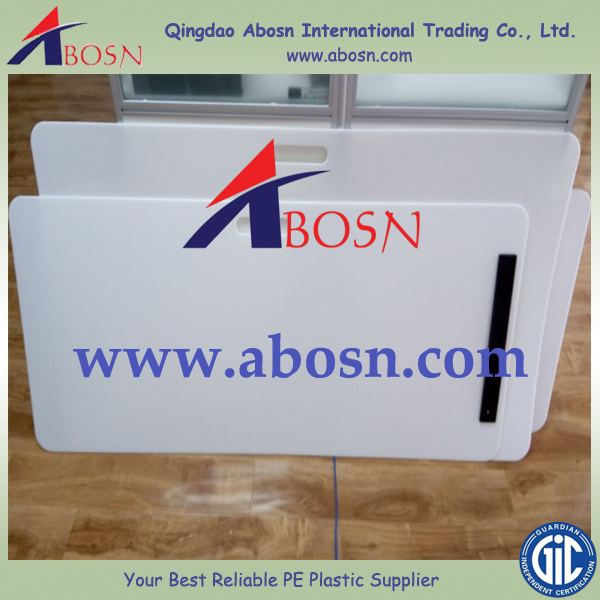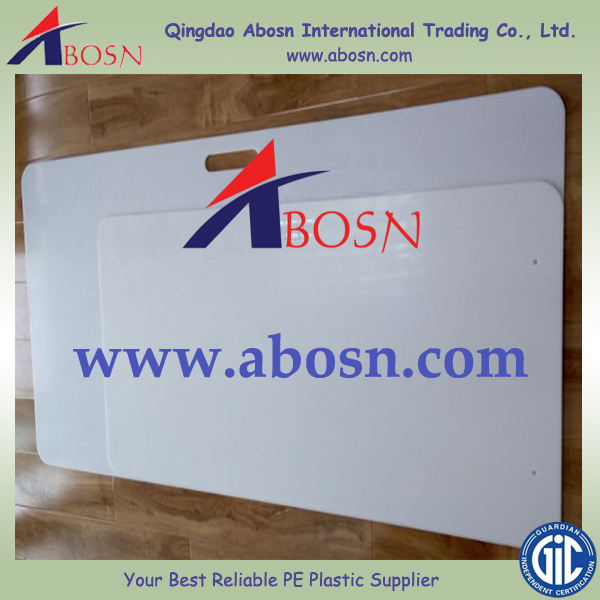 Specification:
| | | |
| --- | --- | --- |
| Project name | Unit | Standard |
| Impact strength | KJ/m2 | ≥140 |
| Water absorption | % | ≤0.01 |
| Compressive strength | Mpa | ≥30 |
| Ball indentation hardness | N/mm2 | ≥20 |
| Friction coefficient | | 0.11-0.17 |
| Abrasion loss | G/cm2 | 3.8×10-4 |
| Heat distortion temperature | °C | 85°C |
Advantages & Key Features
--Highest abrasion resistance of any polymer, 6 times more wear resistant than steel
--Anti-Weather & Anti-Aging
--Self-lubricating, Very low coefficient of friction
--Excellent chemical & corrosion resistant
--superior impact resistant, Noise- absorption, Vibration-absorption
--Temperature range: -2600C ~ +800C; Very high resistance to cold,doesn't become fragile even under -1800C
--High tensile Strength
--Non-Toxic and smell
--UV resistance
--Flame Retardant; Relatively low in water absorption
--Excellent electrical properties
--Good performance in resisting environment stress crack, 200 times of ordinary PE
--No adhesion
--Light weight and easier to handle and fix
--Cost efficient; Resulting in low energy consumption
--Does not rot, split or crack; 100% recyclable
--Great liner material for industrial material handling applications
--Easy Reprocessed
Our ice rink/shooting pad standard sizes:
1.Thickness: 1- 300mm2. Width: max 2000mm3. Normal standard size:
| | | |
| --- | --- | --- |
| Length(mm) | Width(mm) | Thickness(mm) |
| 2000 | 1000 | 1-300 |
| 3000 | 1500 | 1-300 |
| 4700 | 1200 | 1-300 |
| 5000 | 1300 | 1-300 |
| 4500 | 2000 | 1-300 |
| 3050 | 1220 | 1-100 |
Any small size need us to cut , we can satisfy your special need .
Appliance:
1, sports venues: the rink, basketball court, tennis court, five-a-side football, volleyball, football, hand court, badminton court, table tennis field, skating rink, hockey, goal kick, etc.;
2, parks and leisure facilities, park road, a pavilion floor, villa courtyard;
3, ships: used for ship deck;
4, garden, balcony, villa courtyard;
5, other places: supermarket, basement, parking floor, door mat. Assemble the contrast of the floor and plastic floor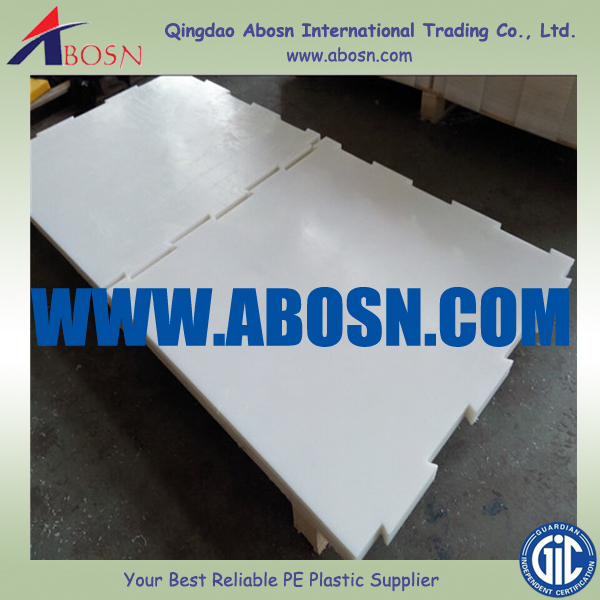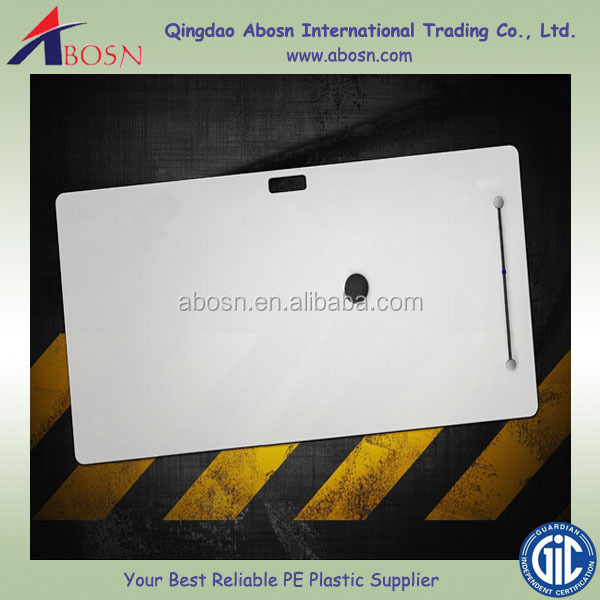 More products please see Synthetic ice rink, Hockey dasher board etc.
We focus on what our customers need and dedicate to produce satisfying products and innovate new products to our clients.
After-sales service - A

BOSN Product Quality is Guaranteed
We have Strict QC and make sure every step of processing is for specification compliance.
We track our goods from transportation to your sales in local market to help your successful business.
Manufactured in ISO 9001:2008 facility with over 20 years of manufacturing and fabricating experience.
If you break a pad under normal conditions, Abosn will replace it free of charge.
Our Abosn company:
Mainly manufacture HDPE and UHMWPE products.

Have rich experience in the line of engineer plastic products for long time.

Passed the latest ISO9001:2008 quality system.

Located in Qingdao, the third-largest port city in China.

Convenient traffic and developed imports and exports.
Q:Is the size fixed?
A:No.we can meet your needs according to your acquirement. That is to say, we accept to customize.
Q: What is your MOQ of this item?
A: 500 kilograms.
Q: Is it all right to make customer's own brand name?
A: That's all right to engrave your own brand name.
Q: What is your company's available production capacity?
A: Usually 4000 tonnes per year.
Q. Can you special order a product for me?
A. We are typically able to special order products for customers. OEM service .
If you have any question, please do not hesitate to contact me.
Portable Extreme Ice Hockey Shooting Pad