Flocculant for paint fog waste water treatment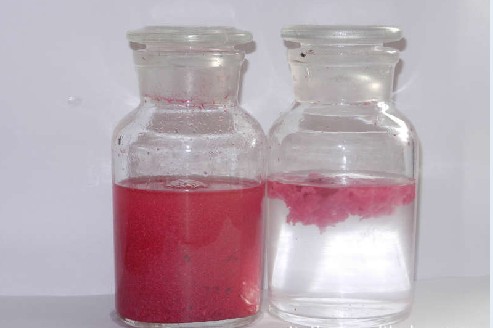 Specifications
Density: 1000--1100
Solid Content: 7.0±1.0%
Main components: cationic polymer
Appearance: clear liquid with light blue
PH value: 1.0~2.5
Solubility: completely soluble in water
Coagulant for paint fog is composed of agent A & B. Agent A is one kind of special treatment chemical for removing the viscosity of paint. The main composition of A is organic polymer. When added into water recirculation system of spray booth, it can remove the viscosity of remaining paint, remove the heavy metal in water, keep the biological activity of recirculation water, remove COD, and reduce the cost of waste water treatment. Agent B is one kind of super polymer, it is used to flocculating the residue, make the residue in suspension for easily treat.
1) Coagulants for paint fog (Coagulants) Agent A

Main functions: To "catch" overspray paint that dropped into the circulating water, eliminate the paint's viscosity completely, and then drive the surrounded paint drops floating up.
Main principles: Due to high E-charge, the product has strong attractive power to the paint drops which would be entirely surrounded and the functional group would be penetrated and destroyed via chemical actions.
Other functions: To break the stable state of the surfactant or other impurities in water and grasp them out, which is so important to keep the water clean.

Water treatment chemicals for spray booth Water treatment chemicals for spray boothWater treatment chemicals for spray booth

2) Flocculating agent(Floatation agent) Agent B

Main functions: To gather all the paint particles and impurities, increase their efficiency of mechanical dehydration. To balance out the E-charge in the system, keep the ionic equilibrium.
Main principles: Large molecular weight to speed up the floating-up.
Other functions: To gather other suspended solid particles.
A agent It is packaged in PE drums, each containing 25KG, 50KG & 1000KG/IBC.
B agent it is packaged with 25kg double plastic bag