SS241B High-temperature high pressure HTHP Vertical Yarn Dyeing Machine is suitable for dyeing processing cotton , polyester , acrylic , nylon,sheep ,whool,T/C,acrylic /cotton blends ,polyester,wool blends,hemp and cotton blends or any kind of blended yarn. (all parts in touch with the liquor adopts superior quality material SS316L which meets the need of pressure vessel standards. The maximum working temperature is 140'Cand max working pressure is 4.5kg/cm2)
1. Low liquor ratio 1:5-6
2. Design Temperature 160°C
3. Max working temperature:140°C
4. Max working pressure:0.45 Mpa
5. Savings in power and steam consumption by 15-20%
6. Heating time:approx 30 min for temp rise 20°C -130°C(at steam pressure of 0.70 Mpa)
7. Cooling time:approx 20 min for 130°C-80°C (at cooling water pressure of 0.3Mpa)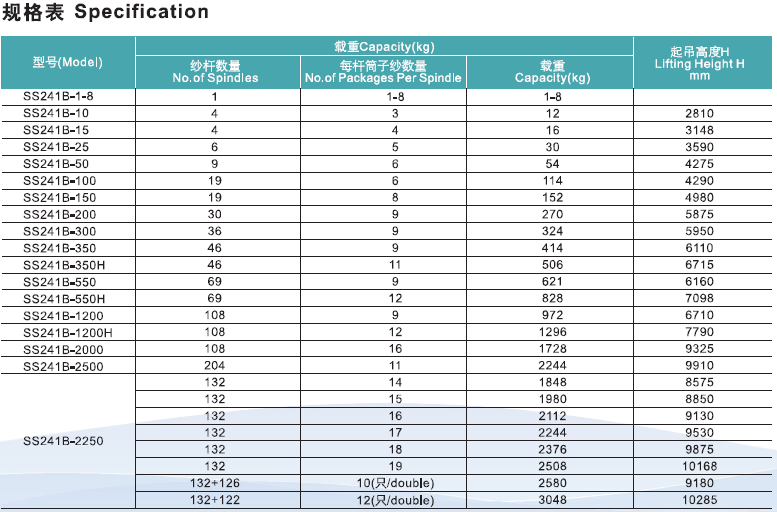 Balanced mixed-flow pump, as well as combination of axial and centrifugal principles, that can deliver greater liquor flow and higher heading for uniform dyeing effect at less energy consumption.

Internal heat-exchanger,coil-type,for more efficient steam utilization.

Tail-injection funnel device,patented design,for more homogenous dye and chemical liquor

introduction to the main kier for uniform dyeing effection.

Flow reversal system by means of pneumatic cylinder.

Equipped with various type material carriers, i.e.packages,hanks,loose fiber,beams,etc.
Automatic Control Functions(Controller SETEX + PLC):
Circulation System
Unique high-efficiency symmetrical mixed-flow pump with mechanical seal, directly driven by electric motor with stainless shell and base, installed at the bottom of kier.

Fully-automatic/pneumatic flow reversing device to control in-out /out-in flow and time, there are three pressure gauges installed on the kier body to display the pressure of in-out/out-in flow and the pressure inside the kier.

Main pump motor equipped with frequency inverter to control the main pump flow and differential pressure.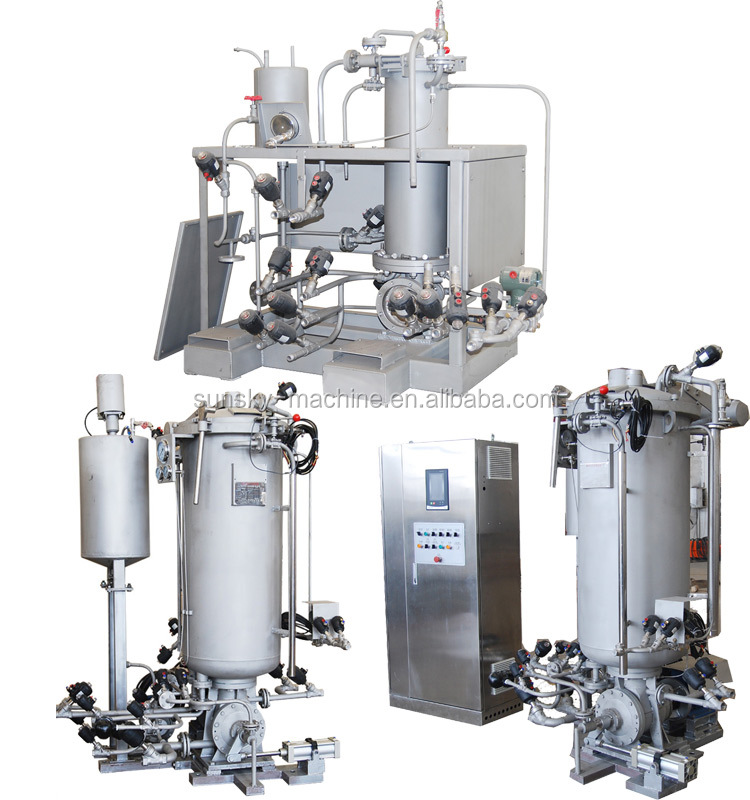 Due to increasing environmental pressures and textile constantly updated,we have successfully developed a new generation / low liquor ratio 1:3.5~5 dyeing machine on the basis of many years professional manufacturing experience,it's environmental protection and energy saving fabric dyeing machine OH/UH series and low liquor ratio package dyeing machine.We look forward to serving more customers at home and abroad.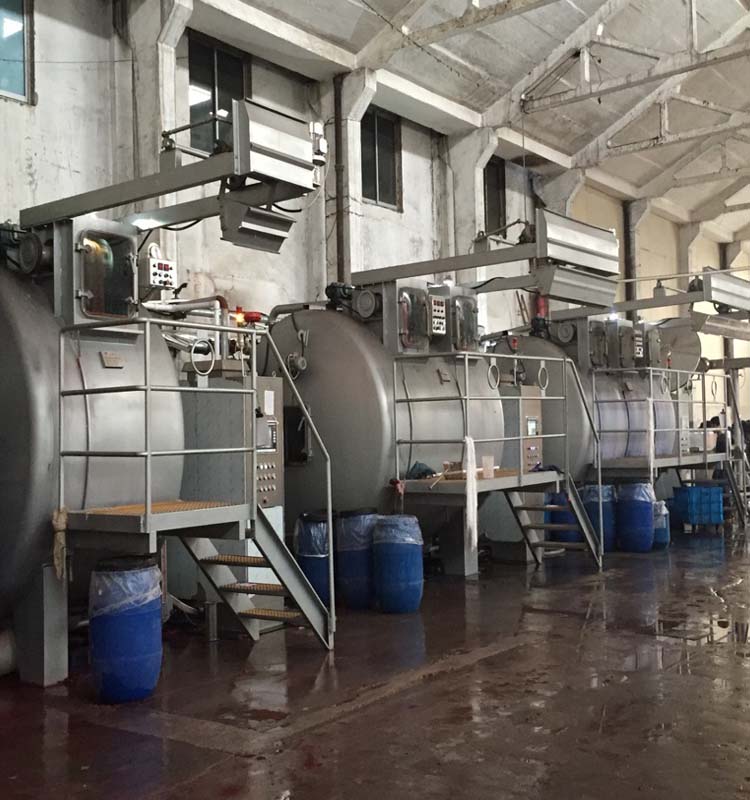 Sunsky is an experienced machinery manufacturer since 2004,it's located in Wuxi,JiangSu Province,China(50mins by train from Shanghai).We're focusing on dyeing and finishing machines for various textiles.After a decade of innovations and development, Sunsky becomes an expert in the field of textile dyeing machines, including normal temperature dyeing machine, high temperature dyeing machine, pre-treatment and after-treatment machines. We make designs according our customer's requirement, continuously improve our techniques, optimize designs and also take the issue of environment into consideration. Sunsky dyeing machine has been well received by domestic and foreign customers.On the basis of 10years professional manufacturing experience,we have successfully developed a new generation of liquor ratio 1:3.5~5, energy saving type OH/UH,and 1:2.8~3.5 yarn dyeing machine...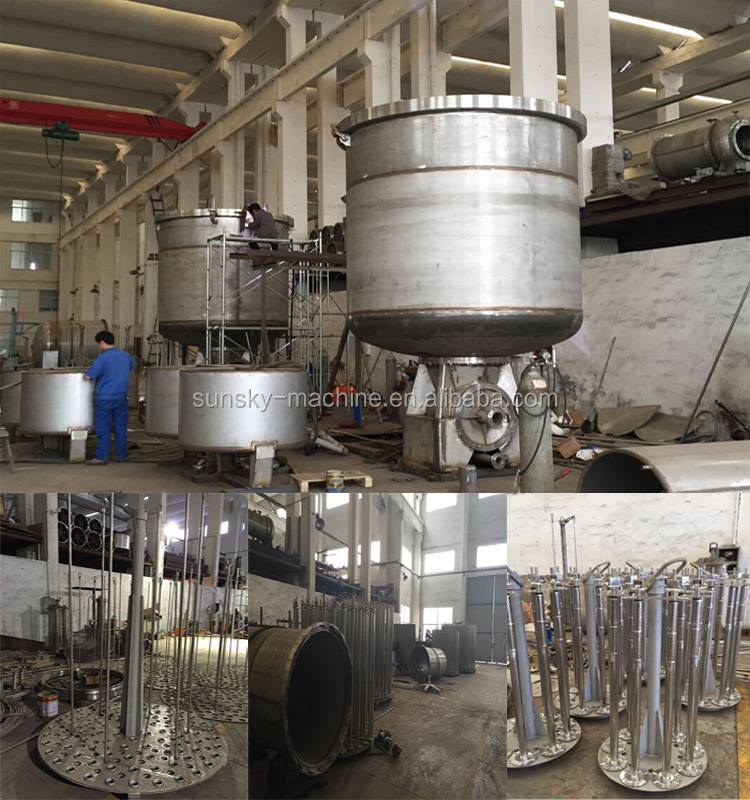 Packaging of Electrical Control Panel(Setex+PLC from Germany)