Huawei AP5030DN and AP5130DN performance-enhanced 802.11ac APs deliver high-capacity, secure WLAN access services for dense, wide-area user environments such as offices, airports, trains, and sports stadiums.
These APs operate in Fat or Fit mode and offer 3 x 3 MIMO technology (three spatial streams) for wireless data rates up to 1.75 Gbit/s, ensuring lightning-fast downloads and uploads plus outstanding video streaming. Multiple authentication and encryption modes work with advanced user access controls to secure the network.
Connect with Huawei 802.11ac APs for demanding Wi-Fi services today and tomorrow.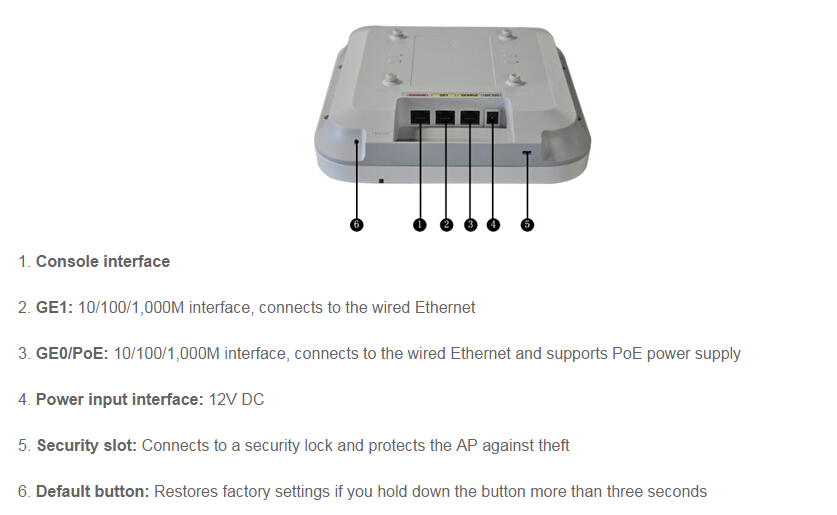 The AP provides 802.11n/ac wireless access networks for small, simple buildings with a dense user footprint and high capacity demands, such as small and medium enterprises and branch offices. The AP can be flexibly deployed and works in both Fit AP and Bridge mode.
The AP can work as a Fat AP or Fit AP and switch flexibly between the two modes based on the network plan.
When the wireless network scale is small, customers need to purchase only AP products and set the APs up as Fat APs. As the network expands, tens or hundreds of APs can be added to the network. To simplify network management, customers should buy wireless Access Controllers (ACs) to perform centralized management on the APs and set up the APs as Fit APs.
Fit AP network (AP mode)
In this example, the AP functions as a Fit AP and provides only data forwarding functions. The AC is responsible for user access, AP going online, AP management, authentication, routing, security, and QoS.
Features
Fast, reliable wireless access services with 1.75 Gbit/s, 3 x 3 MIMO, and link aggregation for maximum throughput; WMM and priority mapping on the air interface and wired interface; legacy 802.11a/b/g/n client support ensures seamless user connections

Supports multiple authentication and encryption modes, rogue AP detection, WIDS, and WIPS, as well as unified intelligent user access and mobility management when coupled with an AC or NMS

Integrated antennas provide omnidirectional coverage without coverage holes; available with built-in antennas or flexible external antennas

Easy to deploy: PoE power supply in compliance with IEEE 802.3af/at simplifies AP installation and supports Plug-and-Play (PnP) in Fit AP mode
Specification
Specifications

AP5030DN

AP5130DN

Dimensions (H x W x D)

220 mm x 220 mm x 53 mm

220 mm x 220 mm x 53 mm

Power Input

12V DC ± 10%

PoE: –48V DC (in compliance with IEEE 802.3af/at)

12V DC ± 10%

PoE: –48V DC (in compliance with IEEE 802.3af/at)

Maximum Power Consumption

13W

13W

Operating Temperature

–10℃ to +50℃

–10℃ to +50℃

Antenna Type/Antenna Gain

Built-in antenna/2.4 GHz: 4 dBi, 5 GHz: 5 dBi

Removable RP-SMA antenna/2.4 GHz: 3.5 dBi, 5 GHz: 4 dBi

Maximum Number of Concurrent Users

≤ 256

≤ 256

Maximum Transmit Power

25 dBm (combined power)

25 dBm (combined power)

MIMO: Spatial Streams

3 x 3:3

3 x 3:3

Radio Protocol

802.11a/b/g/n/ac

802.11a/b/g/n/ac

Maximum Speed

1.75 Gbit/s

1.75 Gbit/s