DC 3-48V Brushless DC Blower Fan
Parameter:
Rated Voltage: DC 3-48V
Rated Current: 0.1-2.2A
Bearing: Sleeve / Dual Ball Bearing
Fan Speed: 1500-6500RPM±10%
Noise Level: 23.2-48.3dBA±10%
Air Flow: 2.33-39.8CFM
Weight:1-220g
Fan size:4-12cm
Function:
1,Motor Protection
RP Reverse Protection
SS Sofe start
AS Auto Restart
CL Cuttent Limit
2. Singal output
FG frequency Generator
RD Rotation detection(High)
RDL Low detection(Low)
LD Low Detection
3. Speed control mode
PWM Pulse Wide Modulation
TC Temperature control
VC Voltage control
RC Resistor control
SC Const speed
Advantage:
1.High quality Stable balance work.
2.High speed and large air flow.
3.Low noise and high efficiency.
4.Long life expectancy.
5.Ball and Sleeve bearing.
Parameter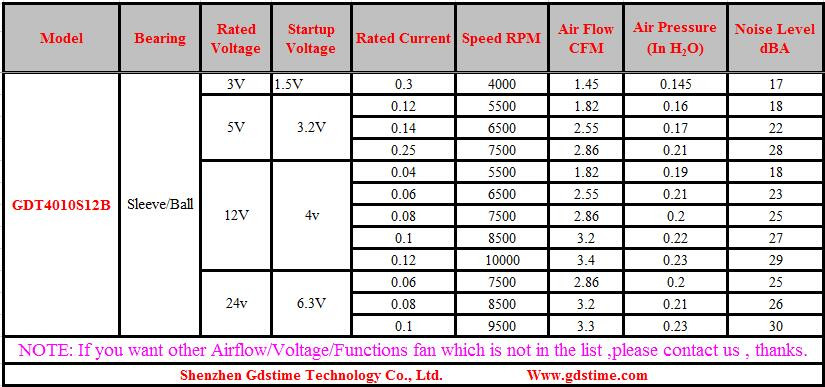 Gdstime is a professional manufacturer and supplier in Guangdong, China.
We Have Years' experience in Industrial Cooler.
We devote ourselves to offer high quality products to our clients in a competitive price, we also provide top quality service to clients.
Our company produce Cooling products: AC Fan, DC Fan, Thermal pad, Cooling Heat sink, and other refrigeration products. All of our products have passed the CE & ROHS certificate. We also accept customized products. Please contact us if you have any needs anytime. We will reply within 24H.
Tips: We can Supply free samples.
*Every Product will be test carefully before shippment.
*This commitment to quality problems have any free replacement, but does not include installation, the buyer will not fail, buy error, install artificial damage, etc. (In a Full Year)