High Performance Sintered Ndfeb/Ferrite/Alnico/Smco Magnet Powder

1.We can supply you all kinds of magnetic powders: Ferrite, AlNiCo, Ndfeb and SmCo Magnetic powder etc.
1)The magnetic ferrite powder are suitable for producing different grades of hard ferrite magnets by wet pressing or dry pressing production process. According to the needs of clients, we could supply the magnetic ferrite powders in different granularity, The magnetic ferrite powder can be classified as isotropic magnetic ferrite powder and anisotropic magnetic ferrite powder.
2)AlNiCo magnetic powder is made of AlNiCo magnet and through cracked it into required particle size. The character is temperature coefficient of Br is small. The powder mainly used in raw material of bonded magnet, plastic magnet; all kinds of SmCo fault detection; magnetic printing and other highly temperature sensitivity fields.
3)Ndfeb powder can be used to the automobile industry, office automation, automotive. DC brush-type motors. multi-pole stepper and spindle motor applications. Magnetic paints, magnetic printable substrates, magnetic films, medical diagnostics and therapeutics, video tape, copy toners, fingerprinting, sensors, fuel injectors, permanent magnets, nano level fluid sealing, electric toys and magnetic curing products, etc.
4)SmCo Powders Samarium Cobalt powder SmCo magnetic powder Rare Earth Magnet powder use for producing Polymer bonded SmCo magnets by compressing moulding.

2.Magnetic properties for Ferrite, AlNiCo, Ndfeb and SmCo magnetic powders.
3.Packaging for Ferrite, AlNiCo, Ndfeb and SmCo magnetic powders.
4.Check below for more information on placing an order
1. Inquiry-Professional quotation.
2. Confirm the price, lead time, artwork, payment term etc.
3. Freedom sales send the Pro forma Invoice with freedom seal.
4. Customer make the payment for deposit and send us Bank receipt.
5. Initial Production Stage-Inform the clients that we have got the payment, and will make the samples according to your request, send you photos or Samples to get your approval. After approval, we inform that we will arrange the production & inform the estimated time.
6. Middle Production-send photos to show the production line which you can see your products in . Confirm the estimated delivery time again.
7. End Production-Mass production products photos and samples will send to you for approval. You can also arrange the third party Inspection.
8. Clients make payment for balance and Freedom Ship the goods .Also can accept payment term-Balance against B/L Copy Or L/C payment Term. Inform the tracking number and check the status for clients.
9. Order can be say "finish" when you receive the goods and satisfy with them.
10. Feedback to Freedom about Quality, Service, Market Feedback & Suggestion. And we can do better.
5.Our customers have a wider range of processing choices for transportation mode
By Express ( FedEx, UPS, DHL, TNT, EMS, etc... )
--- Advantage: Fast ( takes about 7 - 10 days in the delivery ), door to door
--- Disadvantage: A little expensive
By Air Transportation
--- Advantage: Fast ( takes about 8 - 12 days ), a little cheaper than Express.
--- Disadvantage: You need to take the goods from the airport by yourself.
By Sea ( Ocean ) Transportation
--- Advantage: Much cheaper than Express or Air transportation.
--- Disadvantage: Slow and you need to take the goods from your destination port by yourself.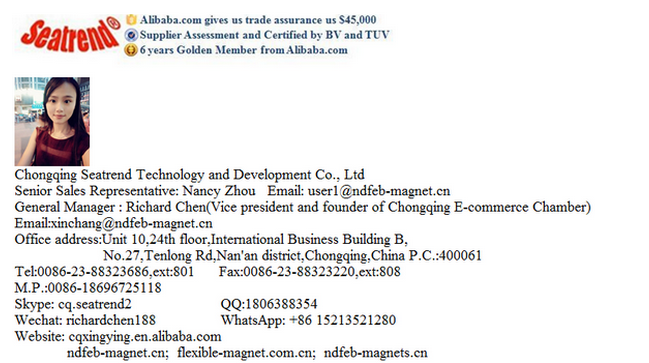 Magnet Powder