hdpe oil & gas pipe with yellow line
Brief Introduction
LEJIE is the largest and leading HDPE pipe manufacturer in East China
the first Chinese HDPE pipe manufacturer providing 50 years warranty for its AAAA level HDPE water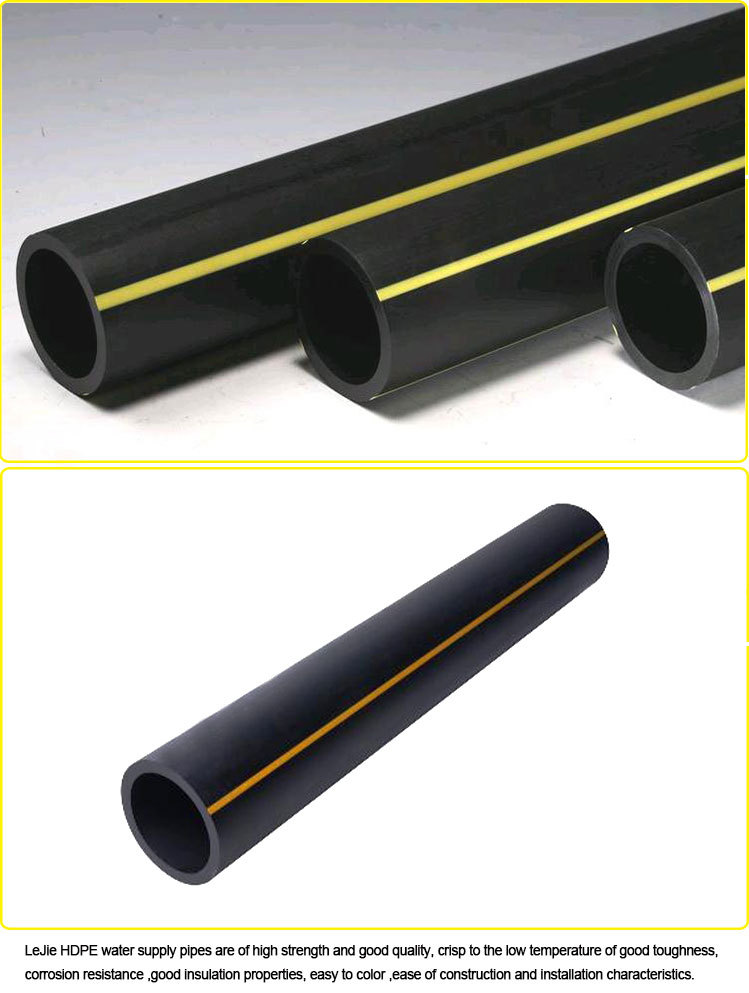 PE100

SDR17.6

SDR11

Outer Diamete
(mm)

Thickness

25

2.30

3.00

32

2.30

3.00

40

2.30

3.70

50

2.90

4.60

63

3.60

5.80

75

4.30

6.80

90

5.20

8.20

110

6.30

10.00

125

7.10

11.40

140

8.00

12.70

160

9.10

14.60

180

10.20

16.40

200

11.40

18.20

225

12.80

20.50

250

14.20

22.70

280

15.90

25.40

315

17.90

28.60

355

20.20

32.30

400

22.80

36.40

450

25.60

40.90

500

28.40

45.50

560

31.80

50.90

630

35.80

57.30

710

40.30

800

45.40

900

51.10

1000

56.80

1100

62.50

1200

68.10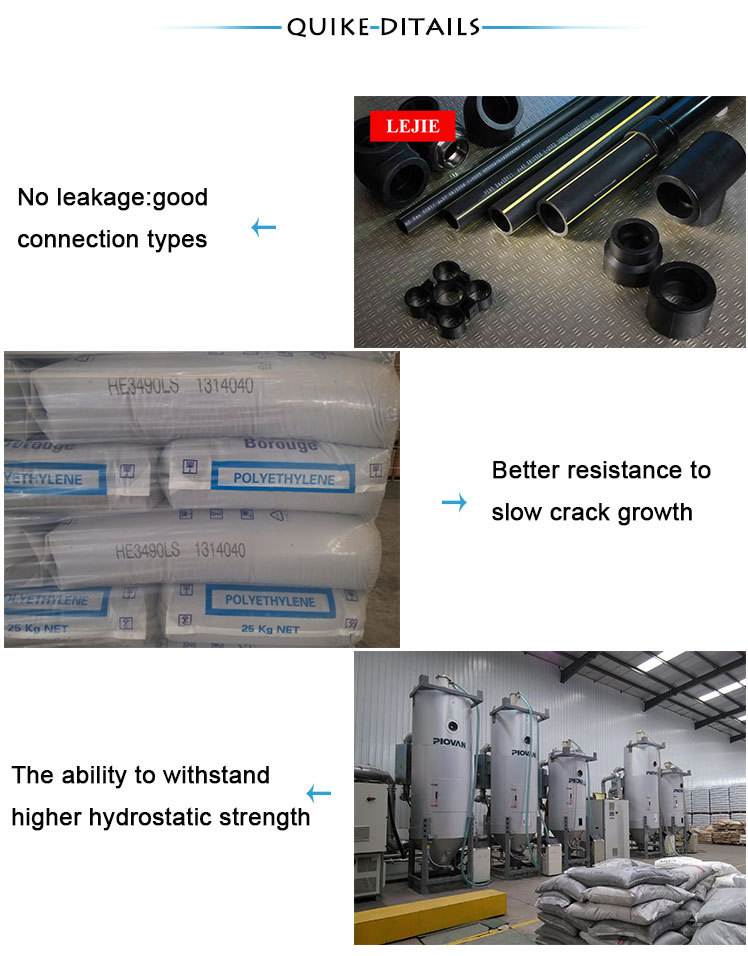 1. Long distance gas pipeline: main pipe and branch pipe are connected with the end of
the enterprise or industry and gas supply area.
2. City gas pipeline:functional distribution pipeline, indoor gas pipeline.
3. Industrial enterprise gas pipeline: factory gas pipeline, workshop gas pipeline.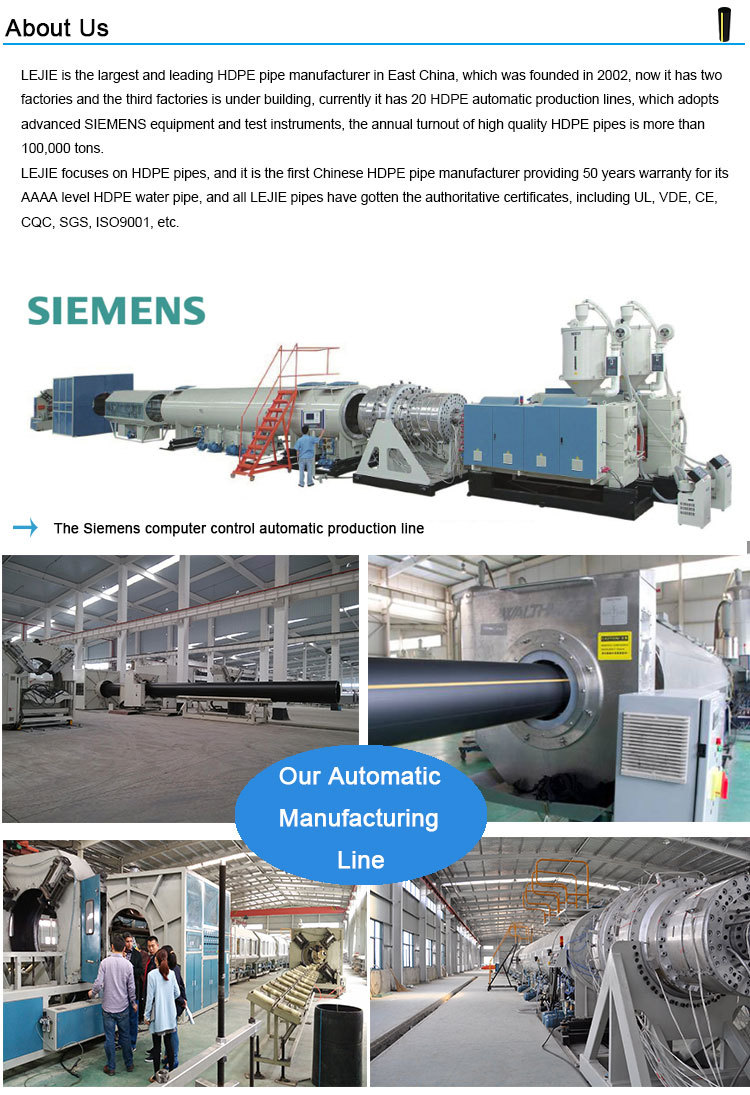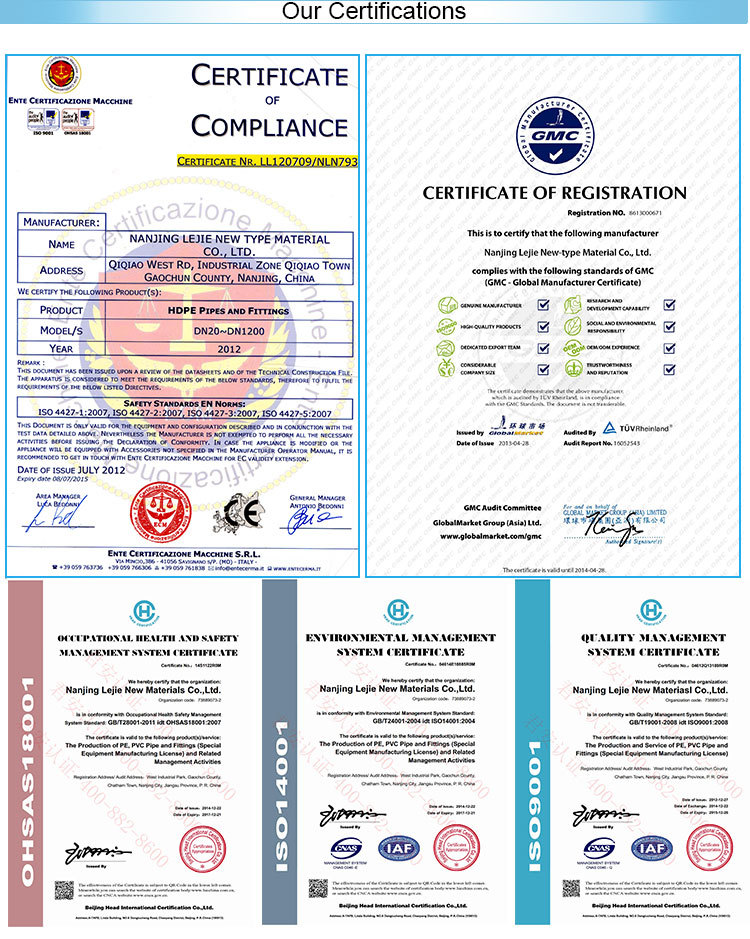 Q: How to guarantee high quality of your products ?
A: LeJie has the most advanced production equipments and first-class production technology.
We have established serious quality management system.
Q: Please tell me your largest outer diameter for pipes.
A: We can produce 2000mm diameter as the largest size.
Q: What certificates can LeJie provide ?
A: What standards can LeJie perform ?
Q: For pipe fittings, what do you do mainly?
A: For fittings, coupling, elbows, tee, reducer, valve and cap are our main products.
Q: What is the regular shipping port ?
A: Shanghai, Nanjing